Can win Telangana, shun differences: Rahul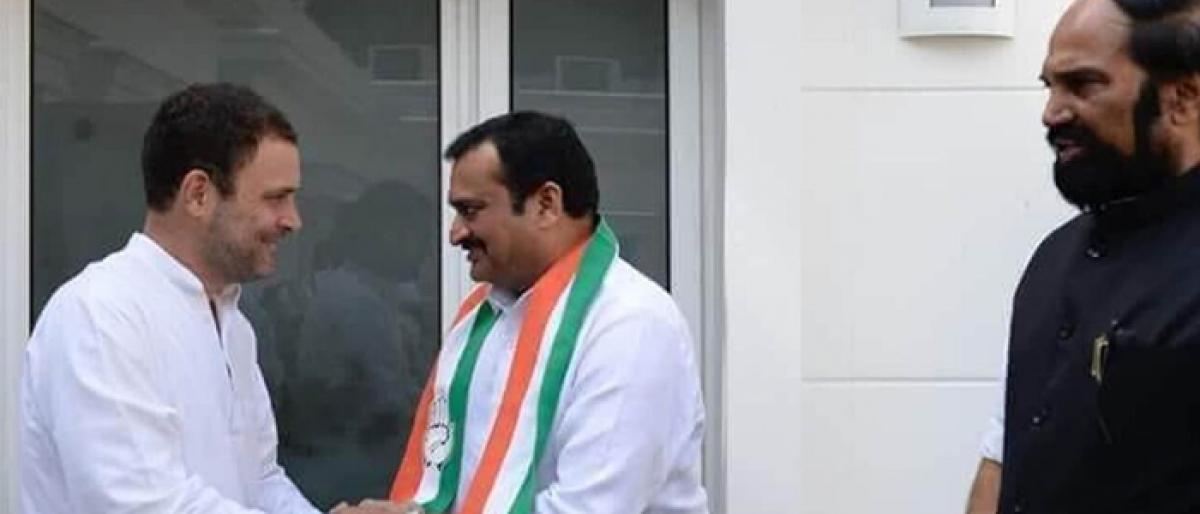 Highlights
AICC president Rahul Gandhi on Friday exhorted party leaders from Telangana to keep the differences aside and work for the victory of the party in the next elections as it has good chances of winning the polls While asking party leaders not to go to the press about the differences, Gandhi advised them to discuss the issues on various fora of the party He told the leaders to confine their work t
ADVERTISEMENT
​New Delhi/Hyderabad: AICC president Rahul Gandhi on Friday exhorted party leaders from Telangana to keep the differences aside and work for the victory of the party in the next elections as it has good chances of winning the polls. While asking party leaders not to go to the press about the differences, Gandhi advised them to discuss the issues on various fora of the party. He told the leaders to confine their work to their respective districts and constituencies.
The Congress chief has given his nod in principle to the alliance with the Telugu Desam Party and told the party leaders not to concede the constituencies which could be won by the party in the state. The state Congress must work under one leadership. According to sources, Gandhi said, "Though the Congress has good chances of winning the next elections, we have problems with the leaders. This should be overcome to win the polls." Addressing 40 senior leaders of the party in Delhi, Rahul Gandhi guided them on the way to face the next elections.
He has met the leaders in one on one mode and also as a group during the three-hour interaction with them at the war room of the AICC at Delhi. PCC president N Uttam Kumar Reddy, party affairs in-charge and general secretary RC Khuntia, in-charge secretaries Bose Raju, Salim Ahmed and Srinivasan Krishnan were among those present at the meeting.
Rahul Gandhi had discussed key issues such as alliances, seat adjustments, committees and campaign strategies with the state leaders. He made it clear that the MLAs of the previous Assembly would be given tickets in their respective constituencies if they have a good name among the voters of the segment.
The AICC president has suggested to the state leaders of the party to leave the seats to alliance partners where it was weak. He said the state leaders should ensure that the party should not suffer due to the alliance. The state Congress leaders urged Rahul Gandhi to address about 10 public meetings in the state during the campaign. They wanted the party president to impress upon former party president Sonia Gandhi for the campaign in Telangana.
Sonia's visit would kindle the sentiment factor among the people, they said. Meanwhile, MLC Bhupati Reddy and film personality Bandla Ganesh joined the Congress in the presence of Rahul Gandhi. According to party sources, Ganesh may be given the Jubilee Hills Assembly ticket whereas Bhupati Reddy has been ensured the ticket of Nizamabad Urban. Rahul invited them into the party by offering Congress scarves.
On the other hand, speaking to the media after meeting Rahul Gandhi, party state affairs' in-charge and general secretary RC Khuntia said Telangana Chief Minister K Chandrasekhar Rao has been behaving like a dictator. He criticized the Chief Minister for failing to keep the promises made during the previous elections.