Congress pays rich tributes to Gandhi, Shastri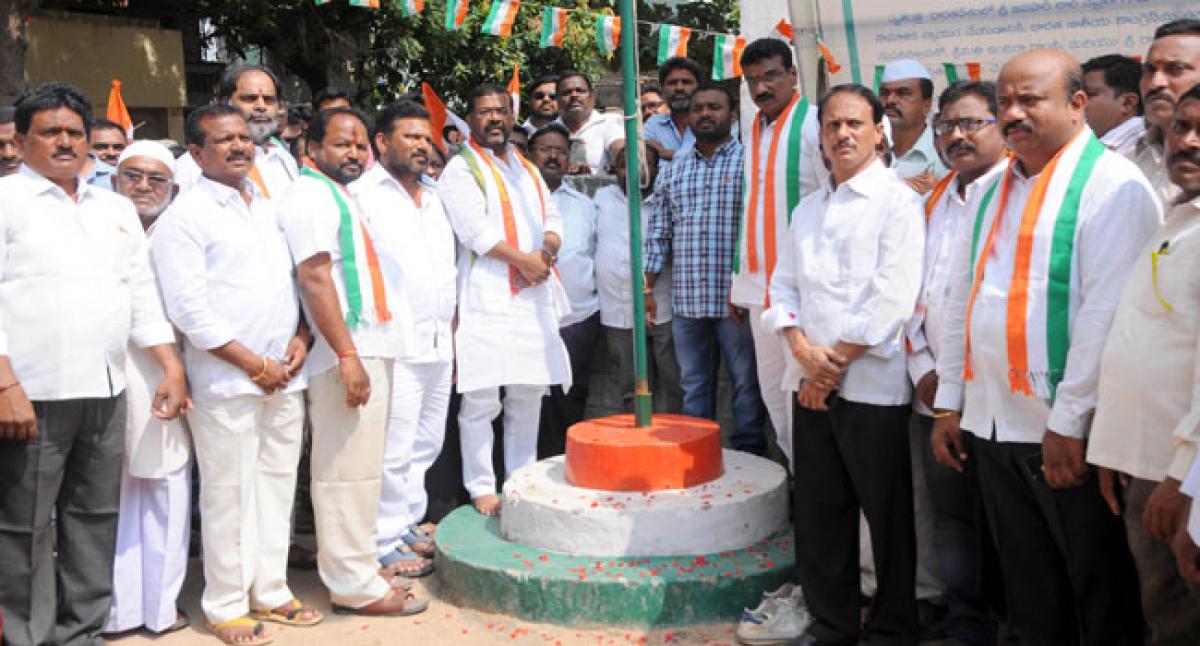 Highlights
Speaking on the occasion, Rajender Reddy lauded Mahatma Gandhi as a great freedom fighter and fought against the Britishers and got Independence to the country
Warangal: Following a call given by the All India Congress Committee (AICC) to observe the 150th birth anniversary of Mahatma Gandhi as Jana Sampark Abhiyan, the combined Warangal District Congress Committee president Naini Rajender Reddy unfurled the Congress flag at the party office here on Tuesday. The leaders paid floral tributes to the portraits of the Father of the Nation Mahatma Gandhi and former Prime Minister Lal Bahadur Shastri.
Speaking on the occasion, Rajender Reddy lauded Mahatma Gandhi as a great freedom fighter and fought against the Britishers and got Independence to the country. It is because of his principles, India earned the name as a peace-loving country across the world. He exhorted everyone to follow the ideals of Gandhi so that peace would prevail everywhere. Gandhi and his non-violence principles would be an ideal for the present-day youth, he added.
Referring to Lal Bahadur Shastri, Rajender Reddy said he worked as the first Railway Minister of Independent India in the Jawaharlal Nehru Cabinet from 1951 to 56. Later Shastri also worked in different capacities. After the death of Jawaharlal Nehru in 1964, he got elected as the second Prime Minister at a time when India was facing severe food problem.
In order to mitigate the problem, he ordered the import of foodgrains and later paved the way for Green Revolution as a long-time solution to the food problem in the country.
On the occasion, the DCC president felicitated popular freedom fighter and noted Gandhian Narmetta Veerasam with a shawl. It may be recalled here that Veeresam had attended in uniform as a Congress Seva Dal member when Gandhi visited Warangal in 1946 and stood as his security guard while welcoming Gandhi. Later the Congress leaders garlanded Mahatma Gandhi statue at Public Gardens in Hanamkonda.