Spell agenda for welfare of minorities: Activists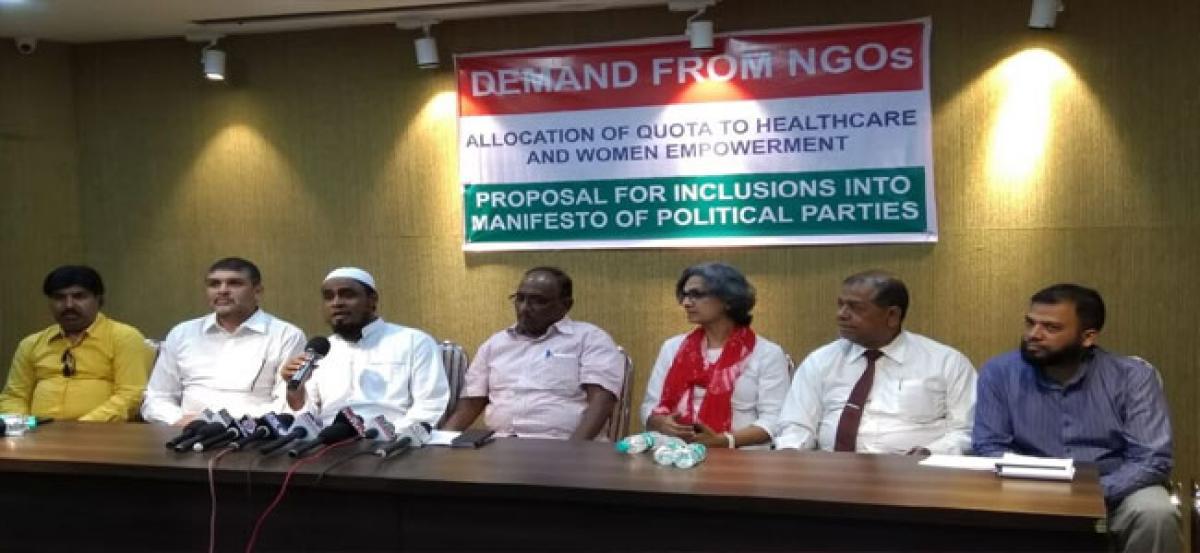 Highlights
Many eminent social and welfare organizations demanded that political parties should include healthcare for minorities and empowerment of women in their election manifestos They said that parties must prioritize healthcare and include it in the budget for minorities to address the poor state of health among Muslims
Hyderabad: Many eminent social and welfare organizations demanded that political parties should include healthcare for minorities and empowerment of women in their election manifestos. They said that parties must prioritize healthcare and include it in the budget for minorities to address the poor state of health among Muslims.

Addressing the media, the organizations demanded setting up an exclusive portion of the minorities' budget for healthcare and women empowerment. Such inclusion can ease the burden of the middle class and lower middle-class families, who spend most of their income on medical treatment, they said. "The burden of diseases and lack of proper healthcare for minorities has a deep socio-economic impact on minorities, especially Muslims", the members of the organizations said.
Presenting health statistics of minorities, Mujtaba Hassan Askari, Chief Health Officer of the Helping Hand Foundation, said, "a major portion of Muslims, particularly from the old city of Hyderabad, are mired in debts obtained due to medical treatment in private hospitals, bad maintenance of the primary health care centres and the poor state of hygiene. Moreover, the incidences of diseases are also high among Muslims from old city."
Out of 11,800 cases of cancer recorded in Telangana State, nearly 51% have been reported from Hyderabad, and of those, 80% are from old city, where incidences of head and neck cancers is relatively higher, as per the survey conducted by Helping Hand Foundation in 2017-18. More than 21% adults are reported to have hypertension, and out of 630 patients undergoing dialysis in the state under Aryogyasri, nearly 23% are from the city. Of which, nearly 45% are Muslims. Tuberculosis (TB) is taking a huge toll on youngsters in old city. In Telangana, nearly 41.9% of pregnant Muslim women are anemic (15-49), and a huge number of women suffer from reproductive health issue like bulky uterus, ovarian cyst, fibroids etc. About 40% of children below 5 years are not properly vaccinated.
"A large portion of the allocated budget for minorities goes wasted. If the government allocates a portion of minorities' budget for health care and women empowerment, exclusively, it would truly ameliorate the condition of Muslims in the state noted by the Sudhir Commission", the members said.
The organizations also demanded for setting up paediatric hospital in the south of Hyderabad, shelter homes for sick and abandoned, allocation of higher funds to Aganwadis in old city, 100% vaccination for children, health education at religious places, community centers and schools, nutritional kits for pregnant women and TB patients, social security and vocational training for young widows, public awareness and screening for particularly for TB, cancer and CKD, improving hygiene and sanitation in Urdu medium schools, setting up social clinics, where patients can get free advice and counselling from doctors within the community.
Maulana Ghayas Ahmed Rashadi, president at Safa Baitul Maal Education Welfare and Charitable Trust, which conducts 26 medical camps in and around the city every month said, "Poor health not only reduces productivity, but also burns deep holes in the pockets of the marginalized people, who often resort to borrowing money to meet the medical expenses in medical exigencies."
"This vicious cycle entraps many marginalized sections into debts and a life of misery," he added. Ziauddin Nayyar, trustee of Basheer and Sarwar Babu Khan Trust, Dr M A Rafeeq, Rubina Mazhar of SAFA Society, Ashfaq Mohammed of Sarmaya Foundation, Mohammed Rafi of Hyderabad Council of Human Welfare, Major S G M Quadri and others were present on this occasion.