Eye ailments rising among children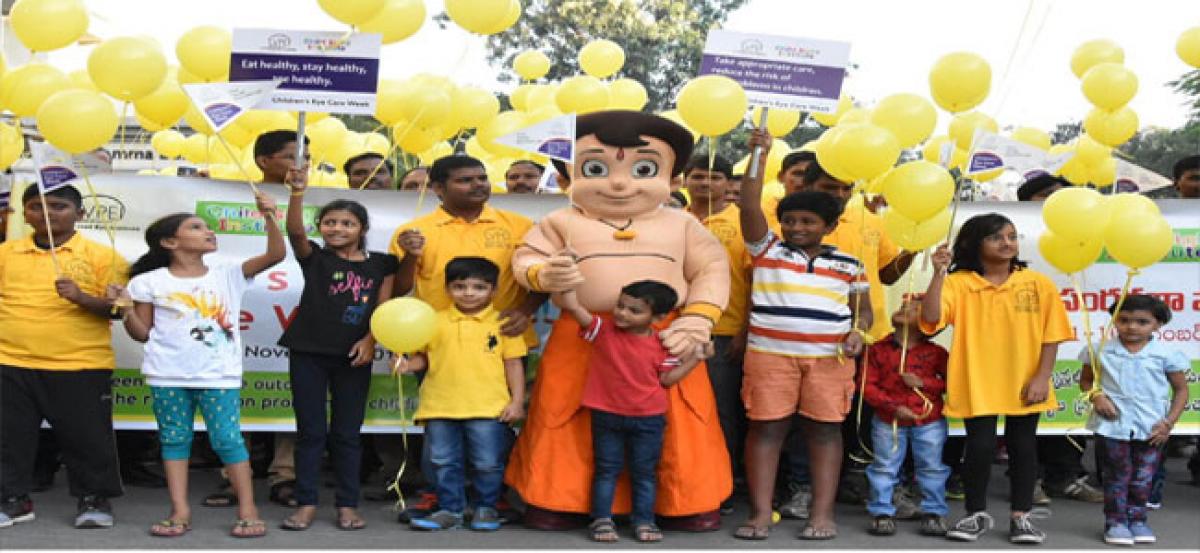 Highlights
Call it the scourge of the modern world or the overindulgence in electronic gadgets and less time spent outdoors, more and more children in the city are affected by shortsightedness or myopia
Hyderabad: Call it the scourge of the modern world or the over-indulgence in electronic gadgets and less time spent outdoors, more and more children in the city are affected by short-sightedness or myopia. In a study conducted by the Deccan College of Medical Sciences, 90 out of 900 school students are known to be affected with eye problems.
Experts presume that it is rampant due to lack of natural light and as the children are hooked to electronic screens for longer hours, they are more prone to it. Dr Gullapalli N Rao, founder and chairperson of LVPEI says, half of the entire world's population will be affected by myopia by 2050. Highlighting the magnitude of the problem, Dr Ramesh Kekunnaya, Head of Child Sight Institute, LVPEI, said there are 12.3 lakh blind children in the world and India alone is home for 25 per cent of these with 3 lakh blind children. 50 per cent of the childhood visual impairment is due to refractive error and just a pair of eye glasses is all it needs, other 30 per cent suffering from glaucoma, opacity or eye cancer can be treated through a surgery and they too will regain eyesight. The balance 5-10 per cent children can be helped through rehabilitation and several such children have grown up to take on successful careers.
Speaking to The Hans India, Dr Manoj Mathur, president of Hyderabad Ophthalmologists' Association said, "Myopia is mostly seen in children these days. Though we cannot say what percentile of youth experience this, we can say that it is very prevalent. We get quite a number of children with eye problems." LVPEI has come up with a clinic exclusively to address the eye problems of children with special needs. This initiative is funded by Renew Sys India Pvt Ltd in collaboration with Mission for Vision. The special needs vision clinic at LVPEI will be inaugurated by Avinash Hiranandani, the managing director of Renew Sys India, and Dr Gullapalli N Rao, founder and chairperson of LVPEI, on November 14.
BY Asna Khundmiri