HSPA raises a stink over collection of capitation fee by Sloka school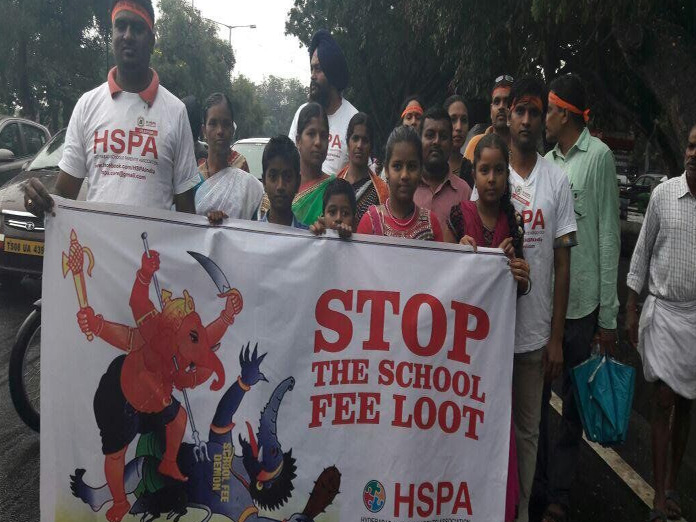 Highlights
Hyderabad School Parents Association HSPA sought the intervention of the police and register a FIR against Sloka, The Hyderabad Waldorf School and its management for illegally collecting capitation fee
​Hyderabad: Hyderabad School Parents Association (HSPA) sought the intervention of the police and register a FIR against 'Sloka, The Hyderabad Waldorf School' and its management for illegally collecting capitation fee.
In a press note on Thursday, the HSPA joint secretary Venkat Sainath K said that a complaint was lodged with the Jubilee Hills police against the school for violation of multiple government orders, circulars and directives and also collecting capitation fee is a cognisable offence.
In its complaint, the HSPA alleged that the school is illegally collected Rs 1.2 lakh in the name of corpus fund/ capitation fee from a parent in violation of the existing norms. Submitting a receipt purportedly issued to the parent against the payment of the sum, it said that "a parent took admission for her child into Class I and when requested to refund the corpus fund after withdrawing her from the school in September 2018, the school refused despite several written requests, it said.
The complaint said that collection of such fee has been prohibited as per The Andhra Pradesh Educational Institutions (regulation of admission and prohibition of capitation fee) Act, 1983 and GO MS No 91 of 2009 under section 7 of the Capitation Fees Act, 1983 which bars any school from collecting more than Rs 5,000 as one time admission fees under any name whatsoever.
The HSPA also said that the State Director of School Education also reiterated the existing norms in a circular to the schools in this regard. Further, the State government had also reiterated the same in a sworn affidavit in a Public Interest Litigation by HSPA in the State High Court.
It was against this backdrop that the complainant asked the police to register an FIR as under Section 9 of the Capitation Fee Act, collecting such fees is a cognizable offence.
That apart, it also wanted the police to register an FIR against the school management under various sections of the IPC for willful disobedience of an order duly promulgated by a public servant (section 188), cheating with knowledge of wrongful loss to person whose interest the offender is bound to protect (section 418) and cheating and dishonestly inducing delivery of property (section 420)