'Atamras Keertan Darbar' enthrals Sikh devotees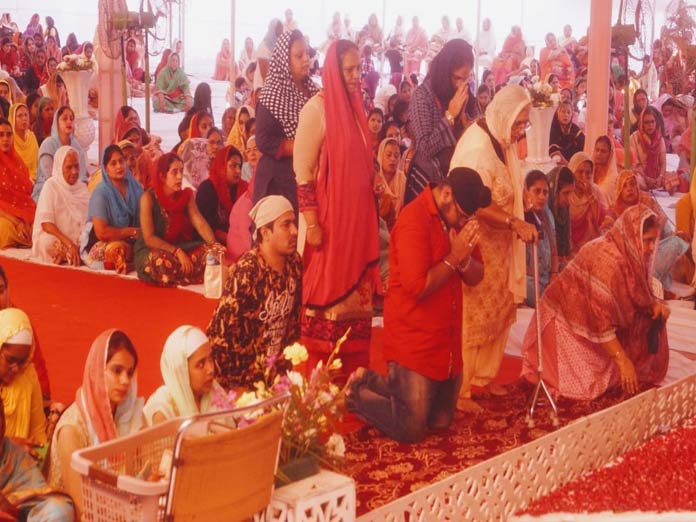 Highlights
Recitations of Gurbani keertans hymns marked the Atamras Keertan Darbar dedicated to 550th birth anniversary of first Sikh Guru Nanak Devji here on Sunday Above 15,000 devotees gathered at Keyes High School in Secunderabad
Secunderabad: Recitations of Gurbani keertans (hymns) marked the 'Atamras Keertan Darbar' dedicated to 550th birth anniversary of first Sikh Guru Nanak Devji here on Sunday. Above 15,000 devotees gathered at Keyes High School in Secunderabad.
The Khalsa Seva Dal in coordination with Prabhandak Committees of Gurudwara Saheb, Secunderabad and Gurudwara Guru Singh Sabha, Afzalgunj organised 'Atamras Keertan Darbar' at Keyes High School.
The congregation began at 11 am and continued up to 4.30 pm and was marked by the recitations of Gurubani Keertans and Kathas (Holy Hymns) by the renowned and reputed Ragi Jathas (Sikh preachers).
Prominent Ragi Jathas (preachers), Bhai Gagandeep Singh (Ganganagar, Rajasthan), Bhai Amarjeet Singh (Patiala, Punjab), Bhai Mehtab Singh (Jalandhar, Punjab) and Giani Jagdev Singhji, Head Granthi, GSS Secunderabad and other reputed Ragi Jathas who were specially invited from various parts of the country for the important occasion recited Gurbani Keertans (Holy Hymns) and delivered Gurbani Vichar that stressed on imbibing the higher values of life and communal harmony for which Guru Nanak Deviji strived.
As per custom, a traditional Guru Ka Langar (free community kitchen) was served to all the devotees.
Subscribed Failed...
Subscribed Successfully...