Citizens continue to dwell in dilapidated buildings in GWMC limits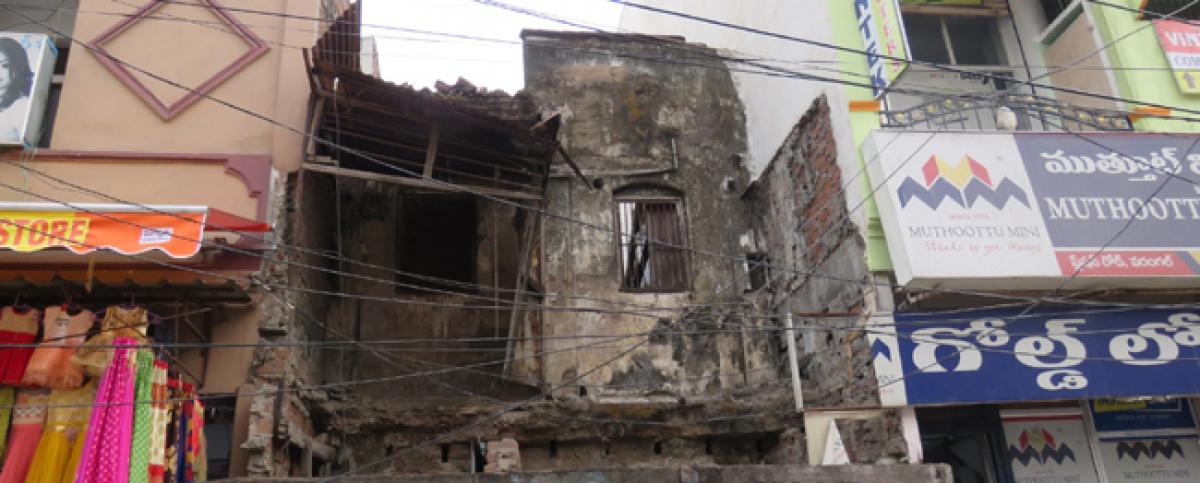 Highlights
Unmindful of the danger lurking ahead, denizens continue to inhabit in hundreds of dilapidated structures under the Greater Warangal Municipal Corporation limits There are 600odd dilapidated structures in the city that were declared dangerous for occupation and potential to cause heavy loss to the neighbourhood as well, according to the civic authorities
Warangal: Unmindful of the danger lurking ahead, denizens continue to inhabit in hundreds of dilapidated structures under the Greater Warangal Municipal Corporation limits. There are 600-odd dilapidated structures in the city that were declared dangerous for occupation and potential to cause heavy loss to the neighbourhood as well, according to the civic authorities.
With the monsoon showers active in the region for the last few days, several crumbling structures pose a risk to the denizens. Majority of dilapidated structures located in the tri-cities of Warangal-Hanamkonda-Kazipet are in the former.
Although the authorities have slapped notices to vacate these dilapidated structures, turning a deaf ear to them has become very common for the occupants. The phenomenon across the State is that the hue and cry that follows aftermath of an old structure collapses causing casualties will die down after a few days. People will forget so will the officials.
The Greater Warangal Municipal Corporation (GWMC) officials conducted a survey after that nightmarish experience people witnessed in September 2016 due to the havoc created by torrential rains that lasted for three days inundating several colonies in the city.
According to sources, then the Engineering and Town Planning staff had identified 700 odd buildings unfit for occupation. Later, the authorities gave a leeway to some of those structures following some modifications. The landlords of the unsafe buildings were served with notices to vacate. Thereafter, the issue was forgotten.
Speaking to The Hans India, the Forum for Better Warangal president Pulluru Sudhakar said, "The onus is on civic body to vacate these dilapidated buildings and raze them. Although it is mandatory for the authorities to maintain a register of the crumbling structures, it was not followed properly.
The officials need to alert the occupants from time to time after checking the structural compliance of a building." There are some government buildings also such as Income Tax building and DEO office that are no safer for dwelling, he said.
A senior official of the GWMC said, "Although we are serving notices, the occupants are not willing to vacate. We cannot force them. The other problem that the civic body is facing is inadequate staff. It is difficult to monitor on day to day basis."
Although the officials said that they cannot forcibly vacate the occupants, in a recent judgment, the Bombay High Court held that the Brihanmumbai Municipal Corporation (BMC) can forcibly evict occupants of completely unsafe or dangerous buildings in order to prevent loss of life or property.