PRRLI will put a check to farmers migration in Palamuru: Excise Minister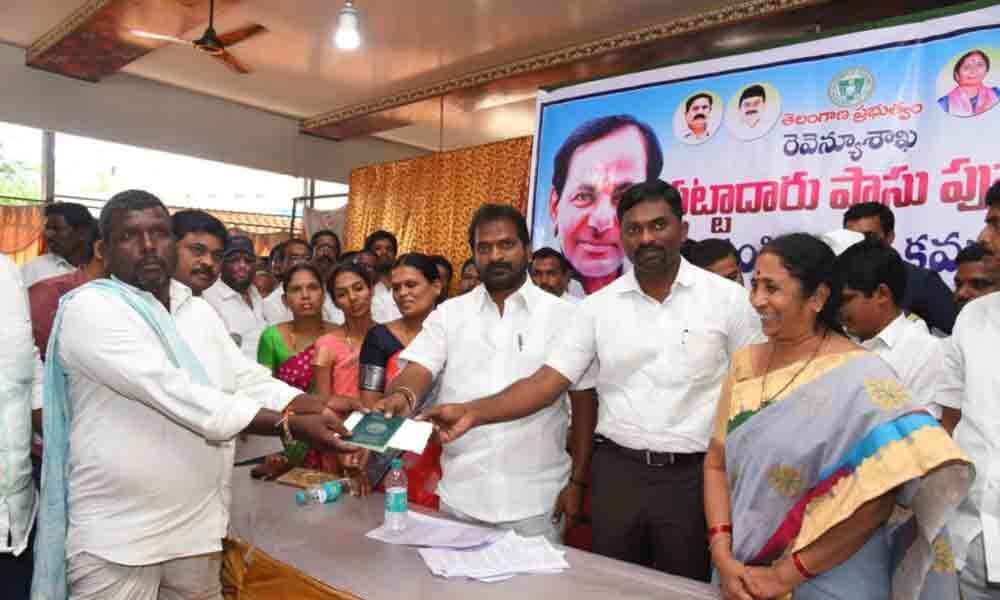 Highlights
Srinivas Goud hands over land passbooks to farmers
Mahbubnagar: The long-pending land passbooks for the farmers of Mahbubnagar district were distributed on Monday. Excise Minister Srinivas Goud distributed the passbooks to farmers and stated that the TRS government was giving highest priority to the agriculture sector and in this regard had brought in various welfare schemes for the farmers. He urged them to utilise the benefits offered by the government to the maximum extent.

He stated that Mahbubnagar was perennially drought-hit and deficit rainfall area and because of which lakhs of farmers have migrated to other places in search of livelihood as there was no water for irrigating their crops. "Keeping this in view, the TRS government has first completed the pending projects and provided water to 8 lakh acres and later brought in Rythu Bandhu and Rythu Bima schemes for supporting farmers. Now again to meet water requirements of the district, we have launched the Palamuru Ranga Reddy Lift Irrigation project and once this is completed, we will be able to provide irrigation water to 20 lakh acres in the district," observed the Minister, while enumerating the welfare and development programmes of the State government in the last six years. He said as the Kaleshwaram project on Godavari River had almost completed, the State government was now focusing on PRRLI project. "Chief Minister K Chandrashekar Rao is now focusing on the PRRLI project. I am sure by next Kharif season, we should be able to provide irrigation water to a major chunk of the district under this project," said the Minister. Later, the Minister reviewed the issues faced by farmers and directed the officials concerned to immediately address them.
Zilla Parishad Chairperson Swarna Sudhakar Reddy, ZPTC Venkateshwaramma, MPPS Sudha Shri, Balaraju, vice-MPPs Anitha, Panduranga Reddy, Venkataiah, Amar and District Collector Ronald Rose took part in the programme.