Sand mining takes off in Kaleshwaram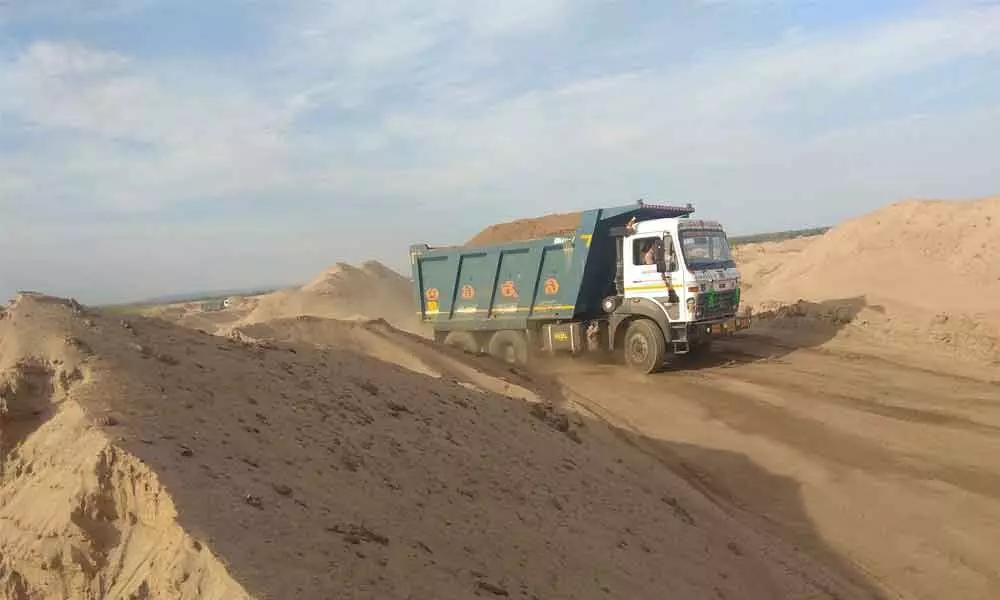 Highlights
However, trucks from Hyderabad, a Covid red zone, a big worry for locals; TSMDC gradually increasing sale quantity
Mahadevpur (Bhupalpally district): For outsiders, Kaleshwaram is the place where the much-touted, multi-billion-dollar Kaleshwaram Lift Irrigation Projects begins its journey backwards. The place, a confluence of two rivers- Godavari and Pranahita and located on the right bank of Godavari 17 kilometers from here, is also famous for Kaleshwara Muktheshwara Swamy temple.

But it has a third dimension as well. And that's a thriving sand mining industry. Yeah, that's true. In the last few years, Kaleshwaram area has emerged as the epicentre of sand quarrying activity in Telangana and sand from here travels to Hyderabad and beyond day in and day out, generating decent revenue for the State government and benefiting the local population. It's no surprise that sand mining and sales took off first when the Telangana government relaxed Covid-19 lockdown norms and permitted gradual opening of the State's economy recently.
"TSMDC has already commenced online sales. We loaded 120 lorries on the fifth of reopening and 200 lorries on the sixth day. We expect the number to go up further," Thirupati, a supervisor at a sand mine near Suraram village told The Hans India. In normal days, this mine used to load over 300 lorries in a day. More than 14 sand quarries are in operation in Godavari river near Annaram, Kaleshwaram, Mahadevepur, Suraram and other villages in Bhupalpally district. The Telangana State Mineral Development Corporation (TSMDC) operates these quarries through contractors. In pre-Covid days, 25,000 cubic metres (CBM) of sand used to be sold from these quarries daily on an average. Trucks numbering over 1,500 used to transport the sand to various parts of Telangana. However, Hyderabad, where large number of infrastructure and real estate projects are currently under construction, is the main consumer of the sand mined here.
"At present, around 1,000 lorries loaded with sand are going out from here daily. That's the reason why there is not much traffic of transport vehicles on the roads," said Odeti Bharath who operates a couple of lorries and transports sand to customers in Warangal and other places.
However, the presence of truck drivers from Hyderabad worries local people and those working in sand quarries. "Truck drivers don't wear masks despite repeated requests. What we can do? We are worried a lot as several of the trucks coming here are from Hyderabad where Covid-19 cases are rising by the day. Moreover, Hyderabad is a red zone. So, working in these sand quarries is risky now due to corona threat," said a worker in one of the quarries near Mahadevpur. Challa Keshav, a resident of nearby Kudurpally village, also echoed similar apprehensions." Lockdown norms have not been implemented strictly here and no one is bothered to maintain physical distance. Added to this, we have these trucks transporting sand. We are vulnerable," he lamented.
But the truck operators and drivers have their own woes as it's a long wait to get the sand. "I have been waiting here for my chance for the past four days. I applied online. It takes five to six days to get a single truck load of sand," revealed Syed Mumtaz, a truck driver-owner from Sangareddy district. A regular to sand quarries here, he keeps cooking paraphernalia in truck and patiently waits until his online order gets okayed.
When contacted, K Rajender Reddy, General Manager (Sand), TSMDC, said that there is huge demand for sand now. "As large number of projects have been taken up in Hyderabad and surrounding areas, demand for sand has gone up. Moreover, those executing construction projects procure more sand during summer and keep enough stock at hand before onset of monsoon so that works can continue during rainy season," he maintained.
Reddy further said that the corporation has gradually been increasing sale quantity from Bhupalpally district after the reopening in the first week of May. "At present, we are selling 15,000 to 18,000 CBM sand every day. That comes to around 1,000 to 1,200 truckloads," he said. He also cited some resistance from villagers due to Covid-19 fears. "That's why we not going for steep increase in sales quantity. But we have taken enough safety precautions and strictly instructed lorry operators' associations to see to it that truck drivers wear masks and take all safety measures", he explained. Sand mining is a boon for local communities as it's creating lots of employment opportunities, he added.