YSR Cheyutha scheme: 357 Crore sanctioned to Krishna district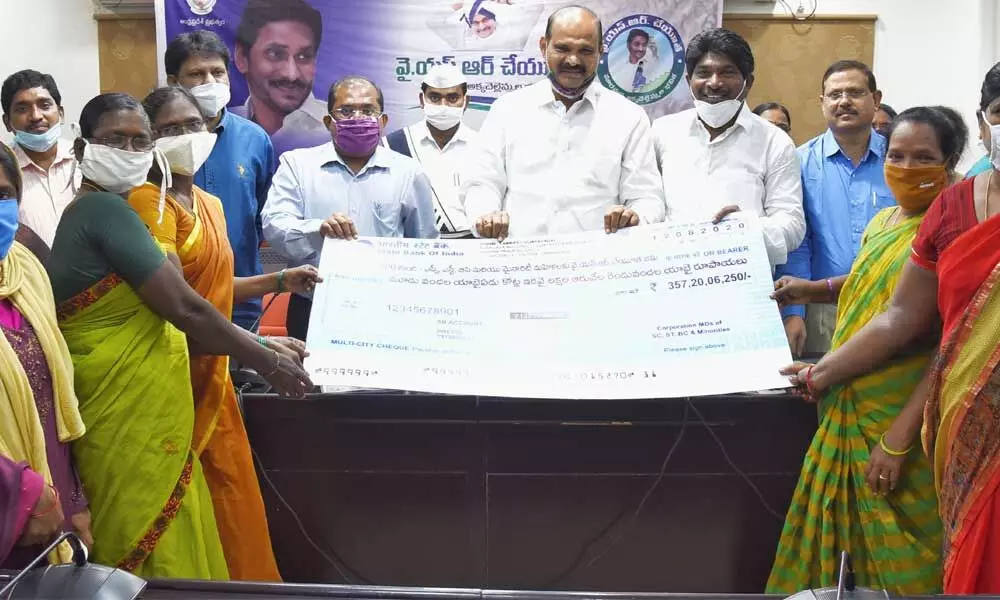 Highlights
YSR Cheyutha scheme: 1,90,524 beneficiaries from the district to derive benefit under the scheme
Of these, 59,073 women belong to SC category, 6,838 belong to STs, 1,06,346 women from BC category, 15,624 from minorities and there are 2,643 Christian women
Vijayawada: Krishna District Collector Md Imtiaz has said the State government released Rs 357 crore to the beneficiaries under the YSR Cheyutha scheme in the district.

The Collector along with MLAs participated in the videoconference, from the Collector's camp office on Wednesday, conducted by Chief Minister YS Jagan Mohan Reddy on the launching of YSR Cheyutha scheme. Under the Cheyutha scheme women belongs to Kapu, BC, ST, ST women in the age group of 45 to 60 years will get Rs 18,750 for four years.
Speaking on the occasion, the Collector said 1,90,524 beneficiaries in Krishna district will be benefitted under the scheme and the government has sanctioned Rs 357.23 crore. He added that Rs 4179.22 crore sanctioned by the government for implementation of scheme in the State. He said 59,073 women belong to SC category, 6838 women belong to ST category, 106346 women belong to BC category, 15,624 women from minorities and 2643 Christian women were selected in Krishna district for the scheme.
Penamaluru MLA, Tiruvuru MLA K Rakshana Nidhi and others explained the objectives of YSR Cheyutha. They said that the Chief Minister has fulfilled the pre-poll promise of rendering financial assistance to the BC, ST, ST and minority women in the age group of 45 to 60 years.
Later, the Collector and the MLAs handed over cheques to women beneficiaries at the camp office. DRDA project director M Srinivasa Rao and officials of other departments attended the event.