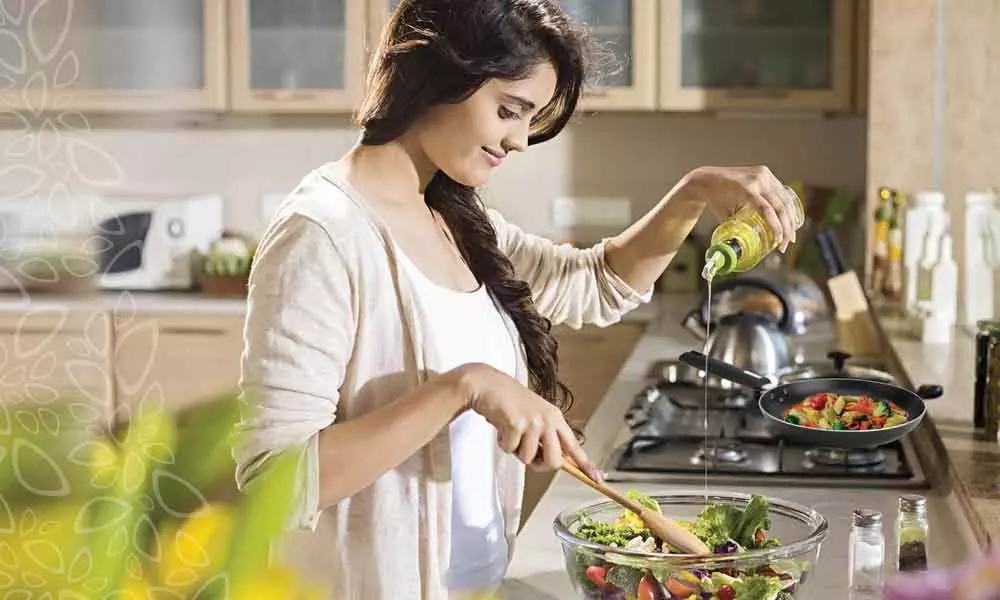 Highlights
Cooking lovers, all you need are a few helpful tricks to make cooking a fun, easy and comfortable experience…
The kitchen is the heart of every home. Initially, while the kitchen was designed for cooking all meals, today with changing times, it has transfigured itself into the very epicentre of the home. From fueling our bodies with delicious meals to huddling the family together with constant bantering and conversations - the kitchen is one of the most memorable places of the house. Preparing a healthy and tasty meal requires a lot of planning and it is important to note the amount of efforts that go into making it. Moreover, it also involves spending a lot of time in the kitchen and considering how hot it can get, you do tend to break a sweat especially when the kitchen fan is off due to the gas being on so as to not disturb those flames. With the constant stressors of life burdening us, we hope to have a stress – free time in the kitchen.
Well-organised kitchen
Organisation is key when it comes to cooking. A strong infrastructure forms the basis of any kitchen. According to your setting and space availability, storage facilities can be devised. If you want to start small, make better use of space in your pantry and cupboards by getting rid of bulky packaging. Store supplies in clear jars to avoid any kind of confusion and have a clear idea when you are running low. Using same-size containers is an organisation trick that makes the most of your space. Decant spices in uniform jars—and even add printed labels if you want a professional touch. In Indian homes, our very own Indian meal ingredients have a lot of masalas. The same needs to be stored in the right places to make them accessible.
The refrigerator is an integral part of the organisation in the kitchen. Give it a thorough wipe down and then organise foods by type, with the most frequently used items in the front.
Proper ventilation
When you're cooking with poor ventilation, the air quality is compromised. This can not only contaminate surfaces but also damage them. You'll need to clean your kitchen surfaces more frequently to avoid contamination and preserve them against the potential of stains and water damage. This adds to a stressful experience in the kitchen.
Smart appliances
Women tend to spend 4 to 5 hours standing in their kitchen preparing a wholesome meal for their family. With the festive season upon us, preparations have also begun especially for the scrumptious traditional food and sweets for the upcoming gatherings. However, one has to break a sweat when it comes to making the food particularly due to the heat generated. Moreover, while cooking, the fan is turned off as it disturbs the gas flame hence making it extremely uncomfortable to stand the heat in the kitchen. Even if the kitchen is properly ventilated, it is impossible to have a sweat-free cooking experience. With new technological advances, a specialised kitchen fan is now available that allows you to cook without disrupting the gas flame. It enables you to enjoy a cool breeze of air, which is directly focused on you thereby making your cooking experience more comfortable and stress-free.
Clean working space
A neat and tidy space allows you to move around freely without feeling chaotic. It also keeps cooking conditions clean and hygienic leaving no chance of an infestation.
Disposing of garbage is a major issue in our households. Replace that one big, smelly trash bin with multiple smaller ones. This will not only make it easier to dispose of waste but also better when it comes to recycling and compost. The top of the refrigerator also tends to get dirty fast, thanks to tiny food particles that float into the air on steam and end up there. Make it easy to clean by topping it with a layer of plastic wrap each month. Then simply remove the plastic wrap and replace it. You can barely see it, and you'll never have to wipe down the top of your fridge again.
Meal plans and preps
Planning takes the guesswork out of cooking. Prior planning of your meals on a weekly basis allows you to have a hassle-free cooking experience. Indian meals, especially, take a long time to cook and hence, proper planning will help to save time and efforts. Planning will allow you to spread out your meal portions equally and end every meal with a new kind of treat. This will help you stay motivated and avoid getting bored of eating the same thing every day. Planning a daily menu isn't difficult as long as each meal and snack has some protein, fibre, complex carbohydrates and a little bit of fat. A healthy rotation plan along with a few cheat foods will also allow you to keep those extra kilos away.
- Uma Lanka, Crompton Greaves Consumer Electricals Ltd
Subscribed Failed...
Subscribed Successfully...