Manikonda: Mosque 'demolished' by miscreants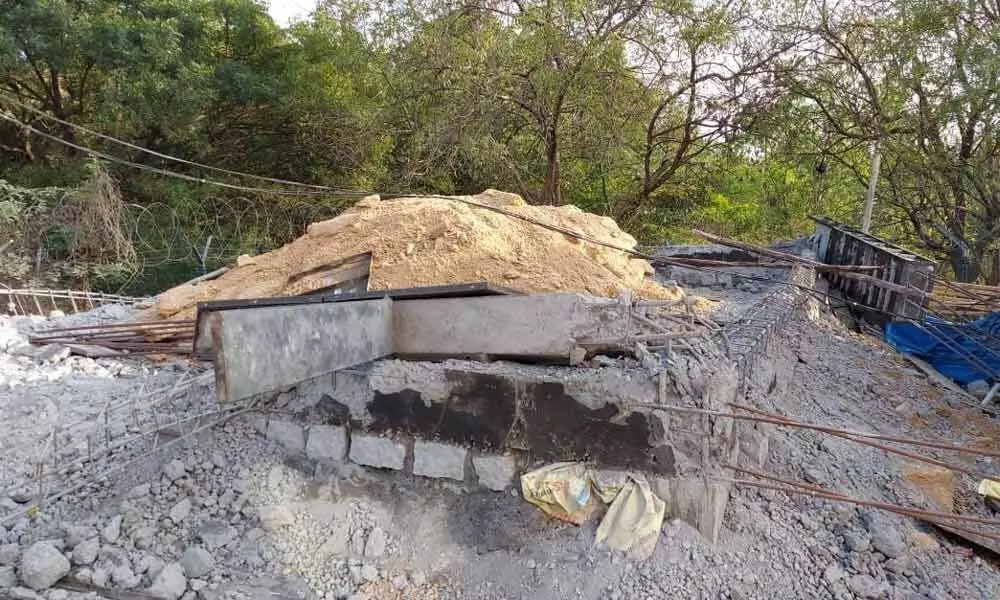 Highlights
Destruction occurred during renovation work
Since the last eight years, Muslims of YSR Colony have been offering 'namaz' in a tin-shed. They started construction recently taking required permission from the Commissioner of Manikonda Municipality: MBT leader
ADVERTISEMENT
Manikonda: Some unknown miscreants allegedly demolished a portion of an under-construction mosque located in YSR Colony in Neknampur under Manikonda Municipality of Ranga Reddy district.
The incident of destruction occurred during the renovation of an existing mosque. A complaint was also registered in Narsingi Police Station.
According to Amjedullah Khan, a spokesman of MBT, the mosque was established by Ayub Khan some 10 years back in the colony. It was built during tenure of Chief Minister of united Andhra Pradesh Dr Y S Rajashekara Reddy. He allotted land in Neknampur for the Secretariat Employees.
"Since the last eight years, Muslims of YSR Colony have been offering 'namaz' in a tin-shed and started construction recently taking required permission from the Commissioner of Manikonda Municipality, as they were facing difficulties during rainy season. Construction works are going on," he added.
However, recently on December 23, 2020, advocate Ravinder Viswanath (Senior Standing Counsel, Government of India) issued a notice on behalf of his client Local Military Authority, Secunderabad Cantonment, Government of India, Ministry of Defence headquarters Telangana and Andhra Sub-Area, asking the Masjid Committee to stop the construction of the mosque.
On Monday early morning some miscreants demolished a portion of mosque. A police complaint was registered by the mosque officials. Police officials reached the site and inspected the damage. Locals residents said the trouble-makers covered the CCTV cameras with cloth before cutting the pillars to leave the investigating authorities clueless about their identity.
Khan said he would represent the issue to Chief Minister K Chandrasekhar Rao, Home Minister Mohammed Mahmood Ali."Will ask Telangana State Wakf Board chairman Mohammed Saleem to give a written complaint in Narsingi Police Station. A case should be booked against them for demolishing the mosque," he added.