Tirupati: Housing will be a continuous programme, assures Jagan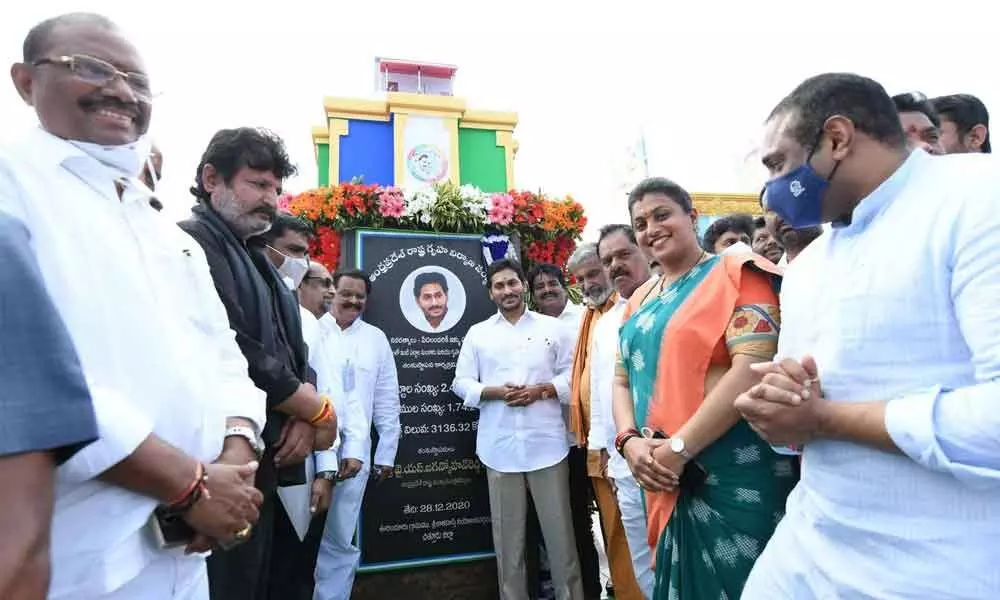 Highlights
Asserting that housing will be a continuous programme for his government, Chief Minister YS Jagan Mohan Mohan Reddy said all the eligible homeless will get the sanction order for a house within 90 days after they applied
Tirupati (Srikalahasti) : Asserting that housing will be a continuous programme for his government, Chief Minister YS Jagan Mohan Reddy said all the eligible homeless will get the sanction order for a house within 90 days after they applied.
Speaking after launching a mega housing project by unveiling a pylon at Urandur near here for the construction of about 25,000 houses in Srikalahasti constituency, Jagan Mohan Reddy took the opportunity to launch an attack on the Leader of Opposition N Chandrababu Naidu whom he accused of throwing spanner in the works by creating hurdles in the housing scheme which is intended to provide a shelter to the poor.
Accusing TDP of trying to obstruct distribution of houses by filing litigations in courts even a day before launch of the programme, he said land disbursement was not being done in Vizag, Amaravati, Rajamahendravaram and other places due to these cases. But he said the government was determined to provide shelter to all the poor, overcoming all legal hurdles shortly.
He said that only due to pending of several legal issues, as of now officials are issuing D form pattas and after getting legal clearance from courts, permanent legal entitlements would be issued to beneficiaries.
The Chief Minister said the massive housing programme benefitting about 30.75 lakh beneficiaries would boost economic activity through large scale employment to people engaged in various trades like masons, carpenter, electrician, plumber, goods carriers, construction material suppliers, etc., helping increase GDP and rejuvenation of the state's economy.
In Chittoor district alone, in the first phase, 1,78,840 houses will be constructed, while 2.50 lakh house pattas will be distributed.
Reiterating that the state is not constructing just houses for poor, but is constructing towns for the future fulfilling all necessary requirements, the Chief Minister said that the government has been taking effective measures in empowering women and supporting them at all times.
The Chief Minister said that in the first phase 15.60 lakh houses will be constructed at a cost of Rs 28,000 crore and the remaining 12.70 lakh houses will be taken up from next year. He assured to provide infrastructure including drinking water, drainage, electricity and set up parks, anganwadis, community halls, village clinics and RBKs depending on the layout area.
Initially the government had decided to provide 224 sq ft, later it was increased to 340 sq ft.
Referring to the TIDCO housing, the Chief Minister said that the government has been spending Rs 9,500 crore for completing 2.62 lakh TIDCO houses.
Deputy CM Narayana Swamy, minister PeddiReddy Ramachandra Reddy and Srikalahasti MLA Biyapu Madhusudan Reddy also spoke. Few of the selected women beneficiaries shared their opinions on the dais and expressed their thanks to the Chief Minister.
Chittoor district collector Dr N Bharat Gupta and APIIC chairperson RK Roja, MLAs Bhuman Karunakar Reddy, Jangalapalli Srinivasulu, Rajampet MP Mithun Reddy, Chittoor MP Reddeppa Reddy and others took part in the public meeting.