Javadekar opens transit campus of Central varsity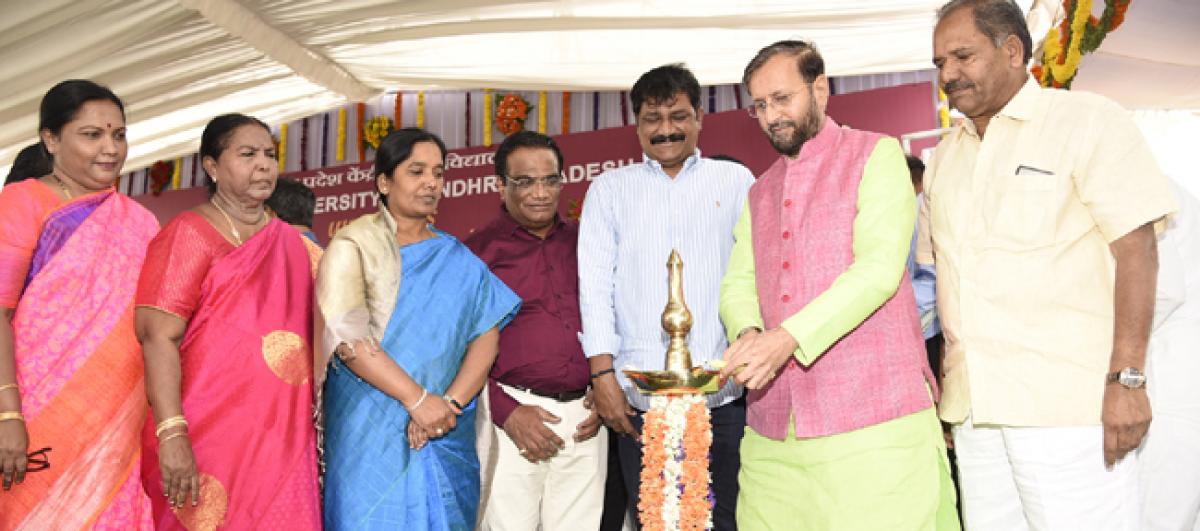 Highlights
Union HRD Minister Prakash Javadekar on Sunday declared open the the transit campus for the Central University in the temporary buildings at the JNTU campus here
Anantapur: Union HRD Minister Prakash Javadekar on Sunday declared open the the transit campus for the Central University in the temporary buildings at the JNTU campus here.
Addressing a meeting at the JNTU campus after unveiling the plaque and logo of the university, Javadekar said the Centre is keen to fulfill all the promises made to the AP state and that was the reason why Prime Minister Narendra Modi had given the nod for the Central University though the concerned Bill was yet to be passed by the Rajya Sabha. More than 30 Bills are awaiting approval of the House, he added.
Javadekar hailed the establishment of the Central University, which became a reality after a four-year wait. The new university will have 180 students with 30 students in each of the 6 courses.
Pucca buildings will be constructed at Bukkarayasamudram in an area of 500 acres. The Centre will be spending Rs 1000 crore on the buildings and infrastructure.
The Union minister regretted that the Centre which sanctioned Rs 359 crore for the 7 backward districts had been withdrawn after the TDP withdrew from the Central cabinet. Central University Vice-Chancellor Appa Rao spoke on the occasion. Javadekar said the Central University is the fourth university in the district after JNTU, SKU and the Sathya Sai Deemed University.
He said that there is no paucity of funds for the new university. Already, a sum of Rs 400 crore has been released and Rs 500 crore more would be released in the second phase.