Sexual harassment by sanitary inspector alleged in Bhimavaram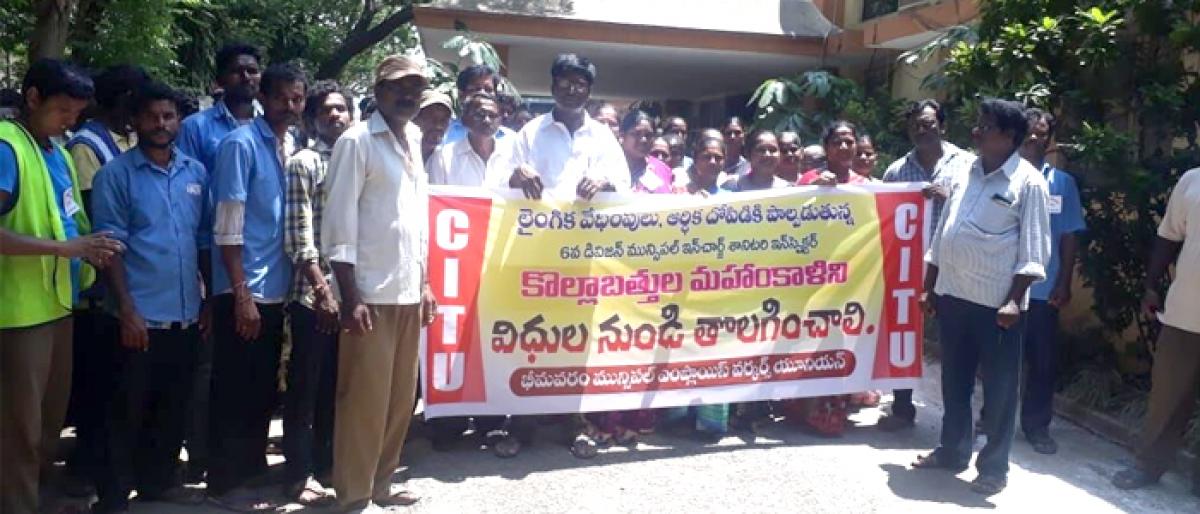 Highlights
The municipal employees under the auspices of Centre of Indian Trade Unions CITU staged dharna at municipal office here on Tuesday, demanding that the authorities take action against sixth division incharge sanitary inspector for financial fraud and sexual harassment towards the workers
Bhimavaram: The municipal employees under the auspices of Centre of Indian Trade Unions (CITU) staged dharna at municipal office here on Tuesday, demanding that the authorities take action against sixth division in-charge sanitary inspector for financial fraud and sexual harassment towards the workers.
The CITU district vice-president, B Vasudeva Rao alleged that the sanitary inspector Kollabattula Mahankali had been sexually exploiting municipal contract workers by threatening them to be removed from their services.
Rao accused Mahankali of organising a municipal contract workers society to loot the workers.
He was collecting monthly sum of Rs 40,000 on the pretext of fighting for their welfare and job security. Besides robbing the contract workers, the sanitary inspector has been removing the workers who refuse to satisfy his lust.
The CITU leader wanted the government to sack the sanitary inspector to put an end to his misdeeds.
The agitators threatened the government to intensify agitation, if it failed to axe the sanitary inspector.
The protesters submitted a memorandum to municipal Commissioner Naga Narsimha Rao.
The Commissioner responded positively and promised to initiate action against the sanitary inspector.
The CITU leader, Durga Rao, Aasirvadam, Raju, Appanna and others were present.