Srikalahasti temple receives 63.75L revenue in one day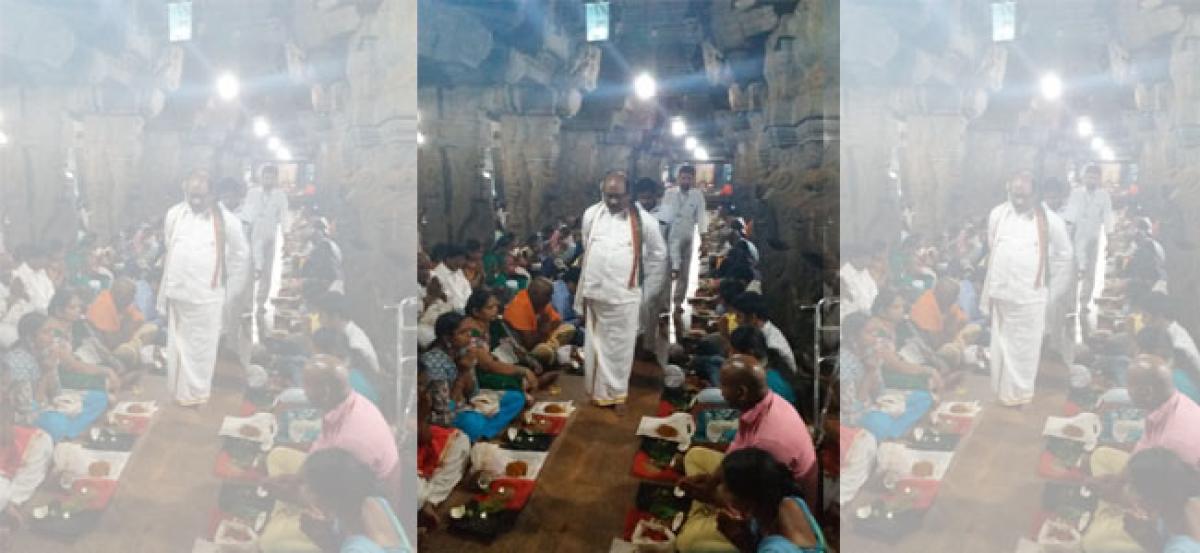 Highlights
The famous Srikalahasti temple, which is known for Rahu Kethu pujas has witnessed record collections on SundayAs it was new moon day which many consider auspicious for performing Rahu Kethu pujas and Abhishekam to Lord Shiva, people thronged the temple to perform them and worship Lord Kalahasteeswara and Gnana Prasunamba
Tirupati: The famous Srikalahasti temple, which is known for Rahu Kethu pujas has witnessed record collections on Sunday. As it was new moon day which many consider auspicious for performing Rahu Kethu pujas and Abhishekam to Lord Shiva, people thronged the temple to perform them and worship Lord Kalahasteeswara and Gnana Prasunamba.
In total, 6,685 Rahu Kethu pujas were performed among which majority were Rs 500 tickets. A total of 4,038 persons performed the pujas by purchasing Rs 500 tickets while 1,741 persons have bought Rs 750 tickets followed by Rs 1,500– 552 tickets, Rs 2,500–291 tickets and Rs 5,000–63 tickets. On the other hand, 193 Rudrabhishekam tickets were sold whereas 1,768 people have purchased Rs 200 special darshan tickets.
The temple received a total revenue of Rs 63.75 lakhs on the day. Temple EO Ramaswamy inspected the pujas several times during the day to ensure devotees have hassle-free darshan and pujas. Srikalahasti temple considered as 'Dakshina Kasi' drawing huge crowds year after year and becoming famous after Tirumala temple.
During 2017-18 fiscal, the temple revenue has touched Rs 146.16 crore stood on top after Tirumala temple pushing even Srisailam temple also behind which earned Rs 120 crore during the period. Among other pujas, it was Rahu Kethu puja that turns out be a money spinner for the temple as it contributes major chunk of revenue.
On an average these pujas fetch a sum of Rs 60 crore per annum with about 10 lakh devotees performing pujas every year. Hundi collections have also increased to Rs 15 crore during last year and was on increase every month. Devotees from every nook and corner of the country visit Srikalahasti as they consider it as 'Rahu Kethu kshetra' and perform pujas.
It was the strong belief of the devotees that by performing these pujas in this temple all their 'doshas' (evil effects) will go away. Several VVIPs including film stars, cricketers, politicians and bureaucrats visit the temple to perform Rahu Kethu pujas.
The temple authorities have introduced five types of tickets which people can purchase according to their urgency. Though the puja procedure was same for all pujas Rs 5,000 ticket holders can have separate pujas for each ticket whereas other ticket holders must perform them as a group.
In view of the increasing number of devotees, the temple authorities were going to implement the master plan soon to provide more amenities for devotees and to provide a pleasant darshan for all. In the next one year, the temple may witness all round development as per the master plan.