Splendour marks Rathotsavam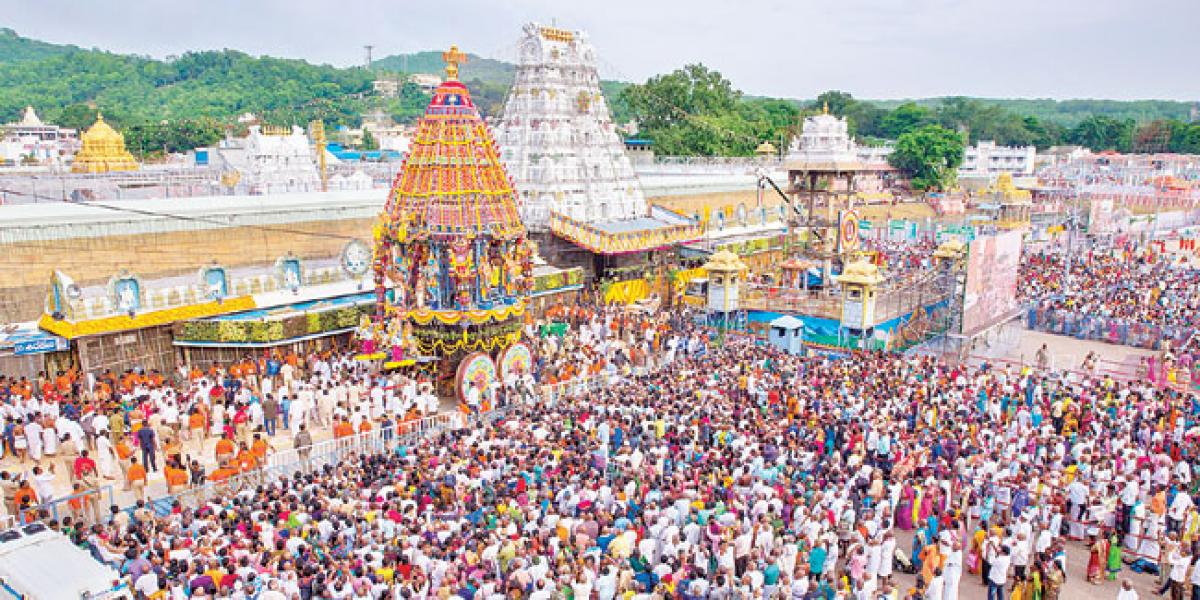 Highlights
Gaiety and religious splendour marked Rathotsavam at Tirumala on Thursday, on the penultimate day of the nineday annual Srivari Brahmotsavams
Tirumala: Gaiety and religious splendour marked Rathotsavam at Tirumala on Thursday, on the penultimate day of the nine-day annual Srivari Brahmotsavams.
After the conduct of special rituals such as 'Punyavachanam' and 'Navagraha Dhyanam,' the processional deities of Sri Malayappa Swamy flanked by His two divine consorts, Sridevi and Bhudevi on either side, were ceremoniously mounted atop the giant wooden chariot amidst chanting of Vedic hymns by the temple pundits.
Tens of thousands of devotees from different parts of the country participated in the divine procession all along the mada streets. The chariot was tastefully decorated with different varieties of flowers, flags, and festoons. As is customary, the golden umbrella was tied atop the mammoth chariot.
The chariot rolled majestically down the thoroughfares of the hill temple preceded by temple paraphernalia, including half-a-dozen caparisoned elephants, horses, bulls, and followed by the cultural and bhajan troops besides a contingent of Vedic pundits led by the priests of the temple. The nine-day long Brahmotsavams will come to end with the performance of Chakrasnam on Friday. TTD EO Anil Kumar Singhal, JEO KS Sreenivasa Raju, Trust Board members and others were present.