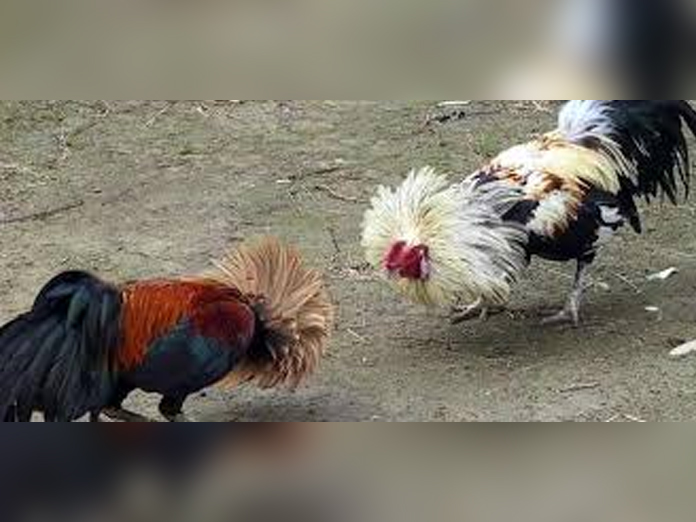 Highlights
All set for the start of cockfights in three coastal districts of Krishna, East and West Godavari from Monday marking the festival of Sankranti Cockfight is ageold tradition in the Godavari Krishna delta region during Sankranti season
Vijayawada: All set for the start of cockfights in three coastal districts of Krishna, East and West Godavari from Monday marking the festival of Sankranti. Cockfight is age-old tradition in the Godavari-Krishna delta region during Sankranti season.
Lakhs of people enjoy watching cockfights while punters give special training to cocks for fight in the lethal battles. Sankranti festival without cockfights is very unusual in these districts as people habituated to watch and enjoy the vacation for two or three days.
Though, police officials are giving stern warning that the cockfight arenas will be dismantled and organizers would be punished, it is said that over 500 arenas have already been arranged in West Godavari district, followed by 100 each in Krishna and East Godavari districts this festival season. Cockfight organizers enjoy the patronage of political leaders of all parties.
The High Court imposed a ban on cockfights with knives. So, the organizers say they will conduct the cockfights without knives. But the cruel game continues with knives only. Because, the punters and participants wish that each game should be finished in less than 15 minutes.

So that, more games can be conducted in two days.
Keeping in view of the craze for the game, thousands of roosters are kept ready for the lethal game beginning Monday. Some organizers have imported roosters from Thailand and Australia also.

Sadly, the organizers have not made any arrangements to treat the injured roosters, which will die with brutal injuries and severe bleeding. No one likes to carry back home the defeated creatures. Fate of most defeated birds end in the battles and near the arenas. In East Godavari district, around 100 arenas are kept ready and out of which about 50 are located in the Konaseema region, which is represented by Home Minister N Chinarajappa.
Cockfights will be held in Allavaram, Amalapuram, Razole, Gannavaram, Kothapeta, etc, along with Tuni, Kakinada rural, Peddapuram, Samalkot, Vetlapalem and Rajamahendravara rural. Informal permissions were given for recording dances too in some parts of the district. All the rooms in the hotels at Kakinada, Rajamahendravaram, Amalapuram and other areas were booked with punters and visitors from other places.
Meanwhile, East Godavari SP Vishal Gunni and Rajamahendravaram urban SP Shemushi Bajpayee have warned of stern action against cockfight organisers and punters as the traditional sports was banned in the state.