Dance festival concludes in Vijayawada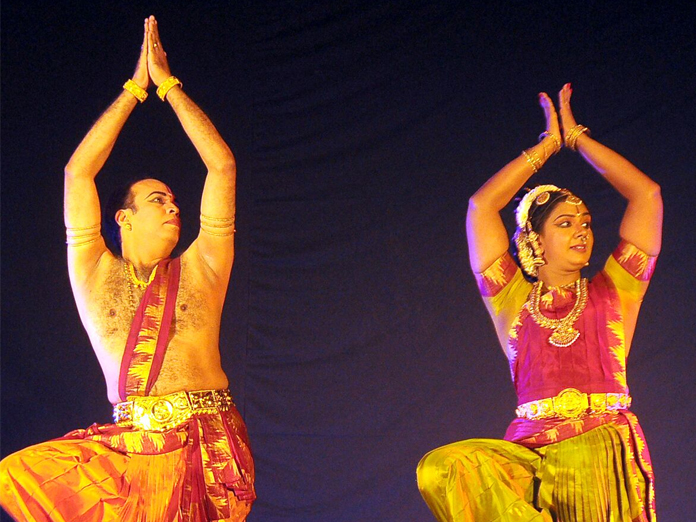 Highlights
A threeday Vijayawada Dance Festival organised by Sri Kiranmayuri Kala Nilayam in association with Vijayawada Municipal Corporation and Andhra Pradesh Tourism Authority at Sri Ghantasala Venkateswara Rao Government Music and Dance College concluded on Sunday
Vijayawada: A three-day Vijayawada Dance Festival organised by Sri Kiranmayuri Kala Nilayam in association with Vijayawada Municipal Corporation and Andhra Pradesh Tourism Authority at Sri Ghantasala Venkateswara Rao Government Music and Dance College concluded on Sunday.
Leela Samson, an exponent of Bharatanatyam, born in Tamil Nadu started learning Indian classical dance and music from the age of nine, from Kalakshetra under the guidance of Rukmini Devi Arundale formed Spanda, a dance group to promote the traditional expressions of Bharatanatyam.
The festival was started by the Bharatanatyam recital of Leela Samson and her disciples Bhavajan, Harikrishna, Redhe and Aswani. The gathering was appreciated the talent of the Spanda group. The second day of the festival began with the Odessa dance of Atreya Datta from Kolkatta.
The audience were thrilled to see the performance of Datta. She had performed 'Adharam madhuram, nayanam madhuram" 'madhurastakam' a composition of Jaidevji and mesmerized the audience.
She also presented the items like 'Durga stuti'. The second part of the dance was showcased Kuchipudi style of dances by Jai Kishore Mosalikanti and Padmavani of Chennai.
They portrayed the popular dance items "Muddugare yasoda", "Ananda Narthana", "Aalokame Sri Balakrishnam" and "Ksherasagaranayana". The atiestes deserves for appreciations for their excellent 'mudras', expressions and apt postures.
On the concluding day, four solo dances were planned to perform by Rakthim Chanda (Kolkatta), Gangadhar Venkat (Hyderabad), Rama Kondinya (Srikakulam) and S Deekshitulu (Hyderabad).
The three day-programme was conducted by Surya and Kiranmayi.