Deccan Chronicle may go for Rs 370 cr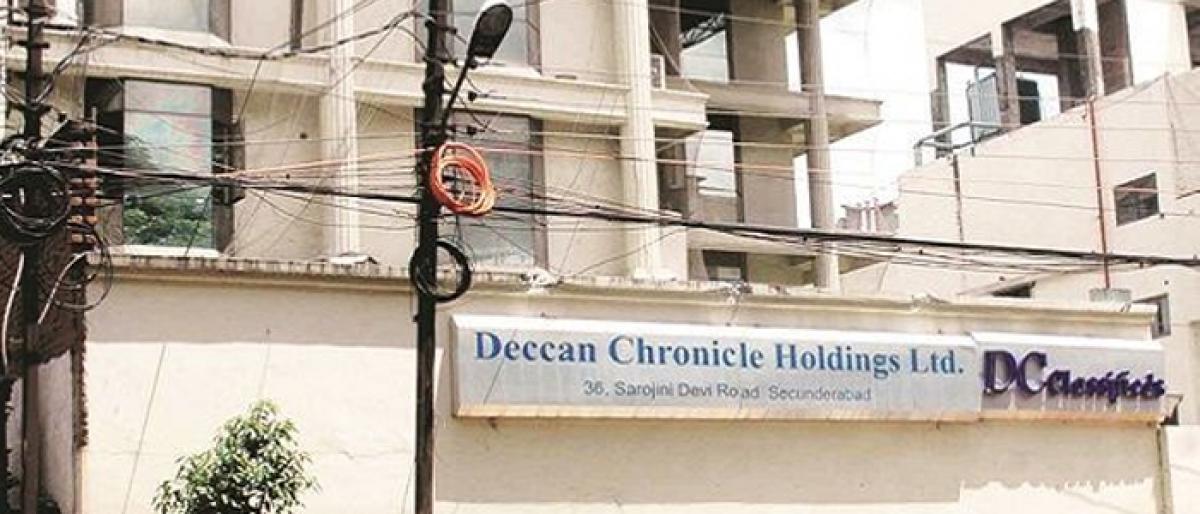 Highlights
The troublehit Deccan Chronicle Holdings Limited DCHL is likely to go lock, stock and barrel for a throwaway price of around Rs 370 crore with Kolkatabased Vision India Fund, a part of Srei Infrastructure Finance Limited, in its resolution plan, expressing its willingness to shell out that much amount for the media house that publishes Deccan Chronicle, Andhra Bhoomi and other publications
​Hyderabad: The trouble-hit Deccan Chronicle Holdings Limited (DCHL) is likely to go lock, stock and barrel for a throwaway price of around Rs 370 crore with Kolkata-based Vision India Fund, a part of Srei Infrastructure Finance Limited, in its resolution plan, expressing its willingness to shell out that much amount for the media house that publishes Deccan Chronicle, Andhra Bhoomi and other publications.
The Vision India Fund from Srei Multiple Asset Investment Trust Managers is now the lone bidder in the fray in the Corporate Insolvency Resolution Process (CIRP) of DCHL which is currently undergoing at the Court-I of Hyderabad Bench of National Company Law Tribunal (NCLT) headed by Ratakonda Murali, Member (Judicial).
According to sources, the resolution plan submitted by Vision India Fund comprised upfront payment of about Rs 370 crore and 11 immovable and movable (aircraft) assets of DCHL that seven banks and financial institutions will get. The seven financial creditors have exclusive charge on these assets. That means the entire money it will pay for DCHL is just Rs 370 crore. Though it expressed its readiness to infuse another Rs 200 crore, that will happen only after the acquisition and that too if required.
As per the resolution plan, of Rs 370 crore it offered to pay upfront, an amount of Rs 331 crore will go to 36 financial creditors including banks, financial institutions against their combined exposure of Rs 8,053 crore to the media house. Operational creditors including material suppliers will get Rs 6 crore against the total claim amount of Rs 154 crore as admitted by Resolution Professional. The company earmarked Rs 18 crore towards staff dues including PF and ESI liability (Rs 4.2 crore) and pending dues (Rs 13.8 crore). The remaining amount in Rs 370 crore will go towards CIRP cost.
This plan was rejected by Committee of Creditors (CoC) through 58 per cent to 44 per cent vote on July 10. However, Vision India Fund has since submitted a revised plan which is likely to go for CoC consideration now subject to orders by NCLT on Wednesday. Resolution Professional for DCHL Mamta Binani told The Hans India earlier that Vision India Fund did not increase the bid amount in the revised plan but changed a clause in it. That means the amount that the fund will shell out has remained same in the revised plan.
The amount of Rs 331 crore that has been earmarked for financial creditors as full and final settlement, will be distributed among them in proportion to their loan amount. However, Canara Bank, which filed the petition against DCHL under IBC, will get the highest amount of Rs 102 crore against its loan amount of Rs 827 crore.
As per the latest list, UV Asset Reconstruction Company Limited is the largest lender with Rs 1,193 crore. It will get Rs 22 crore as upfront payment as well as three assets of DCHL, including a vacant land, in Telangana and Tamil Nadu. The company has exclusive charge to these assets. Interestingly, DCHL head office located in Sarojini Devi Road in Secunderabad is not part of the resolution process.
It's most likely that new owner will get it, though there is no clarity on this. This issue also came up for discussion in one of the CoC meetings.
Of other lenders, ICICI Bank will get Rs 50 crore and an asset against its loan amount of Rs 954 crore while IDBI Bank will get Rs 45 crore (Rs 549 crore). Ganga Properties will get the lowest amount of Rs 1 lakh against Rs 92 lakh it lent.
Further, Income Tax Department claimed tax arrears of Rs 3,044 crore for various assessment years. However, RP did not admit these claims. Vision India Fund in its resolution plan sought directions from NCLT towards waiver of these arrears.
The final deadline for the CIRP of Deccan Chronicle, which began in July 2017 and continued from 357 days, ended on July 10 by which time CoC could not approve any resolution plan. However, the process got a seven-month extension after NCLAT excluded seven months period from December 11, 2017 to July 20, 2018 while delivering judgment on a Srei petition. Experts say NCLT is likely to order for rebidding if CoC rejects the revised plan of Vision India.
Interested in blogging for thehansindia.com? We will be happy to have you on board as a blogger.