Infant malnutrition incidence in India worse than that in Africa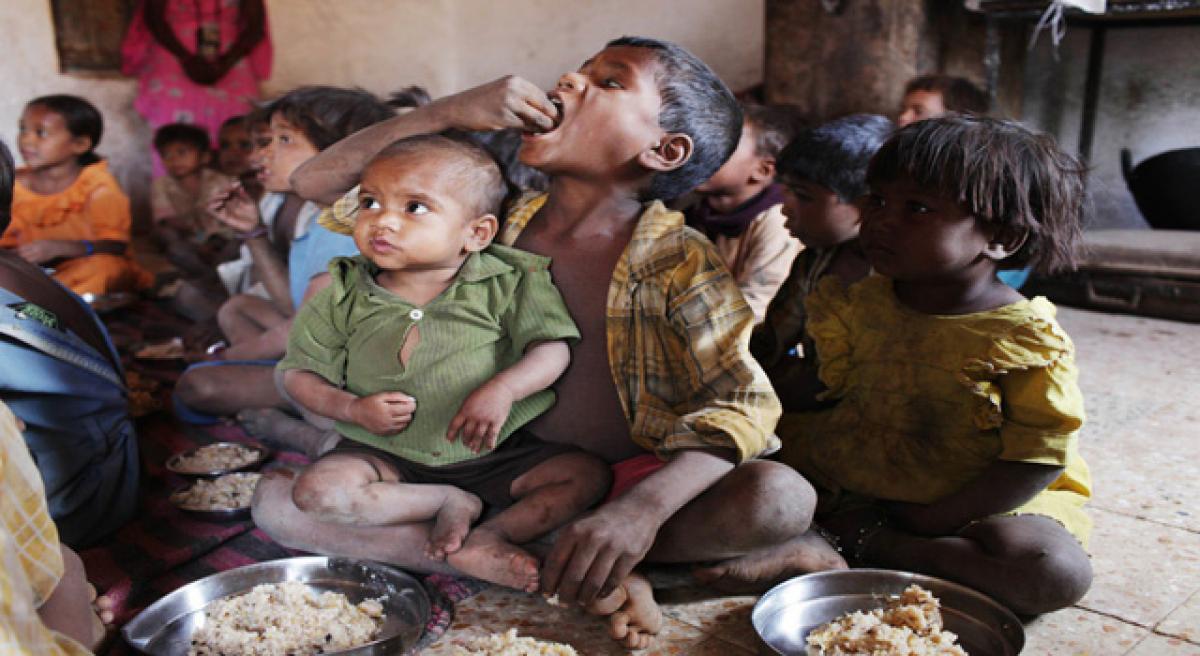 Highlights
Only one in 10 Indian children aged 6-23 months gets \"adequate diet\", according to an IndiaSpend analysis of data from National Family Health Survey 2015-16 (NFHS-4).
DUBIOUS RECORD
Only one in 10 Indian children aged 6-23 months gets "adequate diet", according to an IndiaSpend analysis of data from National Family Health Survey 2015-16 (NFHS-4). Consequently, 35.7 per cent of children below five years of age are underweight, according to NFHS-4 data. India has more malnourished children than sub-Saharan Africa and nearly one of every five malnourished children in the world is from India. After birth, between 0-6 months, breastmilk alone is sufficient to meet an infant's requirement for food and water.
Only 55 per cent children are exclusively breastfed for six months, according to NFHS-4, a rise of nine per cent from 2005-06 (NFHS-3). The period of transition from exclusive breastfeeding to family foods, referred to as complementary feeding, covers a child from 6-23 months and is a vulnerable period. It is the time when malnutrition starts in many infants, contributing to the high prevalence of malnutrition in children under two years of age.
Optimal breastfeeding in the first year and complementary feeding practices together can prevent almost one-fifth of deaths in children under five years of age, according to the United Nations Children's Fund. Optimal complementary feeding is the most effective intervention that can significantly reduce stunting during the first two years of life. Stunted children are more susceptible to falling sick, underperforming in schools, more likely to become overweight and often earn less than non-stunted co-workers.
Furthermore, inadequate iron intake can lead to iron deficiency anaemia (IDA) which leads to permanently impaired cognitive abilities, which leads to a reduction in adult wages, according to a 2015 study. An "adequate diet" is defined as introduction of nutritionally-adequate and safe complementary (solid) foods at six months together with continued breastfeeding up to two years of age or beyond.
The worst performing state was Rajasthan where only 3.4 per cent of children in the 6-23 months age-group reportedly got adequate diet, followed by Gujarat (5.2 per cent) and Uttar Pradesh (5.3 per cent). The best performing state/Union territory was Puducherry (31 per cent), followed by Tamil Nadu (30.7 per cent) and Meghalaya (23.6 per cent). In 21 of 36 states/Union territories, the percentage of non-breastfed children having an adequate diet was more than that of breastfed children.
NITI Aayog, the government's premier think-tank, in its three-year (2017-20) agenda draft, had made some suggestions for tackling nutrition issues including creation of web-enabled Nutrition Information System, which should be synergised with the health information management system and mother- and child-tracking system and engaging the private sector for fortification of wheat, flour, rice, edible oils and milk. Fortified food can be incorporated into mid-day meals, public distribution shops and anganwadi centres that provide hot cooked meals. (IANS in arrangement with IndiaSpend.org)
By Devanik Saha
Interested in blogging for thehansindia.com? We will be happy to have you on board as a blogger.