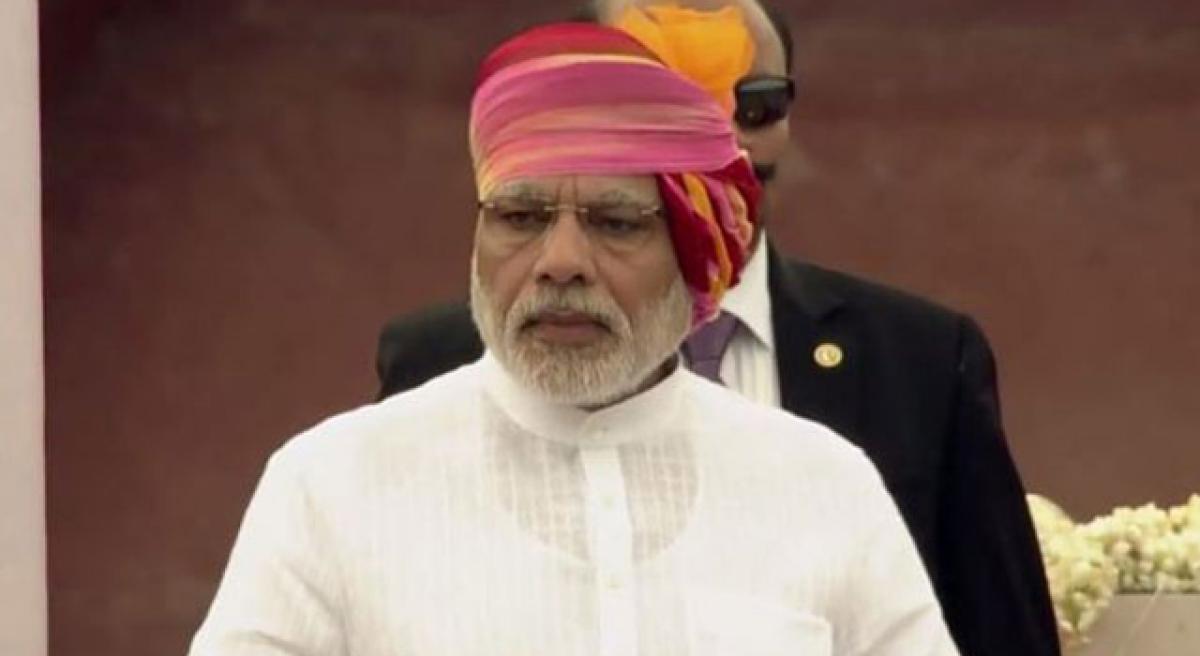 Highlights
Prime Minister Narendra Modi's independence speech revealed a remarkable shift in India's policy towards Pakistan. Modi referred to human rights violations in Balochistan, Gilgit and Pakistan occupied Kashmir (PoK).Foreign policy experts view this as a major departure in India's foreign policy. Until now, India steadfastly remained committed to non interference in other's internal affairs despite
Prime Minister Narendra Modi's independence speech revealed a remarkable shift in India's policy towards Pakistan. Modi referred to human rights violations in Balochistan, Gilgit and Pakistan occupied Kashmir (PoK).Foreign policy experts view this as a major departure in India's foreign policy. Until now, India steadfastly remained committed to non interference in other's internal affairs despite heavy provocation from hostile neighbour.
Does this mean a blow for blow approach the NDA government would like to adopt towards Pakistan? National Security Advisor (NSA) Ajit Doval's infamous reference to India's potential to disrupt Pakistan's status quo through Balochistan adds credence to this.
No doubt our Prime Minister's anguish is justified. Modi's remarks come close on the heels of Pakistan's intrusive comments on developments in Kashmir. Pakistan Prime Minister Nawaz Sharif said that the country was waiting for the day when "Kashmir becomes (a part of) Pakistan". This once again exposed the complicity of Pakistan in cross border terrorism and its brazen indulgence in India's internal affairs.
Annoyed by Pakistan's export of terror to India, Modi's remarks may be music to our ears. But, diplomacy cannot work in tit for tat style. Such an emotional rhetoric from a person no less than the Prime Minister of India does not serve the country's foreign policy interests.
Such overt reference to the internal conflicts in Pakistan would in no way help to deter that country's nefarious designs across the border with India. Indian Prime Minister's reference to Pakistan's territories like Balochistan would unfortunately hold him in the unholy company of a hawkish prime minister of a failed and flawed State.
India internationalising instability in Balochistan would also disarm its consistent effort to expose Pakistan before the international community. It unnecessarily gave the rogue State an opportunity to hit back at India with some sort of legitimacy. Pakistan has already accused India of fomenting terrorism on its soil. Pakistan's oldest English daily Dawn commented that Indian PM's remarks will most likely be interpreted by Pakistan as a threat.
Besides, India's Balochistan strategy is fraught with geo political risks too. India cannot repeat a Bangladesh in Balochistan. Unlike in Bangladesh which had a unifying leader in Mujibur Rehman, the Balochis are politically fragmented. Four decades ago when Indian forces openly rallied with Bangladesh liberation forces, India had an upper hand in conventional warfare with Pakistan. But, today, India and Pakistan are nuclear neighbours with New Delhi losing the strategic advantage.
The idea of an independent Balochistan has far reaching implications as it ranges from breaking away from Pakistan to a Balochistan that also includes parts of Iran as well as Afghanistan. The $46 billion China–Pakistan Economic Corridor runs through Pakistan occupied Kashmir and Gilgit-Baltistan and extends to south through Balochistan to the port of Gwadar on the Arabian Sea. Thus China may not take kindly to Indian active and overt presence in Balochistan. India should also be conscious of Iranian interests in Balochistan.
As patriotic Indians, we may not agree, but no country can refrain from pursuing its strategic interests in neighbouring country that too hostile to it. But, Prime Ministers' assertion from roof top would do more harm than good to India's foreign policy and strategic interests in the region.