Dry spell ruining farmers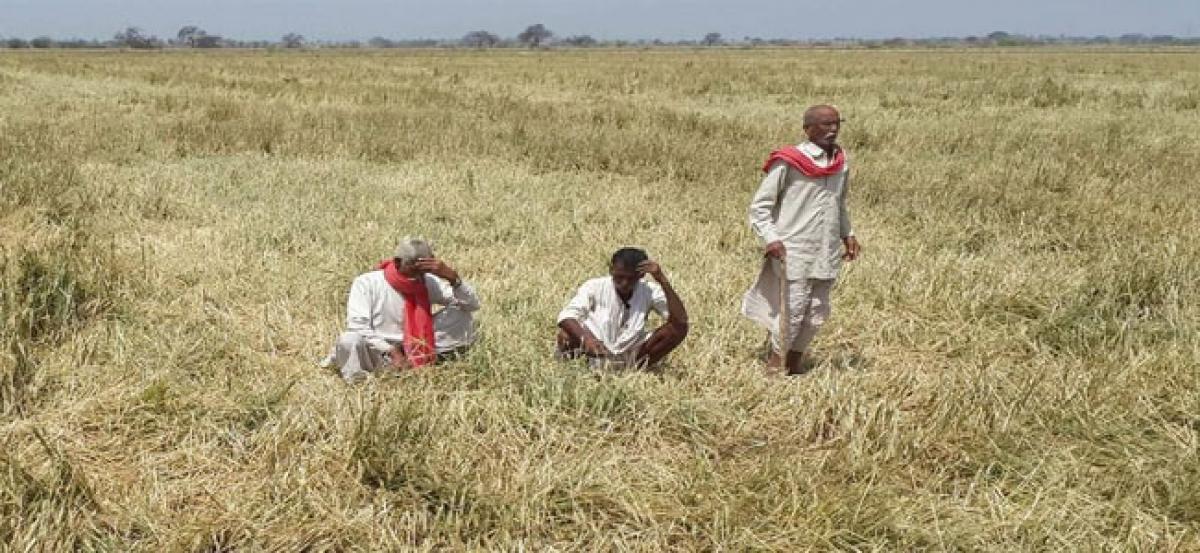 Highlights
Rains played truant for the month of July leaving the farmers shattered The atmosphere became dry and mercury has been zooming up leaving people suffocated during the current rainy seasonOn account of rains in the upper riparian states, water is finding its way into states irrigation projects Severe dry spell prevails in the state
Hyderabad: Rains played truant for the month of July leaving the farmers shattered. The atmosphere became dry and mercury has been zooming up leaving people suffocated during the current rainy season. On account of rains in the upper riparian states, water is finding its way into state's irrigation projects. Severe dry spell prevails in the state.
Barring the districts of Adilabad, KumrambheemAsifabad and Bhadradri-Kothagudem districts, which have recorded more than average rainfall for July, the rainfall condition in Sangareddy, Medak, Siddipet, Janagoan, Yadadri-Bhongir, Malkajgiri, Medchal, Hyderabad, Mahabubabad, Wanaparty, Suryapet and Vikarabad is ringing alarm bells. These districts have recorded the lowest rainfall in the state. In rest of the 17 districts, the rainfall is more or less than the average rainfall.
Humidity is on the wane in the district. Moreover, hot air is blowing from north-western direction. There is no low-pressure area formed in the Bay of Bengal. The monsoon seems to have grown weak over the area leading to escalation of the day temperatures. Khammam recorded the highest temperature of 34.8 degrees Celsius on Sunday. Day temperature ranges between 32.5 degrees Celsius and 34.5 degrees Celsius in Nalgonda, Khammam, Hyderabad, Warangal and other districts. People are experiencing inconvenience due to sweltering heat.
Area sown under various crops was only 72 per cent of the total area cultivated. The north-westerly monsoon became derailed from the very beginning. There was not a single occasion when heavy rain lashed the state for 48 hours. Only 40 per cent of the paddy could be transplanted. Compared to the last year, the extent of land in which the chilli was raised is only 13 per cent. Cultivation of other crops is in the range of 50-60 per cent of the total landed area.
However, cultivation of cotton touched the 98 per cent mark. Coastal, Rayalaseema, Telangana regions and Tamil Nadu recorded higher temperatures. Tiruttani, near Chennai, recorded the highest temperature of 40.2 degrees Celsius on Sunday. The climate is dry in southern region. Crops are withering away in Southern coastal and Rayalaseema regions. Near drought like conditions prevailed in Prakasam, Nellore, Kadapa and Kurnool districts. Kadapa district recorded 69 per cent less than the average rainfall. Met officials rule out formation of a low-pressure area in the Bay of Bengal in the next four or five days. As a result, dry atmosphere will prevail in coastal and Rayalaseema regions.