Over 100 survive Mexico plane crash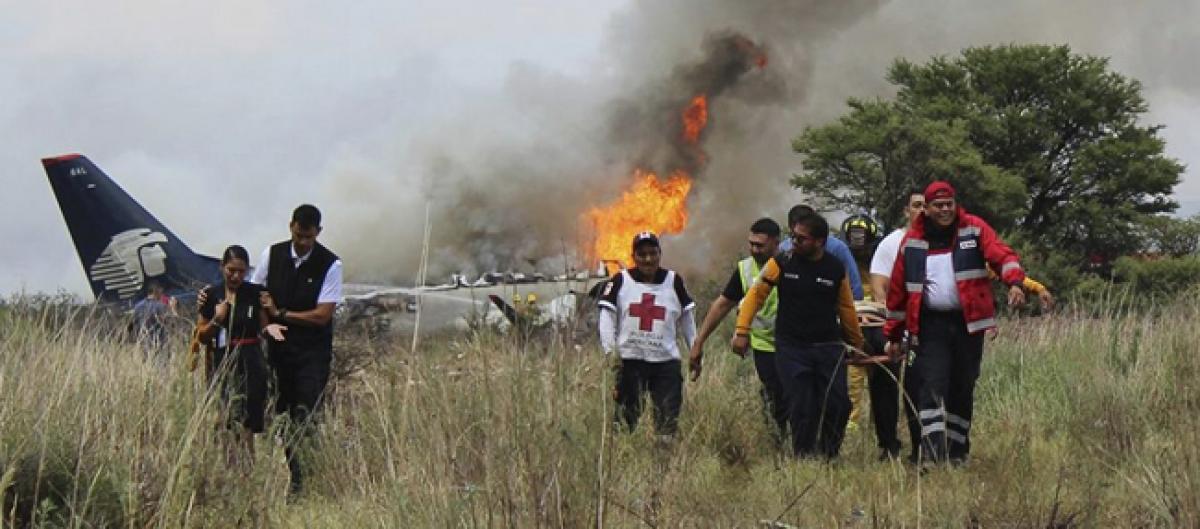 Highlights
Dozens of people were injured as an airliner crashed on takeoff during a heavy hail storm in northern Mexico, engulfing the plane in flames, the airline and passengers said
Durango, Mexico: Dozens of people were injured as an airliner crashed on take-off during a heavy hail storm in northern Mexico, engulfing the plane in flames, the airline and passengers said.
Passengers said there had been "a strange movement" on take-off and "that was when the accident happened," Durango Governor Jose Rosas told the Milenio television channel.
Passenger Jackeline Flores told reporters that the plane crashed shortly after taking off in heavy rain. She and her daughter escaped from a hole in the fuselage as the aircraft filled up with smoke and flames, she said. "A little girl who left the plane was crying because her legs were burnt," said Flores, who said she was Mexican but lived in Bogota, Colombia. Flores said her passport and documents were burnt in the fire.
"I feel blessed and grateful to God," she said. Many injured passengers left the plane, which was engulfed in grey smoke in a field. Witnesses said there were "about 80 injured." The pilot was the most severely hurt but was in a stable condition.
The plane carrying 103 passengers and four crew heading from Durango to the capital Mexico City, "crashed on take-off" around 4:00 pm (2100 GMT), the country's Transport Minister Gerardo Ruiz Esparza said on Twitter.
Emergency services, the army and the Red Cross were on the scene. Aeromexico said it was "working to verify the information and gather details." The first images of the crash site shared on social and Mexican media showed a plane partially immersed in flames. TV images showed the severely damaged body of the plane after it came to rest in scrubland and a column of smoke rose into the sky.
The head of Mexico's civil aviation agency, Luis Gerardo Fonseca, said it could take months to know the cause of the crash. He told Televisa the plane's voice and data recorders would be recovered once rescue efforts were completed.