BJP, RSS will fall like Hitler: CPM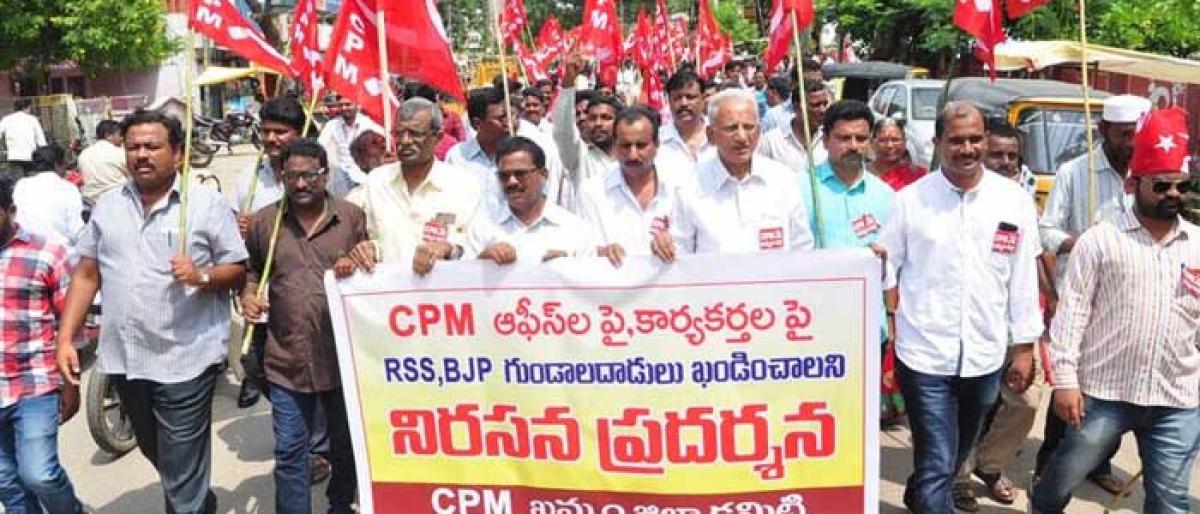 Highlights
The Bharatiya Janata Pary (BJP) and its subsidiary Rashtriya Swayamsevak Sangh (RSS) will face the same consequences as that of Hitler, stated CPM district secretary Ponnam Venkateshwarlu. CPM party activists and leaders took out a protest rally from the Pavilion Grounds to Collectorate in protesting against the attacks of BJP and RSS leaders on Communist party offices and activists in Khammam on
Khammam: The Bharatiya Janata Pary (BJP) and its subsidiary Rashtriya Swayamsevak Sangh (RSS) will face the same consequences as that of Hitler, stated CPM district secretary Ponnam Venkateshwarlu. CPM party activists and leaders took out a protest rally from the Pavilion Grounds to Collectorate in protesting against the attacks of BJP and RSS leaders on Communist party offices and activists in Khammam on Monday.
Speaking on the occasion, Venkateshwarlu said that as per the Indian Constitution every citizen of India has equal rights to live and right to adopt the religion and caste they like and offer prayers to the god they like. But the BJP at the Centre was imposing restrictions on people and is forcing them to follow its ideology.
Communist party was the only party which came to power in Kerala in 1957 elections. The then Congress government, by using Article 156, imposed President's Rule suspending the Communist government. Now the BJP government in the shadow of RSS was trying to do the same by encouraging the communalism and by attacking the Communist parties and leaders, he criticised.
"In the past, Hitler too went against to Communist parties but did could not do anything. Instead, he committed suicide. The same will happen to those who are against the Communist parties," he predicted.
CPM party leaders Kalyanam Venkateshwar Rao, Yerra Srikanth, Y Vikram, B Malsur, M Upendar, T Vishnu, Kodatigiri, MA Qayyum, Bhukya Srinu, V Srinivas, B Venkat Kumar, N Ramesh, Jabbar, B Yakaiah, Meera, Naveen Reddy, and Mallikarjuna Rao were present along with others.