Our focus is on overall development & welfare: Dr C Laxma Reddy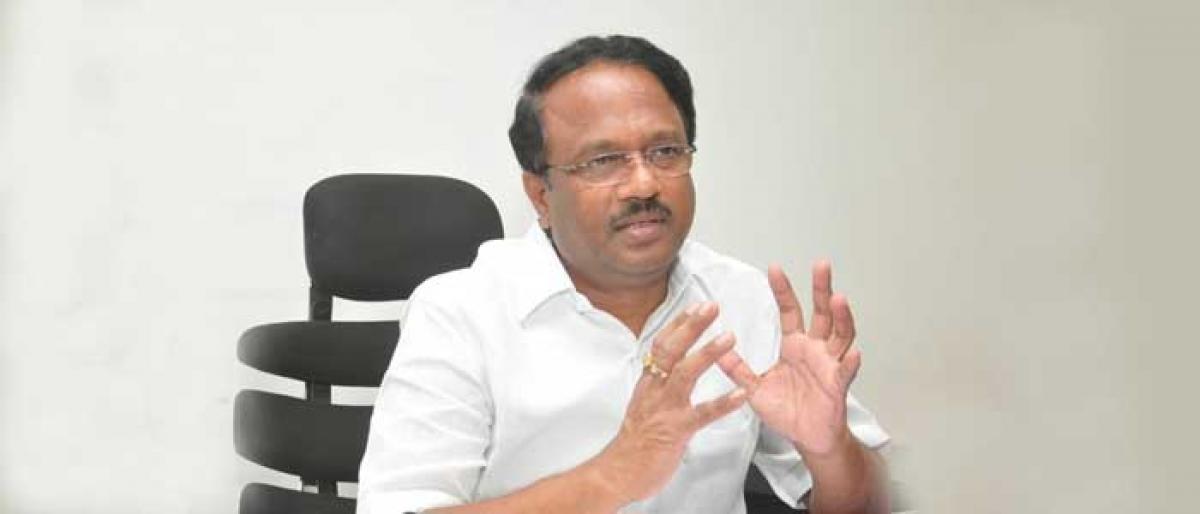 Highlights
Reiterating that the government of Telangana is committed for the overall development and welfare of its people, Health Minister Dr C Laxma Reddy, said, "Our aim and focus is to see that the fruits of development and welfare programmes reach the needy and down trodden in the State."
Gadwal: Reiterating that the government of Telangana is committed for the overall development and welfare of its people, Health Minister Dr C Laxma Reddy, said, "Our aim and focus is to see that the fruits of development and welfare programmes reach the needy and down trodden in the State."
He participated in the district formation day celebrations in Jogulamaba Gadwal on Wednesday. He further added, "We are striving hard to improve not just the infrastructure and medical equipment facilities in hospitals to provide accessibility of highest quality healthcare to the poor, but also giving highest priority to improve the conditions of farming sector and taken up long term infrastructure development initiatives like construction of irrigation projects.
The government is spending more than Rs 40,000 crore to complete the Mission Bhagiratha drinking water grid in the State to provide safe and pure drinking water to each and every household. Apart from this, the government has taken up numerous welfare programmes like Kalyana laxmi, Shadi Mubarak, KCR Kits, enhanced ration rice from 4 kg per person to 6 kg, giving 9 hours of quality power and a host of other welfare schemes."
While congratulating the people of Gadwal and the district administration on the occasion of first district formation day, the Minister said that after the formation of new districts in the State, the development and welfare programmes have been implemented at a faster pace. With the officials and other government machinery present in the close proximity, the people were able to access them very conveniently and getting their problems resolved in no time.
Later, Dr Laxma Reddy, along with other people's representatives from Gadwal and District Collector, Superintendent of Police took part in the stone laying ceremony for the construction of a new integrated collector building. "The KCR Kit schemes have helped improve institutional deliveries in the government hospitals from 20-60 per cent.
Gadwal area hospital has also been installed with the ICU units along with dialysis centres. Very soon we will develop the Gadwal area hospital and increase its bed capacity," he said.
For providing quality education the government established 119 Gurukula schools in just a single day. From next February the government is planning to provide 24x7 power supply to the farming sector. The minister promised to do his bit to improve the district of Jogulamba Gadwal in all aspects.