Golkonda Fort completes 500 years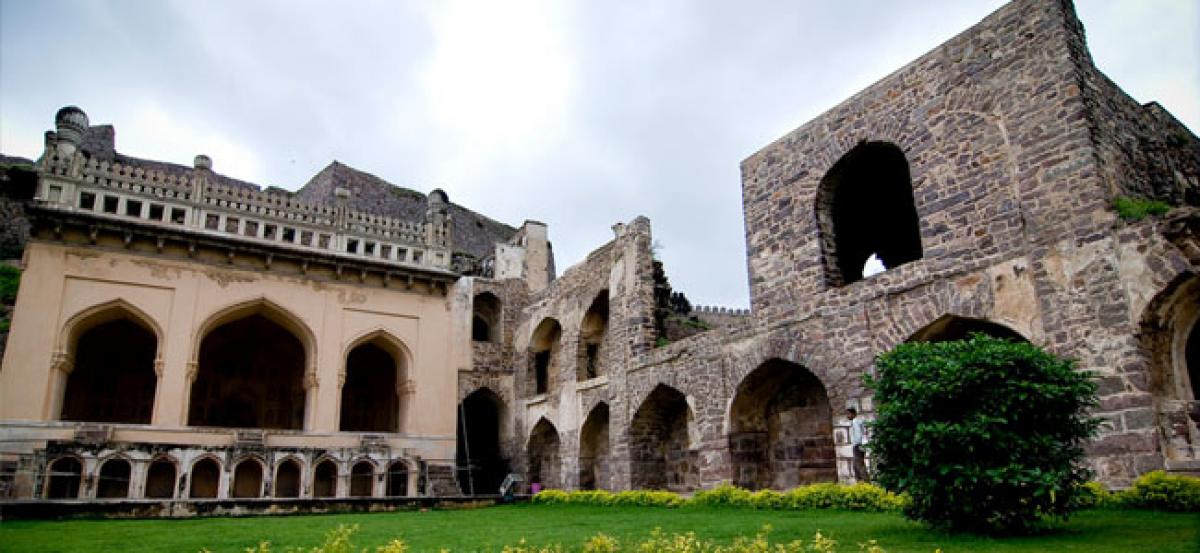 Highlights
One of the greatest architectural wonders and a must visit historical places in Hyderabad, Golkonda Fort has achieved a new feat by completing 500 years of its existence
Hyderabad: One of the greatest architectural wonders and a must visit historical places in Hyderabad, Golkonda Fort has achieved a new feat by completing 500 years of its existence.
Also known as Golla Konda, the fort was built in 1518 by Sultan Quli Qutub-ul-Mulk and later strengthened by subsequent Qutub Shahi kings.
The capital of the medieval sultanate of the Qutub Shahi dynasty (16th century), Golconda became Sultan Quli Qutub-ul-Mulk's seat of power when he declared himself as an independent king in 1518.73 years after Golconda, Hyderabad was founded by Sultan Quli's grandson Muhammad Quli across the River Musi in 1591. Following the conquest by Mughal emperor Aurangzeb in 1687, the QutbShahi sultanate came to an end.
It was the centre of a flourishing diamond trade and mines that have produced some of the world's most famous gems, including the Koh-i-Noor, the Hope Diamond and the Nassak Diamond.
The fantastic acoustic effects are one of Golkonda's greatest engineering marvels as a sound made at a certain point below the entrance dome can be heard at the highest point of the pavilion, a kilometre away. This technique is learned to have been used as a warning for the Royals in case of an attack. Also, the uninterrupted supply of water was another clever architectural plan with the water raised by Persian wheels stored in overhead tanks at different levels and was effectively distributed.
Bordered by thick walls, the fort is built on a granite hill at a height of around 120 meters and the stone blocks used for constructing these massive walls weigh several tons. Four distinct forts with a 10 km long outer wall, 87 semicircular bastions are witnessed in Golconda along with the eight gateways, and four drawbridges, with a number of royal apartments & halls, temples, mosques, magazines, stables inside.
The Fateh Darwaza or Victory gate is the outermost enclosure into which the public now enters.
Silai Khana, Nagina Bagh, Akkanna-Madanna Offices, guard lines, Ramdas Jail, ruins of Ambar khana, Darbar Hall, Baradari on the summit, a Masjid raised by Ibrahim Qutub Shah (1550-1580 AD) and an inner cordon wall are the important structures inside the citadel. The only entrance to the citadel is the east gateway, which is one of the biggest gates in the entire fort.