Telangana celebrates I-Day with two major schemes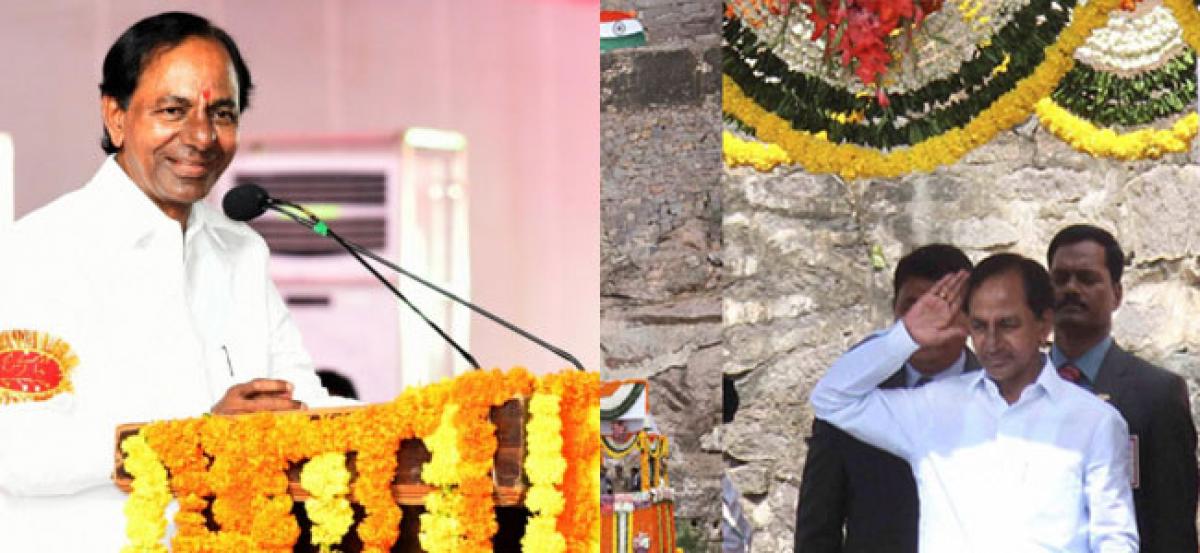 Highlights
The 72nd Independence Day was celebrated in Telangana on Wednesday with the launch of two major schemes free eye screening for all citizens and life insurance for farmers
Hyderabad: The 72nd Independence Day was celebrated in Telangana on Wednesday with the launch of two major schemes - free eye screening for all citizens and life insurance for farmers.
Under 'Kanti Velugu', the entire population of 3.7 crore will be provided free eye care. The authorities will not only conduct eye screening but will also provide free medicines, spectacles and arrange for free surgeries, if required.
The government expects that four lakh surgeries will be performed across the state. Under what is claimed to be the first such programme taken up anywhere in the world, the government plans to distribute 40 lakh spectacles.
Unfurling the national flag at the historic Golconda Fort, Chief Minister K. Chandrasekhar Rao also announced the implementation of another scheme, 'Rytu Bima', aimed at providing life insurance cover of Rs 5 lakh to every farmer.
The government will cover 28 lakh farmers aged between 18 and 59 years. The government will bear the annual premium of Rs 2,271 per farmer. It has already paid Rs 636 crore towards premium to Life Insurance Corp.
The insurance documents will be distributed among farmers from Wednesday.
For the fifth consecutive year, Rao unfurled the national flag at Golconda Fort to mark India's Independence Day.
The youngest state of India celebrated the day with gaiety and patriotic fervour, with Rao leading the celebrations at the main official function.
He reviewed a parade by contingents of Telangana State Special Police, State Armed Reserve and City Armed Reserve.
The number of policemen and students participating in the parade was limited due to space constraint. As in the previous four years, there were no tableaux.
After paying tributes to martyrs at a memorial at Parade Ground in Secunderabad, Rao drove to Golconda fort for the main event.
Drummers, tribals and other artists performed on the ramparts to add colour to the festivities.
After formation of the state in 2014, Rao had departed from the over five-decade-old tradition of Independence Day celebrations at the Parade Ground to choose the ancient fort as the venue to showcase the rich legacy of Telangana.