Kerala Floods: PM Modi announces 500 Crore for immediate relief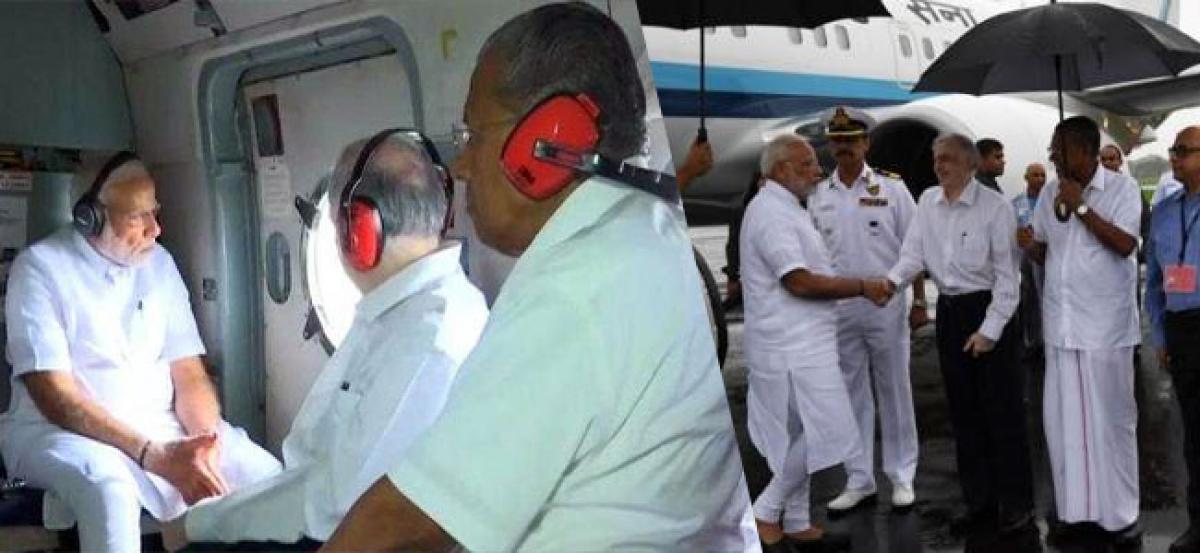 Highlights
The Prime Minister of India Narendra Modi was accompanied by the Chief Minister of Kerala, the governor and others for the aerial survey The Deployment by the Indian arm forces and the NDRF in the floodaffected state has begun PM Modi is conducting an aerial survey of the flood affected areas
The Prime Minister of India Narendra Modi was accompanied by the Chief Minister of Kerala, the governor and others for the aerial survey. The Deployment by the Indian arm forces and the NDRF in the flood-affected state has begun. PM Modi is conducting an aerial survey of the flood affected areas.
PM has announced an ex-gratia of Rs 2 lakh per person to the next kin of the deceased and Rs 50,000 to those who have been seriously injured, from PM's National Relief Funds reported a source.
PWD minister G Sudhakaran told the police and the district administration of Alappuzha to arrest houseboats owners who deny to co-operate in giving their boats for rescue operations.
The State Bank of India (SBI) has donated Rs 2 crore to Chief Minister's Distress Relief Fund (CMDRF) and announced waiver of fees and charges on services offered by the bank in Kerala reports a source.
PM Modi announces Rs 500 crore as the immediate assistance. He conveyed this to CM Pinarayi Vijayan during their discussion. PM Modi has currently departed to the Naval airport INS Garuda for aerial survey
Flood hit areas of Thrissur and Palakkad to get a small reprieve as Peechi, Poomala, Pathazhakkundu dams in Thrissur district down shutters to restrict outflow of water

As PM Modi was unable to conduct the aerial survey, a review meeting has been held with the governor P Sathasivam, chief minister Pinarayi Vijayan, revenue minister E Chandrasekharan at the Naval base.
Water levels are rising in Alappuzha town. The district administration has directed the irrigation executive engineer to deepen the canals. The releasing of water has been lowered to aid the rescue activities, though the water level in the dams continue to take a rise.