Telangana cabinet meet focused on wage enhancement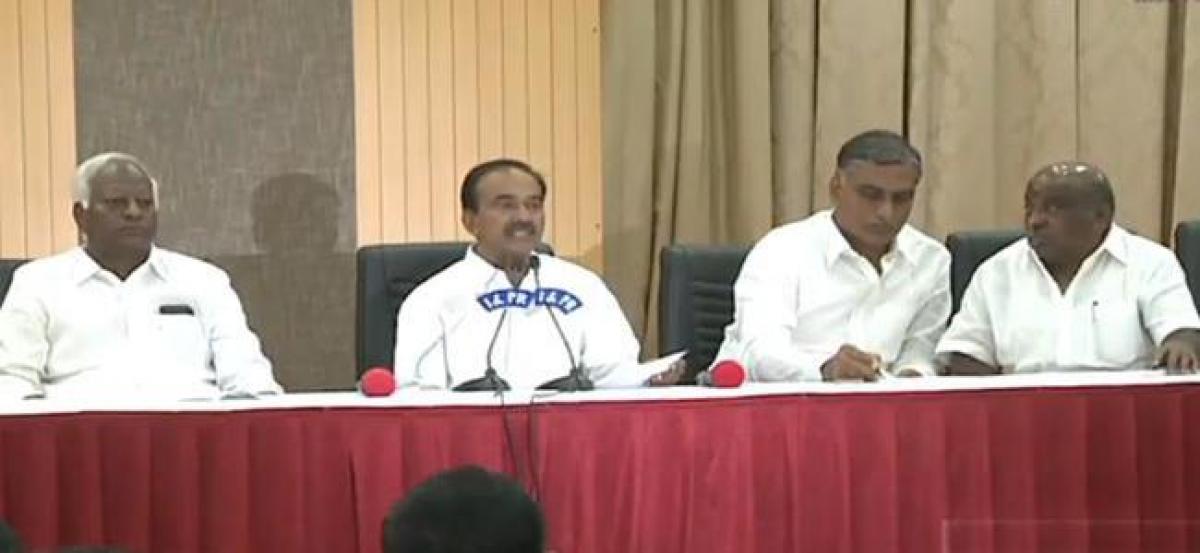 Highlights
It also decided to allocate 71 acres of land for the construction of Atma Gaurava Bhavans for the people of backward classes BC in the city and Rs 70 crore has been sanctioned for its construction
Telangana cabinet meeting was held at Pragati Bhavan ahead of Pragati Nivedana Sabha at Kongara Kalan. The meeting was chaired by Chief Minister K Chandrasekhar Rao with the cabinet ministers where several key decisions have been taken which primarily focused on the wage enhancement of the workers.
The highlights of the TRS cabinet meeting are.....
Construction of Reddy hostel building for which the cabinet allocated five acres of land.
71 acres of land has been allocated for the construction of Atma Gaurava Bhavans for the people of backward classes (BC) in the city and Rs 70 crore has been sanctioned for its construction.
People working in Gopala Mitra societies are given a wage hike from Rs 3500 to Rs 8500 per month.
Retirement age of Archakas have been increased from 58 to 60 and the salaries will be paid through treasuries.
An increase also made in the salaries of 25,045 Aasha health workers to Rs 7,500 from Rs 6000.
The salaries of doctors working on the basis of outsourcing will get a hike to Rs 40,000 from Rs 36,000.
Wages of staff nurses, pharmacists, lab technicians and NUHM's ANMs are increased from Rs 11,000 to Rs 12,000 which has been in pending for 12 years.
No decision has been taken to dissolve the assembly.