Cheers! Booze sales booming in Telangana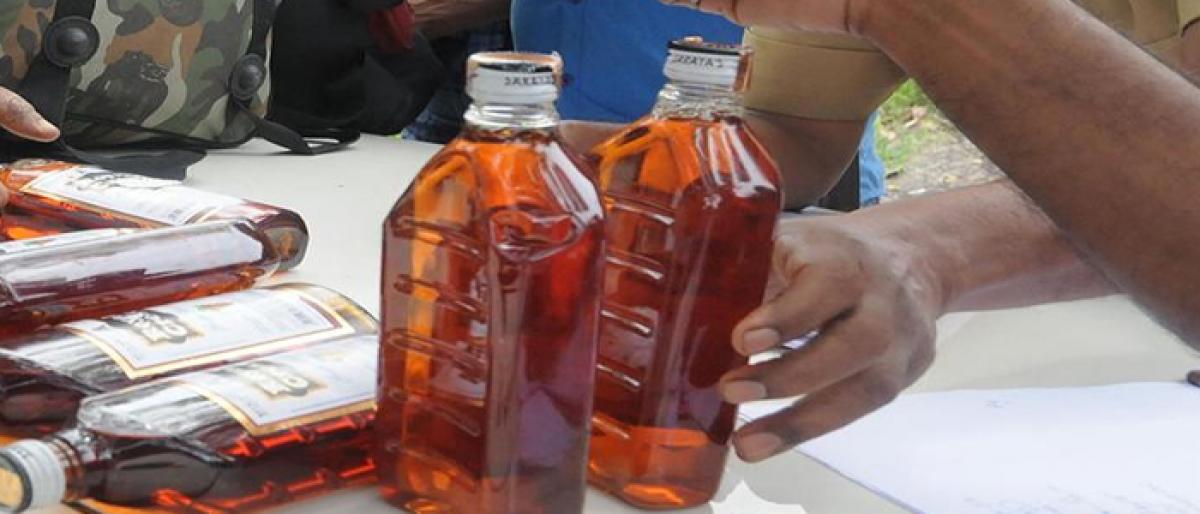 Highlights
It is a big time opportunity for liquor traders to rake in moolah in Telangana Coupled with the festivities of Dasara and Diwali, liquors sales are expected to scale up by 20 to 30 per cent in the State which already geared up for Assembly elections in December first week this year
​Hyderabad: It is a big time opportunity for liquor traders to rake in moolah in Telangana. Coupled with the festivities of Dasara and Diwali, liquors sales are expected to scale up by 20 to 30 per cent in the State which already geared up for Assembly elections in December first week this year.
All though the Election Commission has imposed some restrictions on liquor flow in the State ever since the Election Commission announced poll schedule, liquor traders are making huge requisitions to the State Excise department for bulk order to stock the spirits in advance.
On the eve of Dasara, the officials of the Excise and Prohibition department said the demand for whisky and beer was high in the past one week across the State. In Greater Hyderabad limits, 20 per cent growth in liquor sale was reported. In the districts, it was around 15 per cent.
The festival of lights –Diwali, which is to be celebrated in November first week, is also a big occasion for Telangana people to organise liquor parties with near and dear. Officials said that liquor sales will be more on this festival when compared to Dasara. Last year, State coffers were filled with Rs 500 crore additional revenue through liquor sales during the two festival seasons. This year also, government is expecting more than Rs 500 crore additional income. The ongoing elections season in the Telangana State has also come as a bonus for licensed liquor traders who spent crores of rupees to run the outlets in the State.
At least, Rs 500 crore worth liquor will be sold in addition to Rs 2,500 crore sales in the electioneering months of November and December. The elections are slated to be held on December 7. Officials said the traders requested the liquor supply agency – Telangana State Beverages Corporation Limited to keep more stocks in the godowns to meet the liquor demand in the next two months. In all, the department is anticipating Rs 1,000 crore worth liquor will be sold additionally between October and December first week.