Andhra Pradesh CM Chandrababu Naidu to meet Rahul Gandhi on Thursday: TDP sources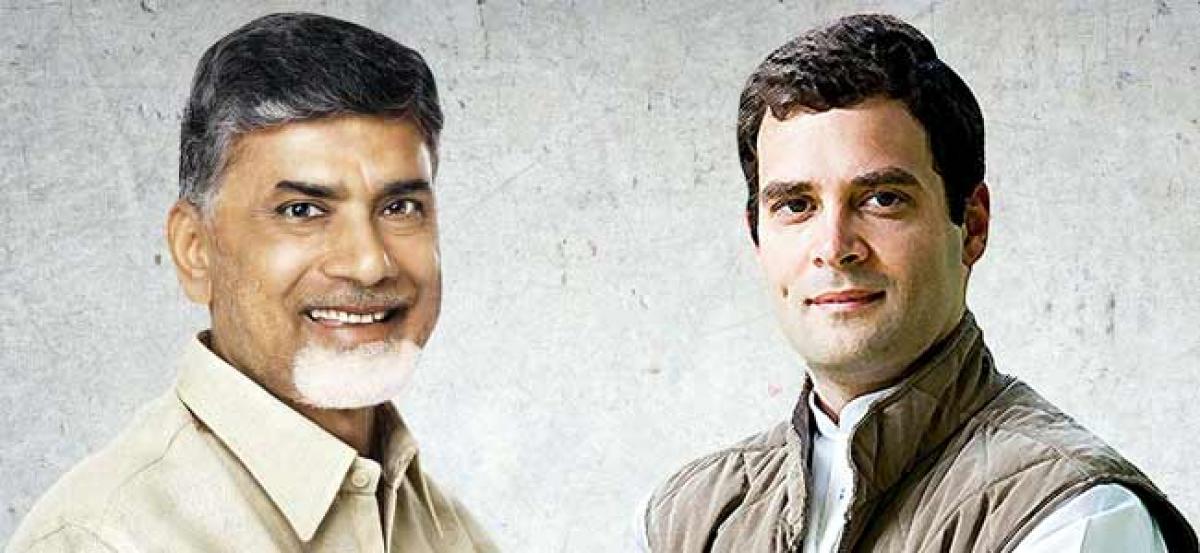 Highlights
TDP supremo and Andhra Pradesh Chief Minister N Chandrababu Naidu, who is trying to unite the opposition parties to take on the BJP in the Lok Sabha elections next year, will meet Congress president Rahul Gandhi here on Thursday, sources said
New Delhi: TDP supremo and Andhra Pradesh Chief Minister N Chandrababu Naidu, who is trying to unite the opposition parties to take on the BJP in the Lok Sabha elections next year, will meet Congress president Rahul Gandhi here on Thursday, sources said. According to Telugu Desam Party (TDP) sources, Naidu will meet Gandhi at his residence around 3:30 pm and they are likely to hold discussions for an alliance for the December 7 Assembly elections in Telangana.
They said the two parties are engaged in seat-sharing talks for the Assemby elections, and during the meeting the leaders will also discuss the Lok Sabha polls next year. Naidu, a former BJP ally who quit the NDA early this year over the Centre's refusal to grant special status to Andhra Pradesh, met BSP chief Mayawati, Jammu and Kashmir National Conference president Farooq Abdullah and former BJP leader Yashwant Sinha here in the national capital on October 27.
According to TDP sources, Naidu "coincidentally" met senior Congress leader Ghulam Nabi Azad at the Indira Gandhi International Airport here earlier on Thursday. The TDP chief is playing the role of a "facilitator" to bring together all opposition parties to stop the BJP juggernaut in the 2019 general elections, a party leader said.
So far, Naidu has kept his cards close to his chest on seeking support of the Congress to forge a united front ahead of the Lok Sabha polls.
He had earlier said that his party would play a pivotal role in the 2019 polls and that regional parties would form government at the Centre, though he had ruled himself out of the prime ministerial race.
According to TDP sources, Samajwadi Party chief Akhilesh Yadav spoke to Naidu over the phone yesterday and the latter will visit Delhi every week to speed up the process of uniting opposition parties. The TDP had earlier criticised the Congress on the bifurcation of Andhra Pradesh. Meeting with Gandhi is seen as fresh efforts to align with the party ahead of the Lok Sabha polls.
After BJP leader B S Yeddyurappa resigned as Karnataka chief minister before a no-confidence vote just two days after being sworn in, Naidu had termed the saffron party a "back door party" trying to enter south India by "unfair" means. The Andhra Pradesh government has also accused the Centre of not supporting it in the construction of the Polavaram irrigation project, Kadapa steel plant, building a new capital city, and doing a flip flop on special package for the state on the lines of Bundelkhand region.