A cloud of sorrow looms as BJP's pillar HN Ananth Kumar passes away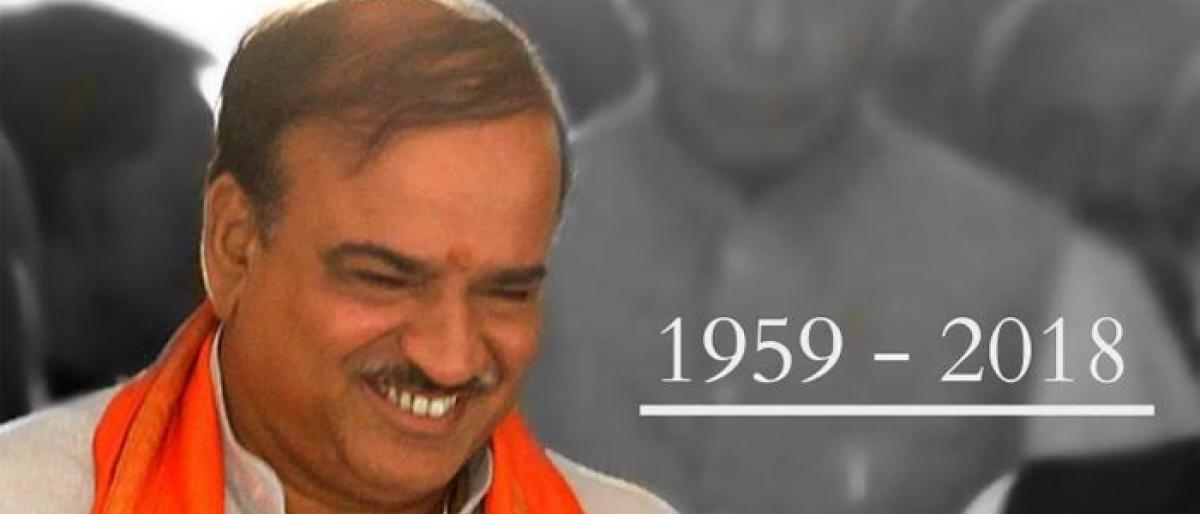 Highlights
On Monday the BJP pillar HN Ananth Kumar, who was also a walking friend to many in the neighbourhood had passed away while battling lung cancer People had visited to pay their last respects
On Monday the BJP pillar HN Ananth Kumar, who was also a walking friend to many in the neighbourhood had passed away while battling lung cancer. People had visited to pay their last respects.
"He was loved by everyone. He didn't have differences with anyone," said a close relative.
"He was a great man who supported culture and music.His family would always encourage social gatherings and programmes," said a woman chanting bhajans.
"He was not only a great leader but a very devoted family person. Regardless of his busy schedule, he'd always make time for family gatherings," said Anand Natekar, his close relative.
People in who live in the neighbourhood said that, he enjoyed spending time with friends. "We could visit his place anytime and the doors to his home were always open," said Srihari Rao, a neighbour.
"We could see him take a walk in the locality. Anyone could accompany him," said Ramesh P, a resident of Basavanagudi.
Apart from the politicians, people who belonged to different streams of life, including artistes, entrepreneurs, holy men and pourakarmikas, came to pay their last respects.
They even included Sudha Murty, TN Seetharam, Puneeth Rajkumar, Ganesh and his wife, SA Chinne Gowda and Malavika Avinash. "Ananth was not only a political leader but also a cultural leader.
Whenever he had free time, he'd listen to music and participate in cultural programmes," TN Seetharam said.