YS Jagan has respect on Hindu traditions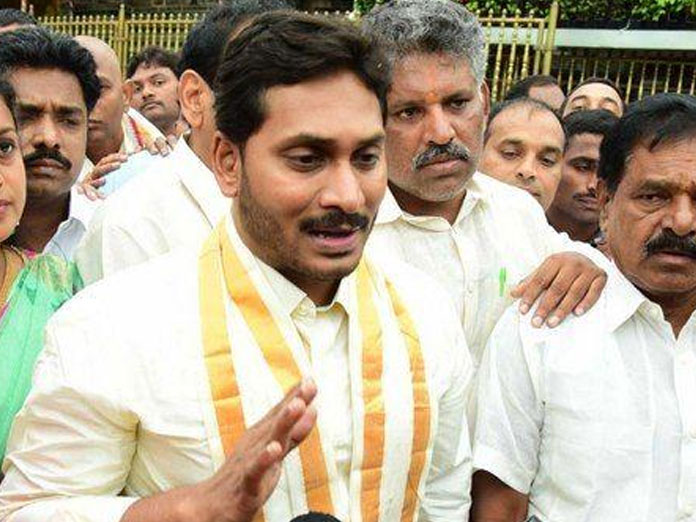 Highlights
YSRCP chief YS Jagan Mohan Reddy having respect on Hindu traditions and temples said the party leader, BKarunakar Reddy In a press conference here on Monday he explained that TDP chief and CM, N Chandrababu naidu hatched a plot against YS Jagan that he is against Hindu religion and traditions by showing previous Tirumala incident as an example
-YSRCP leader, B.Karunakar Reddy
Srikakulam:YSRCP chief YS Jagan Mohan Reddy having respect on Hindu traditions and temples said the party leader, B.Karunakar Reddy. In a press conference here on Monday he explained that TDP chief and CM, N. Chandrababu naidu hatched a plot against YS Jagan that he is against Hindu religion and traditions by showing previous Tirumala incident as an example. YS Jagan launched his Prajasankalpa yatra on 6 November 2017 after had darshan of Lord Sri Venkateswara at Tirumala Karunakar Reddy said.
He also explained that Jagan will visit Tirumala on foot from Tirupati on 10 January to have a darshan of Lord Sri Venkateswara. To affect vote of YSRCP TDP leaders are playing cheap techniques which will not be accepted by the people of AP he elaborated. Actually YS Rajasekhara Reddy family is having more trust on Tirumala hills and Lord Venkateswara and its importance but the TDP leaders are trying to politicize the issue to get vote bank which is not acceptable in democracy.
We have information that the TDP chief Chandrababu and his team had been trying to provoke heads of Hindu religious institutions previously but it was failed as they have not accepted he explained. As CM YS Rajasekhara Reddy implemented more schemes for welfare of priests of Hindu temples in the state and the religious heads also knew it well and they are wise enough to prevent efforts of TDP against YS Jagan he explained.