BJP set to win 150+ in Gujarat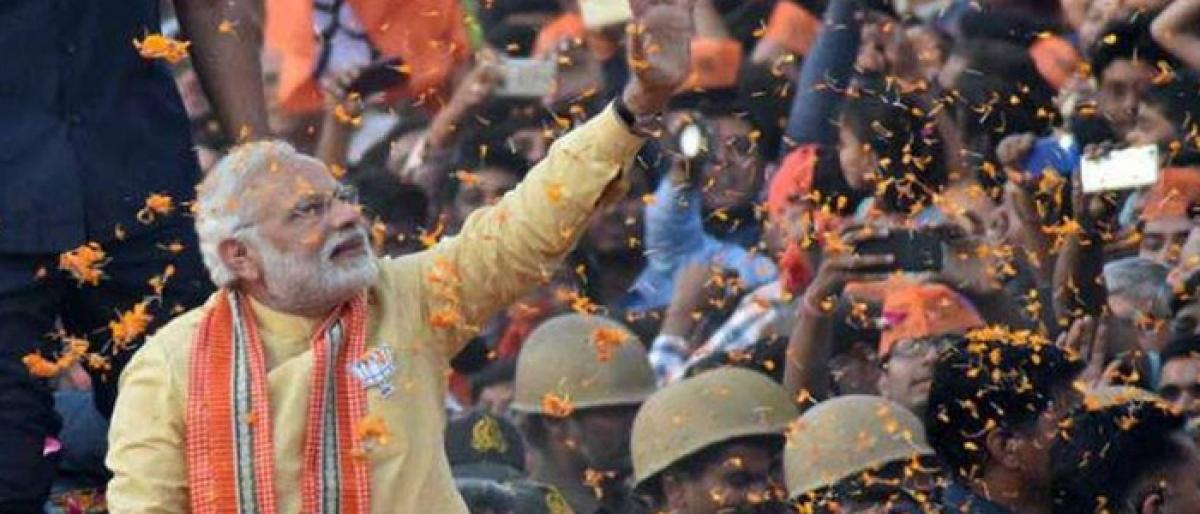 Highlights
It's the grand dance of democracy in Gujarat, as the first phase of assembly elections are due in less than 10 days. I am in the midst of massive...
It's the grand dance of democracy in Gujarat, as the first phase of assembly elections are due in less than 10 days. I am in the midst of massive electoral environment in the state. As a strategist & analyst, I can foresee a clear & spectacular win for BJP all over again in Gujarat. BJP is all set to win 150+ seats to form the government for the 5th time in succession. An unprecedented win for any party, anywhere in India.
What is quite startling for me as an analyst is almost zero anti-incumbency for an incumbent government, even after being 22 years in rule. It's very rare scene in the contemporary political ecosystem. The credit certainly must be given to the former Chief Minister of Gujarat Narendra Modi. He deserves it the most. It's evident from my random interactions with common people cut across many sections, that there is no love lost for Narendra Modi despite his absence from the state for 4 years in his new role as a Prime Minister.
I see a visible glee in the faces of people, when they speak about their leader who they consider their very own. It's amazing that an elected leader of a state can find a place in the hearts and minds of people for such a long duration, in the days where the anti-incumbency seems an 'every 5 year affair' across the country and 'loyalty' is almost a misnomer.
Despite all the media stories on GST negative impact on trader community and Hardik Patel's anti Modi crusade leading to a possible nail biting finish in Gujarat, the ground reality looks quite different. Hardik Patel seems to have lost the battle against BJP even before he waged it, with his organization split vertically with his politically naïve move to partner with Congress, just ahead of elections. If a leader has initiated a movement for an objective, how can he surrender without any clear and executable assurance to a political party and become their puppet? Is the question being posed by many patidars. There is a growing trust deficit in his followers over his recent political moves.
GST woes are temporary & they are symptomatic teething problems of the largest indirect tax reform enforced by a reformist Prime Minister. It did pinch the massive unorganized sector & small traders across the state, they surely were angry. However, when the rational thinking kicked in preparation for casting their vote 10 days from now, they seem to have clearly understood the odds and outcomes of voting against BJP.
Many traders still have the memories of extortionist gangs operating in every city and for every sector of trade under Congress rule few decades ago. They are able to still recollect the safety money they had to pay to these goons every 15 days and the plight of those who couldn't. Many traders in Surat, Vadodara, and Rajkot recollect & share their nightmares in Congress rule with regular communal riots, constant spurts of violence & innumerable instances of curfew across the state impacting their businesses. They are not willing to lose the peace and tranquility they enjoy currently in the business ecosystem of the state for temporary pinch point like GST.
Traders I spoke to are reconciling to the fact that the grey markets in Gujarat had to close. The zero billing business had to end one day or the other. Those not in the tax net need to pay up their taxes and tax evasion cannot go on forever. They seem to have realized that GST is an irreversible tax reform and they need to get to terms with it & move on. It's slowly but surely dawning onto them that GST is for the larger good of the nation and to boost the economic activity, which will impact them positively in future.
They also understand their businesses now get many financial and funding benefits for being registered and tax paying. They seem to understand voting for Congress would destroy the peaceful business environment which currently exist across the state, with highly capable law and order machinery under BJP rule and zero harassment from extortionists. They are not willing to forgo this peace and tranquility in the state at any cost.
Many openly stated that the law and order is so exemplary in the state that young women in their families have nothing to fear going out even in the middle of the night. Such is the fear of law enforcement, which was incomparable to Congress regime. Patidars have no major issue with BJP government. Few sections of the community which supported Hardik Patel are reviewing their decision. The unprecedented growth rate of over 12.3% in agriculture year on year in Gujarat has positively impacted patidars more than anyone else. The rapid growth of urban trade & business across the state also has positively impacted this close-knit community leading to massive wealth and employment creation.
The emotional surge of the patidars movement for reservations has made few sections support Hardik; however, in retrospect all these sections seem to be realizing the danger of having a weak government in the state under Congress, and its colossal damage to their community and the entire state. The word Congress seems to only bring back bad memories to the people of Gujarat. I am quite surprised at the contempt most people I spoke to, have shown to this leaderless party in Gujarat. They don't even imagine Gujarat to be ever ruled by Congress again, such is the gross distaste for this grand old party in the state.
PM Narendra Modi in his two-decade rule in Gujarat has made historic progress in the state and it has impacted the lives of every single individual and every section of population. He did not make empty promises, declare popular welfare schemes or doled out freebies. He has bettered the living standards of common people by investing massively into rural and urban infrastructure, delivered transparent and good governance with easy and undeterred access to the citizens.
He has ensured the bare civic and economic necessities like drinking and irrigation water, electricity to households, homes and industries, public transport and public finance are delivered at the lowest cost ever. His vision has turned Gujarat into a model economy which thrives with large scale enterprise and vibrant inclusive growth.
It might sound like I wrote a eulogy for PM Narendra Modi, but this is the first-hand feedback and dispassionate inputs from the regular people on the streets. Everyone in the state seem to acknowledge and realise that quantifiable development has occurred under Narendra Modi regime and the BJP rule. Above that, they are also fully aware of every aspect of where this progress has been made in comparison with erstwhile Congress rule.
Most of those I spoke to, speak of Congress misgovernance and lack of competence to run a state like Gujarat, as if they had ruled the state in the last term. Such are the memories from Congress rule. Narendra Modi's master political strategy also ensured that Gujaratis never forget the disastrous rule of Congress. BJP in Gujarat not just communicates the successful governance delivery of its government, it also seems to ensure Congress model of misgovernance remains constantly in the minds of voters.
Congress stands no chance in Gujarat. As I see, it will lose the election with very huge margin and end up losing more than 50 per cent of its existing assembly seats. The electoral outcomes of Gujarat will be a death-knell to Rahul Gandhi and Congress. Gujarat election results will destroy all and any possibility of Congress rising in the near future, anywhere else in India. This possibly is the beginning of the end for this grand old party. Congress cannot even blame on EVM's this time, as VPATS are being used in every polling booth across the state.
There's simply no escape from accountability this time around for Rahul Gandhi.BJP win in Gujarat will be a decisive one. It will once again prove that in a democracy, if a party can deliver on its promises to its people and sincerely serve them to impact their everyday lives positively, the voters will ensure repeat victories. BJP will set an unprecedented national record for being the only party reelected for the 5th time in a row in any state. In my field level electoral analysis, I foresee BJP winning more seats than 150, which Amit Shah the national president of the party has targeted.
Subscribed Failed...
Subscribed Successfully...