Here's how Virat Kohli lauded Kuldeep Yadav, KL Rahul as India win 1st T20 vs England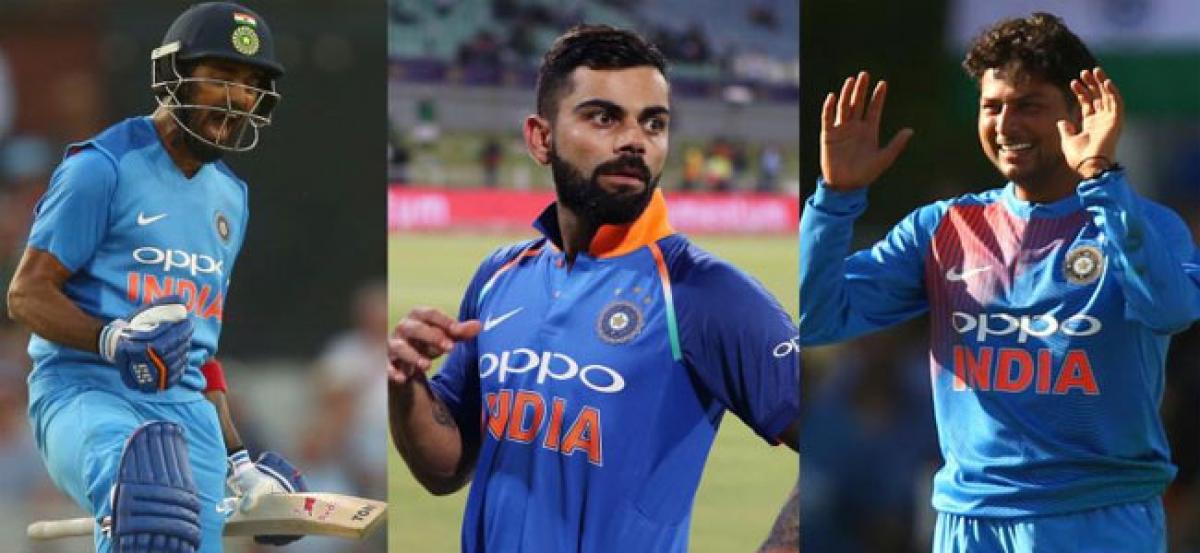 Highlights
India captain Virat Kohli believes \"lethal\" left-arm wrist spinner Kuldeep Yadav will have a pivotal role to play during the rest of his side\'s tour of England.
India outplayed Eoin Morgan-led England side to take 1-0 lead in the 3-match T20 series.
Manchester: India captain Virat Kohli believes "lethal" left-arm wrist spinner Kuldeep Yadav will have a pivotal role to play during the rest of his side's tour of England.
Yadav produced a man-of-the-match display
as he finished with 5-24 in India's emphatic eight-wicket win over England in the first Twenty20 international at Old Trafford.
England had been in a good position at 94-1 but could only post 159-8 with Yadav's googlies at one point giving him three wickets in four balls on his way to his best figures in T20 internationals.
KL Rahul's unbeaten 101 from 54 balls then guided India to a comfortable victory with 10 balls to spare as they produced an impressive display, backed by a partisan support on a sun-drenched Manchester evening.
Yadav's performance was also a reminder that despite their improvement in limited-overs cricket England remain vulnerable against spin.
"He's going to be effective on any pitches we play on," Kohli said.
"When it turns, he's going to be even more lethal. He's very difficult to pick. I hope he can keep the batsmen guessing.
"Looking at how convincing we were in all three skill-sets gives me great please as captain, especially some of the younger guys stepping up and doing the job."
With the United Kingdom enjoying a sustained spell of hot weather, Yadav said he felt comfortable at Old Trafford.
"It felt like home conditions," he explained. "The wicket was very dry but when I bowled my first over I felt like there was going to be a bit of turn so I stuck to one line and length.
"I bowled my wrong 'uns in the perfect areas. It's my first tour and things are going quite well.
"Probably after this game, and for the next few games, England's batsmen will prepare well. Obviously, they are quality players."
The only England player to really trouble India was wicket-keeper Jos Buttler as he made a 46-ball 69 before he also succumbed to the mastery of Yadav's googly.
Counter the danger:
England captain Eoin Morgan admits his players will have to find a way to counter the danger posed by Yadav during the remainder of the English summer.
"Kuldeep is a very good bowler," Morgan said. "And he will continue to be a threat. Maybe we can be a bit better. It's something we'll assess.
"He took three wickets in four balls today and deceived us. It wasn't a case of chipping up in the air. He bowled well."
Morgan added: "The more time you spend at the crease the better you see the ball.
"I think like it's any challenge. If you are facing it at 90mph bowling it's difficult to replicate it in practice. And the same with a guy who spins it both ways. You have a clear plan and stick to it.
"Jos Buttler is a magnificent player of spin. If you go back and analyse how Alex Hales and Jos played him they didn't give chances but acknowledged he bowled well."
Kohli also commended Rahul on his innings which mixed finesse with power hitting as he made his second century in T20 internationals.
"He's someone who has come a long way - he batted so clean, so crisp in the IPL and he has carried it forward," added the India skipper.
"We want guys like him to step up, so other guys can play with more freedom. He can bat long as well. He's very hungry, has great technique, and it's a great sign for Indian cricket."