CoA differs on probe findings as BCCI's Rahul Johri gets clean chit in #MeToo case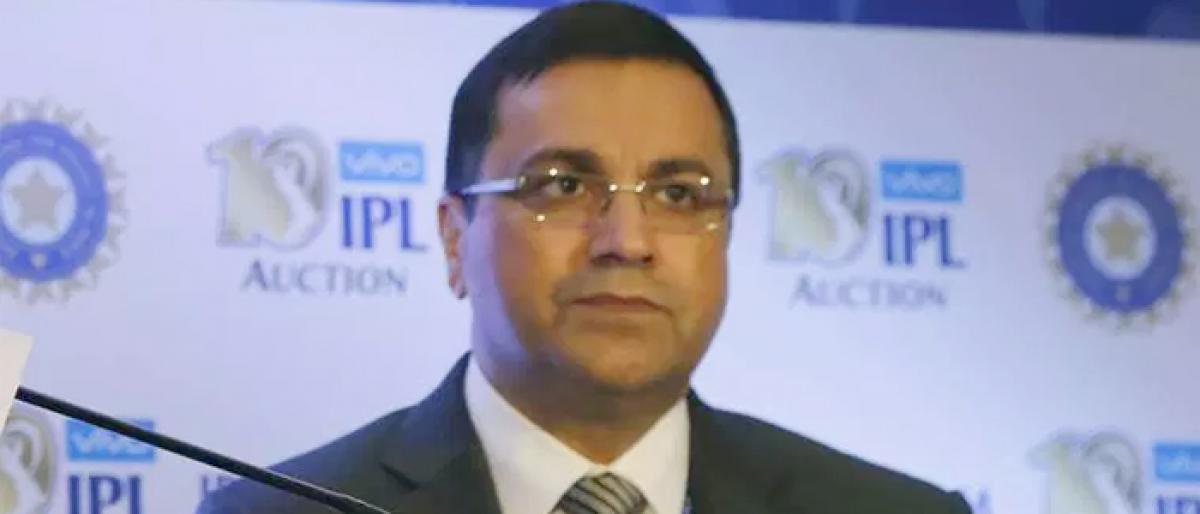 Highlights
The sexual harassment allegations against BCCI CEO Rahul Johri were rejected as mischievous and fabricated by a threemember probe panel on Wednesday but the Committee of Administrators was divided on him resuming office with Diana Edulji reiterating her demand for his resignation
New Delhi: The sexual harassment allegations against BCCI CEO Rahul Johri were rejected as "mischievous and fabricated" by a three-member probe panel on Wednesday but the Committee of Administrators was divided on him resuming office with Diana Edulji reiterating her demand for his resignation.
Johri was on forced leave for the past three weeks but can now resume office even though one member of the probe committee recommended "gender sensitivity counselling" for him.
The two-member CoA was divided on the issue. While Chairman Vinod Rai approved of Johri joining back, Edulji demanded his resignation on the basis of some recommendations, including counselling.
The three-member probe panel comprised Justice (Retd) Rakesh Sharma, former Delhi Commission of Women chairperson Barkha Singh and lawyer-activist Veena Gowda, who recommended counselling for Johri.
"The complainants have failed to provide their cases as set up by them...The allegations of sexual harassment in the office or elsewhere are false, baseless and have been fabricated and manufactured with an ulterior motive to harm Mr. Rahul Johri and throw him out of BCCI..," head of the probe committee Justice Sharma stated in his findings.
"No adverse action need to be taken against Mr. Rahul Johri, CEO, BCCI, on the basis of these mischievous, false, fabricated, unsubstantiated complaints, e-mails, tweets etc on social media," he added.
Gowda concluded that Johri's behaviour was "unprofessional and inappropriate" on one ocassion but "she has not found him guilty of sexual harassment".
"In view of his conduct at Birmingham as well as keeping in mind the allegations made by Ms. X and his conduct before this Committee with respect to the photographs submitted, it is essential that Mr. Johri undergo some form of gender sensitivity counselling/training," Gowda observed.
Former DCW chairperson Singh felt that the other side of such "fabricated allegations" should also be looked at where opportunities for women at workplace may dwindle.
"In my opinion, such kind of motivated and fabricated allegations will diminish the status of women and the job opportunity for them. Such complaints will also have an adverse effect on the fight for equality for women," Singh stated.
"Setting such precedents will only make it more difficult for achieving equality and equal opportunity for women," Singh added.
The committee, which was formed on October 25, was given 15 days to complete the probe by the CoA. Its report would also be submitted to the Supreme Court.
Edulji didn't want the report to be published on Wednesday and demanded that she be given at least a few days to study it.
However, Rai opened the report in the presence of the panel members as well as BCCI's legal team during the day.
In fact, Edulji was against the formation of the panel and wanted Johri to be sacked on the basis of the allegations while Rai felt that "principles of natural justice" demanded an investigation before any action.
Rai said following this report, Johri can be permitted to resume his job but Edulji said since it was a "split verdict" of 2:1 the CEO should resign having "tarnished the reputation of the organisation".
"Ms. Eduji said that she does not agree with the conclusions of Justice Rakesh Sharma (Retd.) and Barkha Singh," the COA documentation stated.
Edulji made it clear that her stand has been the same from the beginning.
"Edulji said that the fact that Gowda has recommended that Johri should undergo gender sensitization counselling/ training is sufficient for her to arrive at the conclusion that he is not fit to be the CEO of BCCI.
"Accordingly, she expressed the view that the report of the Committee is actually a split 2:1 verdict."
The first allegation against Johri was an anonymous e-mail accusing him of sexual misconduct, shared by a twitter handle, which later deleted the post. The accuser claimed to be an ex-colleague of Johri at a previous job.
There were subsequently two more allegations, one from a Singapore-based media professional and another woman, who worked with Johri in one of his previous organisations.
Both women deposed via Skype, along with BCCI's former Anti-Corruption Unit chief Neeraj Kumar, BCCI treasurer Anirudh Chaudhry, IPL petitioner Aditya Verma, and former Mumbai captain Shishir Hattangadi.
There were also allegations against Johri about inappropriate behaviour with a female employee of the BCCI.
However, the employee in question didn't turn up for deposition as was widely speculated.
Johri was the last person to depose and it was spread over two days.