The fine art of chocolate tasting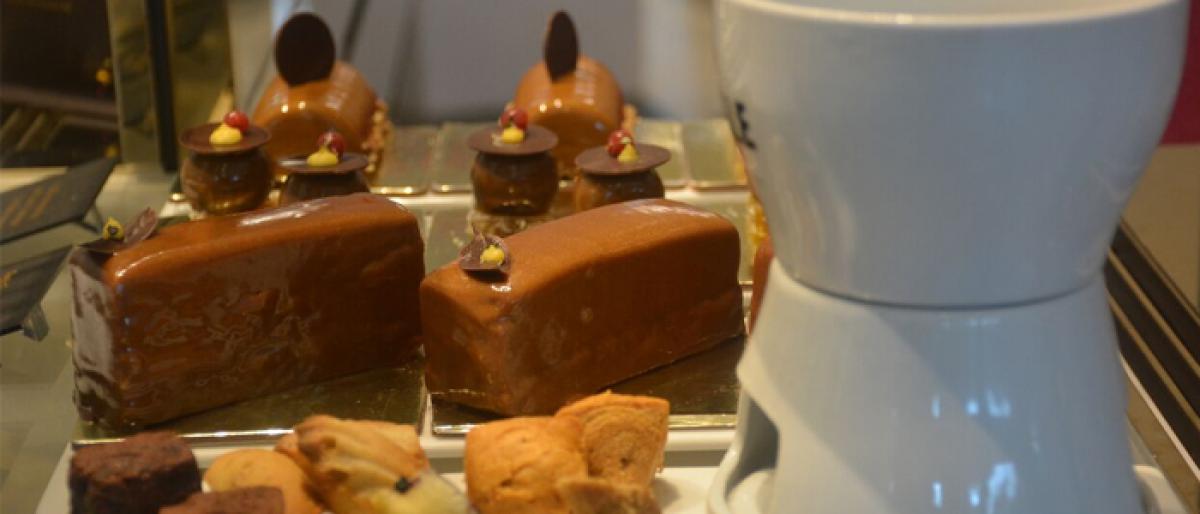 Highlights
Chocolate tasting and appreciation is as fine a habit as wine tasting, one realises when you begin to experience ITCs luxury chocolate range Fabelle , for instance, the single origin Madagascar, it will bowl you over with its fruity tones and goes well with berries, coconut and even Jasmine tea, or the 84 per cent dark chocolate from Ghana, which is rich in cacao and acidic in taste that goes
Chocolate tasting and appreciation is as fine a habit as wine tasting, one realises when you begin to experience ITC's luxury chocolate range 'Fabelle'. , for instance, the single origin Madagascar, it will bowl you over with its fruity tones and goes well with berries, coconut and even Jasmine tea, or the 84 per cent dark chocolate from Ghana, which is rich in cacao and acidic in taste that goes well with something subtle like a green tea.
Chocolate from Sao Tome, an isolated American island is fruity and spicy on its notes and hence goes well with spices like cinnamon and pepper and can be had with coffee like the Americano. Venezuela, where lots of grapes, oranges and lemons are grown, imparts citrusy flavour to its cacao beans, whereas the ones from Saint Dominique have nutty, roasted feel to it. Most of the cacao for Fabelle is sourced from America and Africa, especially from Ivory Coast and Ghana.
Chocolate and tea, yes that is the new combination. And why not, when you have finely crafted gourmet versions that pair so well with tea. Chef Nikitha Umesh says, "Coffee and chocolate are anyway match made in heaven but having chocolates with tea is the new trend. In fact, I hear this trending practice of breaking the chocolate into pieces and dunking them into tea."
With the first store in Bengaluru's Gardenia Fabelle spread its wings in the much to explore a segment of luxury chocolates, and today it has its first boutique store in Hyderabad at the newly launched ITC Kohenur hotel. In the new store, one can also see the range of desserts – Signature Chocolate Entremets, and understand the process of making chocolates, taste the cacao nibs, the raw original and least processed chocolate chips that Nikitha uses to give texture to her hot chocolate.
Cacao beans are roasted and broken into the coarse nibs, which are touted as the new age super food and are mild in taste. When the nibs are ground it becomes this thick mass called cacao liquor. Once the liquor is pressed it separates the cacao butter from the cacao mass, which is cake-like that is powdered to make cacao powder. In many chocolates instead of cacao butter, hydrogenated fats are mixed with cacao powder, that can be unhealthy. Fine chocolates, on the other hand, re-mix cacao butter with cacao powder, add sugar to enhance the taste and some plant-based emulsifiers.
Fabelle also sells boxed handcrafted pralines based on the five elements that need expert craftsmanship to mould extremely thin chocolate shells and the chocolate must be really well tempered to ensure the snap and shine so that it gets the strength to withstand variant temperatures. Best of ingredients are sourced internationally to fill the pralines.
"For 'Fire' we use white chocolate ganache along with anchovy chillies sourced from Mexico; to showcase the water element we use Acacia Nectar sourced from France which stays in its liquid state at all temperatures. While making Gianduja, during the conching process we add hazelnut paste and whole roasted hazelnuts. We get them in each bite," shares Nikitha. What is white chocolate?
The chef says, "It is cacao butter mixed with white solids which I do not include them in chocolates." In addition to the regular menu Chef Nikitha comes up with special creations for special days. For this Diwali though, the brand launches limited edition chocolates – only 800 pieces across India. "When separating cacao beans from the pod, you come across one or two beans that are bright pink in colour, which are usually blended in. This happens mostly with Madagascar cacao. This time, Fabelle carefully separated these pink beans and has made chocolates out of them that are natural pink in hue and are high in berry flavour."
While luxury chocolates are being continuously experimented with to create unique recipes with a prime focus on quality, evidently, it is craft and ingenuity that play a major role in catching the connoisseur's imagination.