Open nala spews toxic foam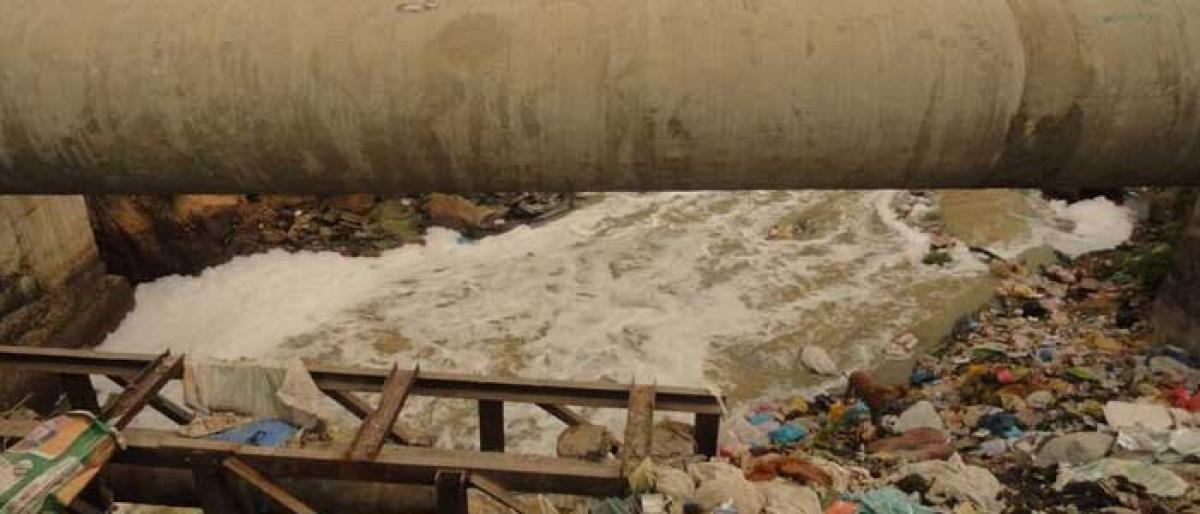 Highlights
Open nala flowing next to the Peerzadiguda Road has yet once again started raising toxic foam along with unbearable stench. Regular commuters on the Ghatkesar Road face inconvenience with the foam and garbage, overflowing on the main road during heavy wind, especially in the evenings. As the nala lies right next to the road junction, absence of barricades also may lead commuters to fall into the n
Hyderabad: Open nala flowing next to the Peerzadiguda Road has yet once again started raising toxic foam along with unbearable stench. Regular commuters on the Ghatkesar Road face inconvenience with the foam and garbage, overflowing on the main road during heavy wind, especially in the evenings. As the nala lies right next to the road junction, absence of barricades also may lead commuters to fall into the nala. Heavy breeding of mosquitoes along the line of the nala also remains a cause of nuisance.
This particular nala, connecting Musi river to Nalla Cheruvu via Peerzadiguda, has been releasing toxic foam every now and then for the past 10 years. Garbage and agricultural waste coming from the surrounding region settles directly at the Nalla Cheruvu via the nala. Commuters can see the foam flying around during heavy wind and can feel it on their skin while passing by the Peerzadiguda Junction on Ghatkesar Road.
Rishi (24), studying in private engineering college, has been taking the Ghatkesar Main Road for the past 4 years and has never observed any reforms to the Nala. He shared his concerns over being exposed to the toxic foam as he travels on the two-wheeler and has observed itchiness due to the foam settling on the skin every time he passes the nala.
The nala lies right next to a junction where heavy traffic diverts from the Ghatkesar Main Road towards Peerzadiguda. The exposed nala at the curving road lacks barricades and poses a threat for commuters potentially falling into the nala in case of an accident.
Naresh (31), an auto driver in the region, has observed accidents in the area during the late evening hours when the lights are dim and claims that the sand on the road can easily drag the skidding bike into the nala due to lack of barricades. "There is always a traffic police at the junctions keeping an eye as heavy trucks passing by poses potential threat for an accident at the curve," he said.
Adding further to the inconvenience, the Peerzadiguda Road is filled with thousands of mosquitoes during the evening hours causing heavy inconvenience to the commuters.
Local residents complain that the nala has become breeding place for mosquitoes. Venkaiah (42), a local resident explains that it is almost impossible to commute on the road with the eyes open as tens and thousands of mosquitoes hit the face while passing from the area.