Khammam vows to celebrate eco-friendly Ganesh Chaturthi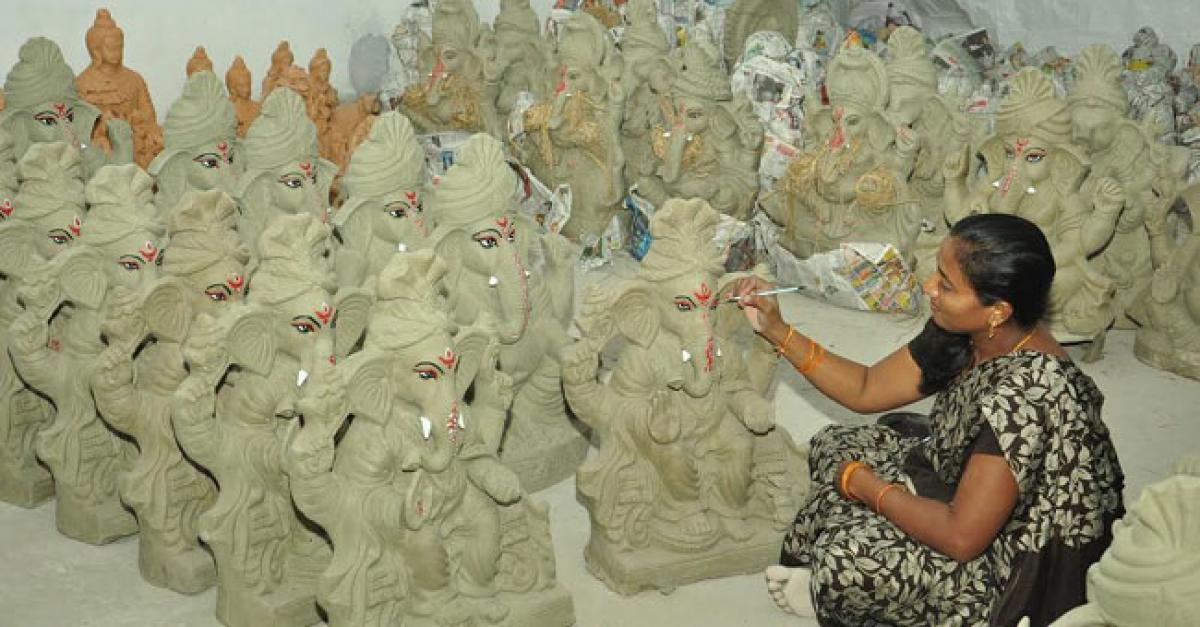 Highlights
With Ganesh Chaturthi festival a few days away, environmentalists, nature lovers and the representatives of various NGOs are organising awareness programmes and spreading the message about the use of only clay idols for celebrating ecofriendly Ganesh festival here in Khammam district
Khammam: With Ganesh Chaturthi festival a few days away, environmentalists, nature lovers and the representatives of various NGOs are organising awareness programmes and spreading the message about the use of only clay idols for celebrating eco-friendly Ganesh festival here in Khammam district.
The trend is shifting towards the use of eco-friendly Lord Ganesh idols and perhaps to prompt him shower more blessings on his worshippers. Artisans who make idols from Plaster of Paris are now making the same from the eco-friendly materials.
At SRG BGNR Degree College in Yellandu Cross Road, a group of artisans busy in making Ganesha idols in various hues and shapes ahead of the festival and are promoting eco-friendly clay idols which are water soluble.
The skill has been passed on to them by tradition and now they have honed their art to such a level that they can create clay idols of different sizes measuring from 0.5 feet to 7 feet in height. The price of these clay idols are within the range of common people.
D Narasimha Rao, an artist says that he has been making the clay idols of different for three years and some idols are imported from Kalkatta. "There has been a greater awareness among the people about conservation of environment.
They are preferring eco-friendly Ganesh idols that are made from a mixture of paper pulp, chalk powder, natural gum and organic colours. The idols are biodegradable and easily dissolve in water without any hazardous effect on the environment," he added.
Making a difference in a meaningful way, Shirisha, the representative of Melukolupu, a vlountary organization, said, "to motivate the people for using eco-friendly clay Ganesh idols and to reach out to school children, a series of workshops are being conducted and helping them to create their own models of Ganesh Idols made of clay."
Environmentalist N Ravi Kumar said that the National Green Tribunal tested water of water bodies after idol immersion. It was conclusively found that plaster of Paris idols with chemical paints had indeed been polluting water bodies thereby endangering several organisms living in the water.
MLC Ponguleti Sudhakar Reddy after inspecting the clay idols that are prepared at Raparthinagar in Khammam city said, "earlier most of the idols were made of Plaster of Paris and painted colourfully with toxic chemicals. This had an adverse impact not only on humans but also on the aquatic life as they are immersed in the local water bodies."
He appealed to the people and to the representatives of various youth associations to install clay idols in Ganesh pandals for protecting the environment as it would be helpful for coming up generations.
It is to be noted that the Pollution Control Board (PCB) directed people to use only colour-less clay Ganesh idols during the ensuing festival and immerse them in areas notified by the local body concerned.
It also directed not to make idols using Plaster of Paris (PoP) and asked the concerned officials to initiate action under Section 33 of the Water (Prevention and Control of Pollution) Act, 1974 against those who violate the direction.
Interested in blogging for thehansindia.com? We will be happy to have you on board as a blogger.