Telangana gives mega push to irrigation projects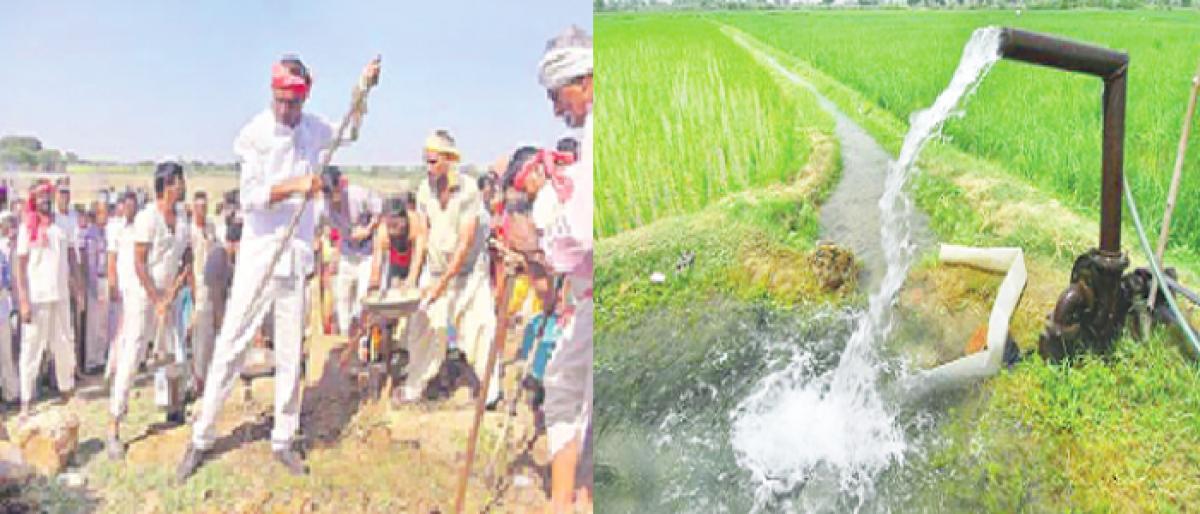 Highlights
After the formation of Telangana state in 2014, the ruling Telangana Rashtra Samithi TRS accorded top priority to the irrigation sector as it was held that Telangana could only prosper if adequate irrigation facility was provided to farmers
​Hyderabad: After the formation of Telangana state in 2014, the ruling Telangana Rashtra Samithi (TRS) accorded top priority to the irrigation sector as it was held that Telangana could only prosper if adequate irrigation facility was provided to farmers.
Lack of irrigation facility, had driven farmers to cities in search of livelihood as they could not raise any crops on their lands which remained parched for decades. As Telangana is part of the Deccan plateau and is a rain shadow region, neither rains nor underground water was available to farmers.
Keeping this in mind, the TRS government after coming to power, decided to ensure that farmers get enough water for their crops. Prior to the formation of State, Rs 94,000 crore had been invested in irrigation in 10 years for 23 districts. After formation of the State in four years period the government had invested a whopping Rs 50,000 crore in this vital sector.
To achieve this target, government had evolved a three-way system, one to complete all the pending projects taken up by the previous governments and kept pending for unknown reasons.
Firstly, some projects were proposed to be completed, adopting required reengineering methods based on needs of the State. Secondly, completion of approved projects which were not taken up by previous governments in time and to provide water for ayacut besides meeting drinking water needs.
Thirdly, due to negligence of previous governments some projects were under ruins, it was proposed to modernise them and provide water for ayacut needs.
To complete this task, the State government commenced 23 major projects, 13 medium projects and gave utmost prominence to complete them. All obstacles caused by previous governments were now covered and the State marched ahead to get desired ayacut of 68.19 lakh acres. With this 8.45 lakh acres will be stabilised.
Mission Kakatiya
The State government allocated Rs 25,000 crore for irrigation project Mission Kakatiya works in 2016-17, 2017-2018, 2018-2019. Such huge Budget was allocated to irrigation for first time in the country. This alone proves the State government's commitment to give water for irrigation.
Kaleswaram Project
Chief Minister K Chandrashekar Rao laid the foundation stone for this prestigious project on May 2, 2016. The Chief Minister did the ground-breaking puja for Kaleswaram Pump House at Kannepally village and Kaleswaram Barrage at Medigadda. The government was taking up this project to provide water to 1.5 crore acre in the seven districts of the State. Works are going on war footing.
The State government laid an emphasis on constructing the barrage to lift water even before the construction of Barrages and reservoirs. Under 21 packages of the project on a pilot basis, pressure pipe line system is taken up instead of open canal system. The government gave a green signal at a cabinet meeting on Feb 2, 2017 for the construction and to increase the capacity of Mallanna Sagar, Kondapochamma Sagar, Gandhamalla and Basvapur reservoirs. The cabinet also accepted Rs 7,860 crore loan extended by Andhra Bank and in 2017-18 budget Rs 6,681.87 crore was allocated for the project.
Towards completing the Kaleswaram project in a record time construction works are going on at a brisk pace. This project having 140 tmcft water storage capacity has 3 barrages, 15 reservoirs, 20 lifts. There are 12 blocks at a length of 1,531 kms main canals, 203 kms of tunnels, and works are going at a rapid speed. Around 4,000 workers are on job at different intervals. The Chief Minister and Irrigation Minister Harish Rao are set to see that by 2019 monsoon Kaleswaram water is supplied to Telangana's barren lands.
Sri Seetharama Project
Chief Minister K Chandrashekar Rao formally laid the foundation stone for the project near Rollapadu village in Tekulapally Mandal at Illendu constituency in Khammam district on February 16, 2016 and the cost of the project is Rs 8,000 crore.
The central forest department, environment department, and ecological balancing department gave required permissions for the project works. Under this project, permission for 3783.14 acres of forest land was accorded.
Bhakta Ramadasu project
Bhakta Ramadasu project sets a record! The project rewrote history. At a time when irrigation projects meant time delays and years of extended completion periods, Bhakta Ramadasu project was completed within 11-months from the date of laying foundation stone.
Palamuru-Rangareddy Lift Irrigation
Foundation stone was laid for this project, which is a prestigious one for the government and whose estimate cost is Rs 35,000 crore. In 2017-18 budget Rs 4,000 crore was allocated for the project; 120 TMC of water is going to be lifted from Srisailam Reservoir backwaters for 60 days for the upper lands. If this project is completed, 12.5 lakh acres will get irrigated water including Mahbubnagar, Rangareddy and Nalgonda, and drinking water to Hyderabad. The project is designed to supply water for irrigation and drinking water supply. The scheme is going to irrigate 4,13, 000 acres.
R Vidya Sagar Rao's Dindi Lift Irrigation Scheme
The State government decided to take up the project at a cost of Rs 6,190 crore for the fluoride-affected people in Nalgonda district. Rs 500 crore was allocated in the 2017-18 budget and 3.41 lakh acre will get water. The State cabinet took the decision on June 10, 2015. Two districts get benefit out of this project. The government issued orders on July 25, 2015 releasing Rs 75 crore for acquisition of the land for the project.
Kalwakurthy Lift Irrigation Project
Th project was kept pending for three decades during the erstwhile Andhra Pradesh in Nagarkurnool district. After formation of Telangana State in three years it became a reality. Near Kalwakurthy mandal at Yellikatta D-29 canal on 15 October 2017 Krishna water was released by Irrigation Minister Harish Rao.
RDS-Karnataka
The State government established friendly relations with Karnataka government, as a result of this, Karnataka came forward to complete the works on RDS on a fast track basis. Last summer, people in Palamuru had faced hardships in getting drinking water. The government had talks with the Karnataka government and the latter released 1 TMC of water through Jurala which happened for the first time.
Launch of Gattu lift irrigation scheme
Chief Minister K Chandrashekar Rao laid foundation stone for Gattu irrigation project at Jogulamba Gadwal district on 29 June 2018 to provide irrigated water for the districts which are short of rain water. Gattu, Dharur, Koti Reddy mandals falling under Gadwal constituency covering 33,000 acres will be benefitted, 41 tanks will be filled under the scheme. The Chief Minister said that the project which is estimated to cost Rs 553.98 crore need to be completed at a rapid speed fulfilling the long wait bringing light in distressed families. Farmers came in large numbers to convey their sincere thanks to the Chief Minister.