2,382 Haj pilgrims return to city after holy trip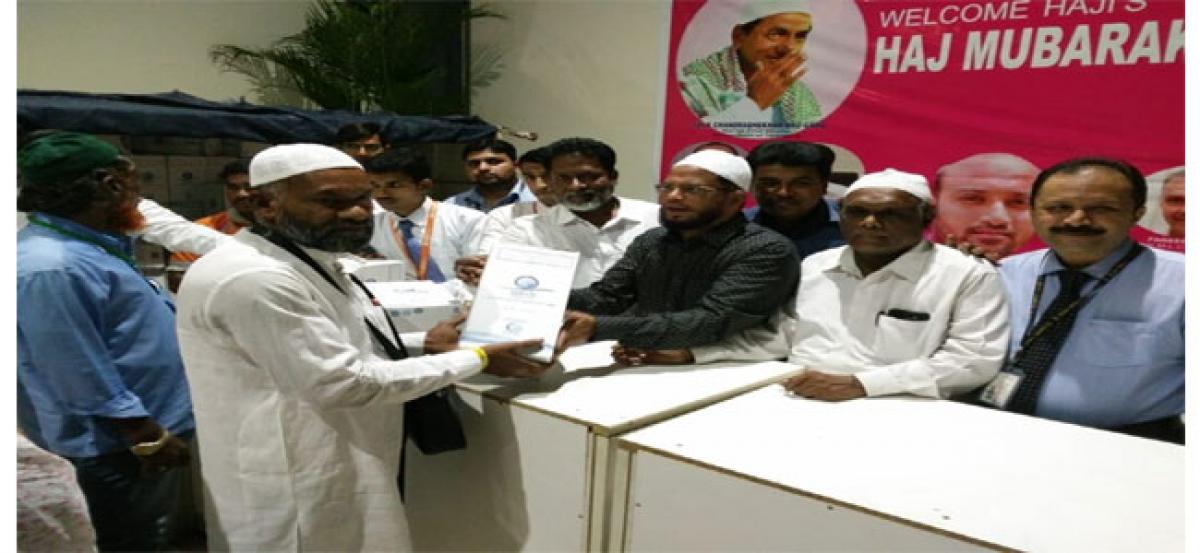 Highlights
As many as 2,382 Haj pilgrims returned to Hyderabad safely by eight special flights after performing Haj and visiting tomb of Holy Prophet in Madina Chairman Telangana State Haj committee Mohammed Masiullah Khan, Telangana State Haj Committee Special Officer Prof S A Shukoor
Hyderabad: As many as 2,382 Haj pilgrims returned to Hyderabad safely by eight special flights after performing Haj and visiting tomb of Holy Prophet in Madina. Chairman Telangana State Haj committee Mohammed Masiullah Khan, Telangana State Haj Committee Special Officer Prof S A Shukoor, Member Abu Talha Amjad and others received the pilgrims at the Haj Terminal of the Rajiv Gandhi International Airport on Friday. Three flights landed at the airport 45 minutes before the scheduled time. Friday prayers were arranged two times inside the Haj Terminal for the pilgrims and outside the Terminal for the visitors, as two flights landed at 11:30 am and 2:00 pm respectively.
Mohammed Masiullah Khan congratulated the pilgrims on completion of their life time desire of performing Haj and visiting Madina. Prof S A Shukoor said that a total of 7,347 pilgrims had left from Hyderabad Embarkation point for the Haj, including 4,453 from Telangana, 1,711 from Andhra Pradesh and 1,183 from Karnataka. All the pilgrims would return back by September 25, he added.
The GMR authorities in coordination with other departments and agencies have made all necessary arrangements for the return of the Haj pilgrims. In view of the prevailing rainy season special waterproof shed with a capacity of 1,000 persons is erected outside the Terminal for the visitors and necessary amenities are provided to them.