Haj application forms to be issued soon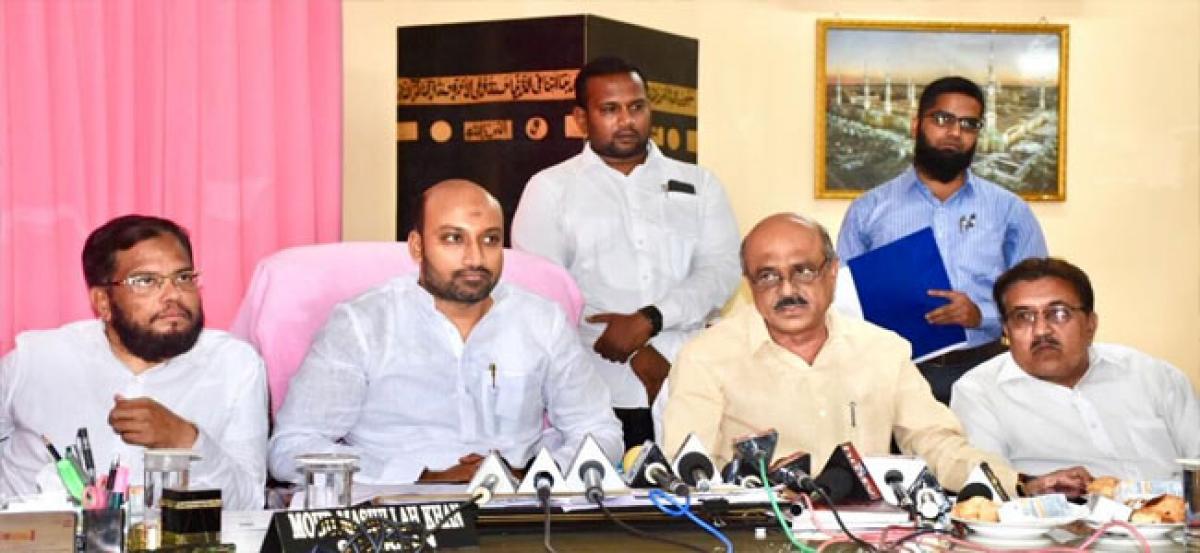 Highlights
Haj application forms for the ensuing Haj 2019 would be released very soon and the Telangana State Haj committee has geared up to make all arrangements for the smooth Haj operations, announced Mohammed Masiullah Khan, chairman and Prof S A Shukoor, special officer, Telangana State Haj committee while addressing the media on Thursday
Hyderabad: Haj application forms for the ensuing Haj 2019 would be released very soon and the Telangana State Haj committee has geared up to make all arrangements for the smooth Haj operations, announced Mohammed Masiullah Khan, chairman and Prof S A Shukoor, special officer, Telangana State Haj committee while addressing the media on Thursday.
The Telangana State Haj Committee made elaborate arrangements for smooth departure and safe return of the Haj pilgrims from Hyderabad Embarkation Point. Every effort was made by the Haj Committee for comfort and convenience to the pilgrims.
They said that the Telangana State Haj committee is grateful to the GMR Airport Authority, customs, immigration, police, BCAS, CISF, police, RTS, Princess Esra Hospital, Saudi Arabian Airlines, Darul Salam Bank, Waqf Board, print and electronic media for giving elaborate coverage right from issuing the Haj forms till return of the pilgrims, Haj Committee members, staff and officers, all the volunteers and voluntary organisations.
Hajis from Hyderabad embarkation point went on pilgrimage in second phase. They directly flew to Jeddah from there they proceeded to Mecca. All Hajis were clad in white Ehram (two sheets of unsewn clothes). We are thankful to the Government of India and the Government of Saudi Arabia for better arrangements. Good health services were offered in Saudi Arabia, resulting less number of people fell ill and there were five cases of death of the pilgrims of the Hyderabad Embarkation Point, and only three from Telangana.