Congress says no to 'pink' polling booths in TS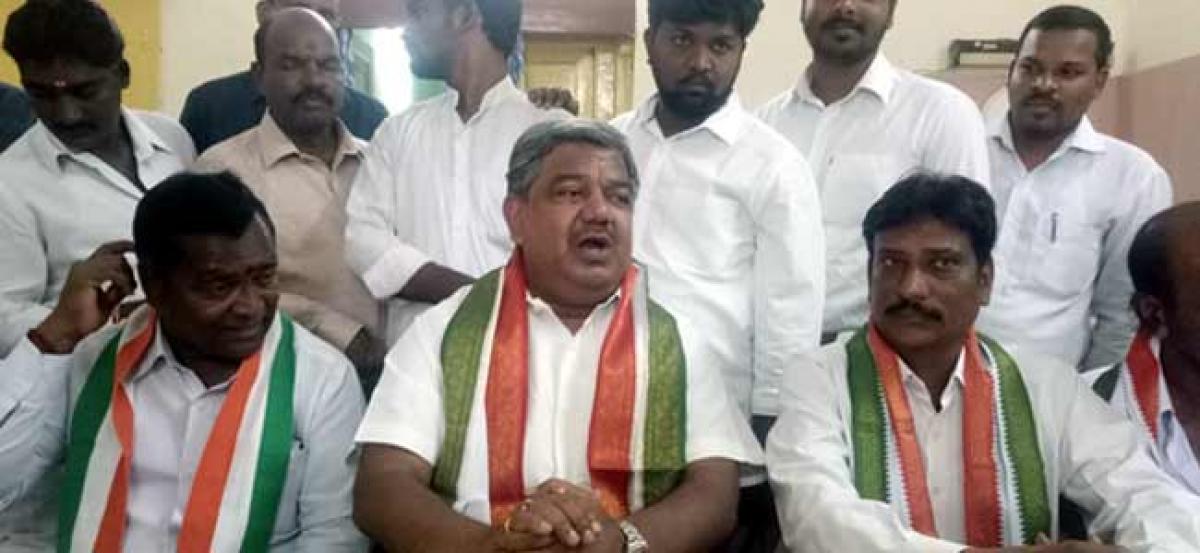 Highlights
Telangana Pradesh Congress Committee TPCC Treasurer Gudur Narayana Reddy has strongly objected to the proposal of Election Commission of India ECI to set up pink polling booth for women in elections for Telangana Legislative Assembly on December 7
Hyderabad : Telangana Pradesh Congress Committee (TPCC) Treasurer Gudur Narayana Reddy has strongly objected to the proposal of Election Commission of India (ECI) to set up pink polling booth for women in elections for Telangana Legislative Assembly on December 7.

"The ECI had set up pink polling booths for women with completely female staff during Karnataka Assembly elections. While this was acceptable in Karnataka, the Election Commission should not allow this in Telangana as the official colour of ruling TRS party is pink," said Gudur Narayana Reddy in a media statement on Tuesday. He said that the Election Commission should not allow any symbols, signs, colour or text that might influence the voters. Since TRS uses pink colour for its flags, banners and entire campaign material, Election Commission should not use pink colour on women polling booths as this would go against the spirit of fair elections.

Gudur Narayana Reddy said that the Congress party welcomes the initiatives being taken by the Election Commission to increase percentage of polling among women. However, the Commission should ensure that this is done in a fair manner without giving any scope to any political party to take advantage of its initiatives.

'BJP day dreaming of coming to power in TS'

The Congress leader ridiculed the claims being made by BJP National General Secretary Ram Madhav of BJP forming the next government in Telangana State. "BJP is a non-entity in Telangana. It is highly difficult for the BJP to even retain five seats that it had in dissolved Assembly," he said.

Gudur Narayana Reddy said that the BJP has no moral right to seek votes from the people of Telangana as its government at the Centre has not fulfilled any promises that were made in the Andhra Pradesh Reorganisation Act. "Before seeking votes, Prime Minister Narender Modi should apologise with the people of Telangana for not establishing the Railway Coach Factory at Qazipet, a Steel Plant at Bayyaram, Tribal University, IIM and institutions promised in the Act. BJP Government, in connivance with TRS Govt in State, did not provide funds for the ITIR region which could have provided over 50 lakh jobs. Modi Government is equally responsible for suicides of over 4500 farmers in Telangana," he said.

The Congress said both BJP and TRS worked together for the last four years and just before elections, they are enacting the drama of rivalry. "Why it took four years for the BJP to realise that TRS was corrupt? If BJP is seriously convinced on corruption by TRS Government, why the Central Government was not ordering a CBI probe against KCR and his family?" he asked.

"If BJP genuinely believes that KCR is corrupt, then Union Finance Ministry Arun Jaitley should direct the Income Tax, Directorate of Revenue Intelligence, Enforcement Directorate and other agencies to conduct join raids at residences of KCR, KTR and other family members immediately. The Central agencies will surely unearth illegal wealth of thousands of crores from KCR family if they are given free hand to conduct a probe. BJP should prove its seriousness through action and not through hollow words," he said.

Gudur Narayana Reddy alleged that both BJP and TRS Governments were corrupt and anti-people and just a few days before elections, they are indulging in game of allegation-counter allegation to divert people's attention from their failures. "People have understood that they were cheated by both PM Modi and CM KCR and they have decided to vote in favour of Congress party to put an end to the corrupt and inefficient regimes of TRS and BJP in next elections," he said.
Interested in blogging for thehansindia.com? We will be happy to have you on board as a blogger.