Intact Kutami ready to take on TRS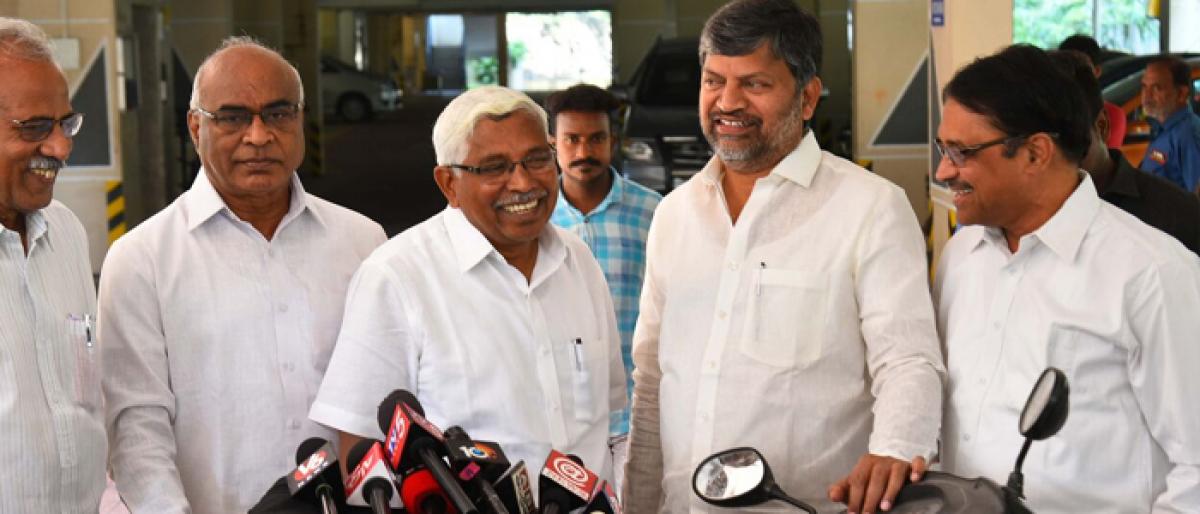 Highlights
After initial hiccups, the Grand Alliance is finally in place The constituents have sorted out all bumps in the seatsharing agreement and the alliance is understood to be in shipshape to take the TRS by its horns
​New Delhi/ Hyderabad: After initial hiccups, the Grand Alliance is finally in place. The constituents have sorted out all bumps in the seat-sharing agreement and the alliance is understood to be in shipshape to take the TRS by its horns.
According to sources, the Congress, obviously, got a lion's share of 94 seats followed by TDP which got 13. The TJS had to contend with eight and CPI with four seats. The Congress party has reportedly agreed to leave another 4-5 seats for the allies if necessary. The agreement would be ratified at the Congress Election Committee meeting at Delhi on Thursday. Telangana PCC president N Uttam Kumar Reddy is already in Delhi while others, including Jana Reddy, Shabbir Ali and Bhatti Vikramarka will be reaching the nation's capital by Thursday morning.
According to sources, the Congress party will release the first list of 70 to 75 seats on Thursday. This means that the AICC could make public the first list of candidates perhaps by Thursday evening after the Central Election Committee meeting of the party at Sonia Gandhi's residence. The names making rounds here, according to the party sources, for the first list are all of senior leaders.
Among them are: Uttam Kumar Reddy, Jana Reddy, Sarve Satyanarayana, Marri Sashidhar Reddy, Geeta Reddy, DK Aruna, Damodar Rajnarasimha, Shabbir Ali, Komatireddy Venkat Reddy, Sampathkumar, Vamshichand Reddy, Nagam Janardhan Reddy, Onteru Pratap Reddy and others. It is said that though there is a restriction of sorts on giving more than one B form in the same family, it may not be applied in few cases where deserving candidates are eager to contest or have contested in the past already.
At a meeting called by Telangana TDP president L Ramana on Wednesday, TJS president Prof M Kodandaram and CPI state secretary Chada Venkat Reddy felt that it would be fair if they were given a few more seats to which the Congress too was reportedly willing. Speaking to media-persons after the meeting, Kodandaram described Congress as the big brother in the alliance.