Awareness drive on Seekho aur Kamao at Chatta Bazar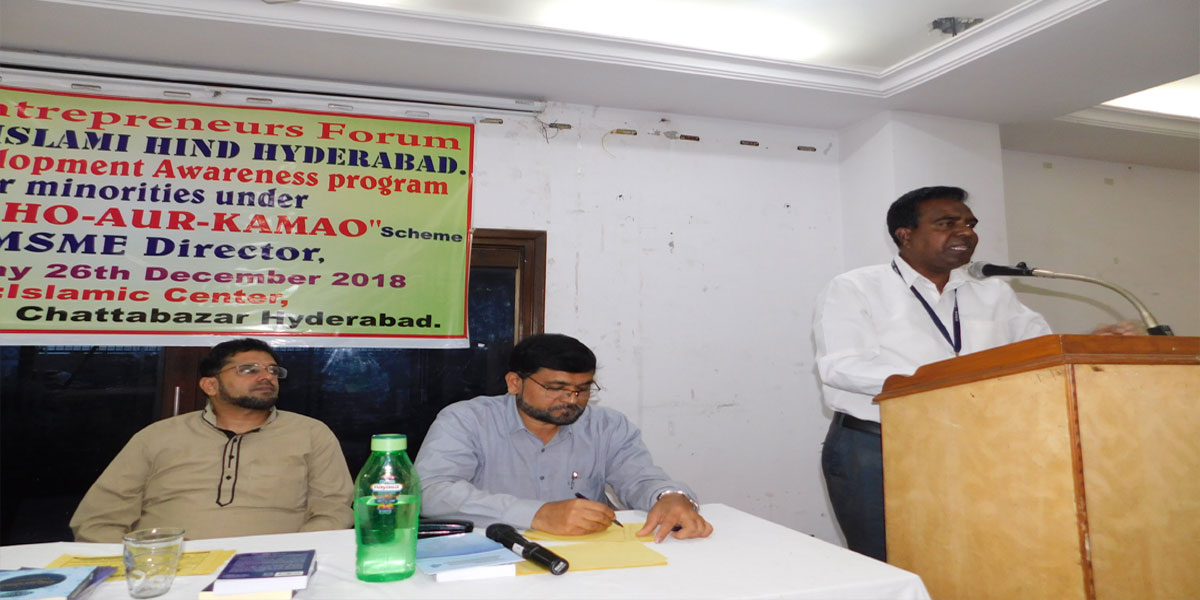 Highlights
The Ideal Entrepreneurs Forum IEF in coordination with National Institute for Micro, Small and Medium Enterprises NIMSME organised an awareness programme on SeekhoAurKamao scheme, a skill development initiative for minorities by the Union government, at Chatta Bazar
Charminar: The Ideal Entrepreneurs Forum (IEF) in coordination with National Institute for Micro, Small and Medium Enterprises (NI-MSME) organised an awareness programme on 'Seekho-Aur-Kamao' scheme, a skill development initiative for minorities by the Union government, at Chatta Bazar. Addressing the awareness programme at the office of IEF at Chatta Bazar, 'Seekho-Aur-Kamao' programme director G Sudarshan said that those who have completed their SSC or equivalent of 10th class, Intermediate can avail of the opportunity of receiving 12 different 'free courses' offered under the scheme by Union Ministry of Minority Welfare.
Those who are below 35 years of age are eligible for applying for these courses. He also informed that the government was also providing free bus passes for those getting these 3-month courses. Since these courses were provided with the intension of generating employment opportunities, he said that following training, these individuals would be enough skilled to get a good employment opportunity anywhere. He asked the interested youth to fulfil the formalities, if they were interested in applying for the courses. The programme was attended by Jamaat-e-Islami Hind, City president, Hafez Rashaduddin, secretary, Akbar Hussain, Khilwat Unit president Yousuf Ali Khan and others.
Part of the Skill India initiative, the Seekho Aur Kamao scheme offers, Apparel, made-up & home furnishing course; Automotive; Beauty & Wellness; CNS Operator turning; CCTVA & DTH installation; Food processing; Management of entrepreneurship & profession; Tourism & Hospitality; IT / Power; Media & entertainment; Logistics; Tourism & Hospitality. It may be mentioned here that the latest Report of National Sample Survey Organization – 61st Round (2004-05) published in March 2007, in 2004-05, 26% of Muslims and 35% of Christians depended on "self employment in agriculture", whereas in "self employment in non-agriculture sector", 28% of Muslims and 15% of Christians were involved. In Urban India, during 2004-05, proportion of Muslims households depending on "self employment", "regular wage/salary" and "casual labour" were 49%, 30% and 14% respectively, whereas for the Christian it was 27%, 47% and 11% respectively.
According to Sachar Committee Recommendations, the country is going through a high growth phase. This is a time to help the underprivileged to utilize new opportunity through Skill development and education. A large segment of the Muslim community is engaged in self-employment activities. Besides, a significant proportion, especially women, is actually engaged in home- based work. While some of these workers are engaged in sectors that have experienced growth, many are engaged in occupations/ sectors that are stagnant. The policy intervention needs to help workers engaged in growth oriented sectors to become part of the larger network of market oriented firms engaged in that sector. For further information interested candidates may contact 040-23633247, 23633228, 9652345914, 84658441223 or log on to the website : www.nimsme.org or may contact via email on skillsforminorities@gmail.com or sudarshan@nimsme.org.
Subscribed Failed...
Subscribed Successfully...