Keesara echoes with 'Om Namah Shivaya'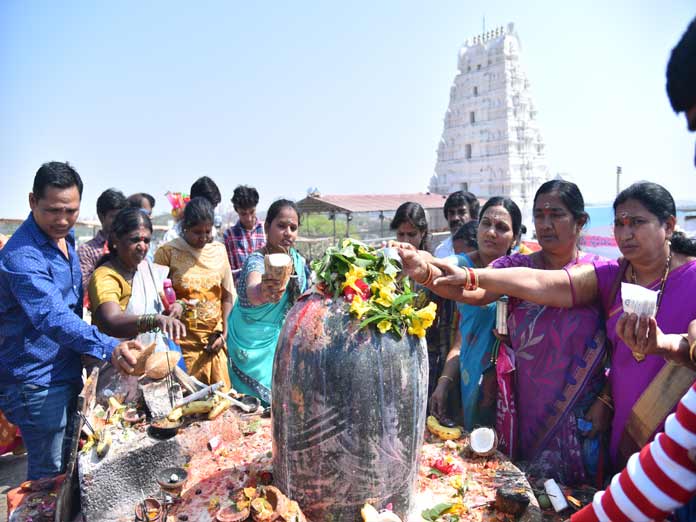 Highlights
It is an annual ritual to travel to Keesaragutta for Maha Shivaratri and what makes the trip even more fun is to watch the flame of the forest red blood flowers along the way on both sides of the road, which are also offered at the temple, said Snehalatha Reddy who accompanied her parents on Monday
"It is an annual ritual to travel to Keesaragutta for Maha Shivaratri and what makes the trip even more fun is to watch the flame of the forest (red blood flowers) along the way on both sides of the road, which are also offered at the temple," said Snehalatha Reddy who accompanied her parents on Monday. She was one of lakhs of devotees to make it to Sri Ramalingeshwara Swamy temple. The Keesaragutta temple is a Hindu shrine dedicated to Lord Shiva and his consorts Goddesses Bhavani and Sivadurga.
Planned to perfection
Devotees did not have to wait for long for darshan. The authorities provided four options; dharmadarshan, VIP, VVIP and one for couples who had to pay Rs 800.

The chanting of 'Om Nama Shivaya' by the devotees rent the air in the Keesaragutta hills. They started visiting the shrine right from the early morning hours for the lord's darshan. The devotees performed 'Dhoopa Deepa Naivedyam' and offered milk, curd and fruits to the presiding deity. The arrangements for Brahmotsavam were organised well so that no devotee faces any difficulty during the six-day event.
Space for hundreds of cars and two-wheelers was provided but people had to trek a few hundred metres to get to the shrine. A makeshift walkway with bamboo thatched roof was provided to beat the heat. Centralised marking, barricading was done.
Speaking to The Hans India, RDO Lachi Reddy said, "Last year 5 lakh devotees visited the temple, and this year we are expecting 7 lakh as the festival falls on a Monday which is considered auspicious."
Ram Mohan, a resident of Khairatabad, said, "Our family has been coming to the temple for the last seven years. This year our cousins too joined us."
The installation of CC cameras for controlling traffic and law and order helped a lot, said a police officer on duty. The police officials were on continuous patrolling and special attention on anti social elements and a ban on sale of liquor and tobacco.
Meditation under the moon
Several groups from different parts of the city planned to spend the night at the shrine with live music and meditation. Raghav, a resident of Neredmet said, "The temple is just 10 km from ECIL and we, a group of ten devotees, have planned to go trekking and spend the night with activities including meditation and singing songs in praise of the lord."
Fortune-tellers galore
A number of fortune tellers were seen on the hill and many devotees took their services. Laxman Rao, a devotee said, "I really do not believe in what fortune tellers say but I do take their service just for a feel good factor. Moreover, they hardly earn anything. At least during the festival they make some money."