Hyderabad: LED works on cable bridge at breakneck speed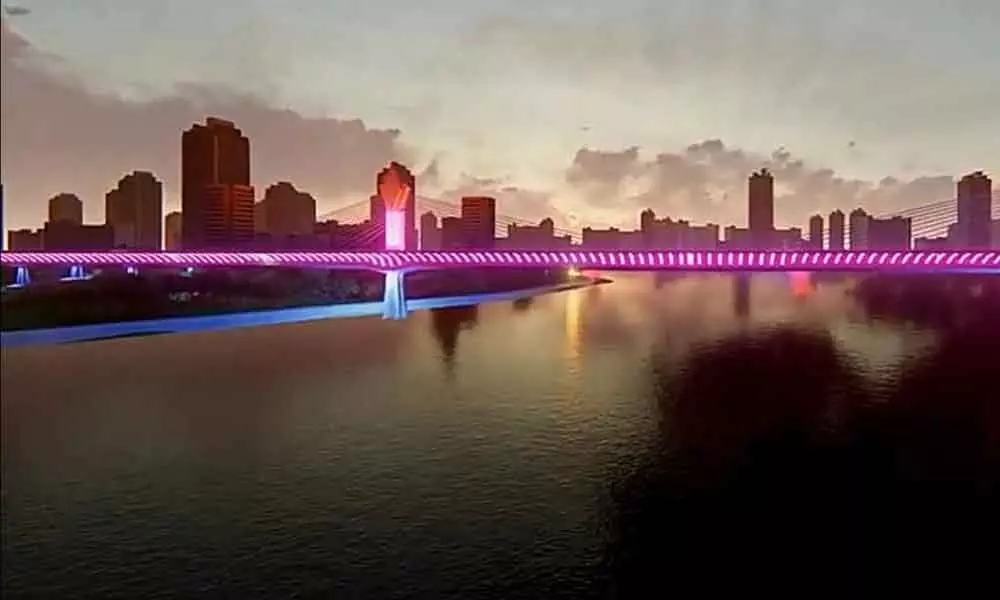 Highlights
The 26 stay-cables of Durgam Cheruvu Cable Bridge will be adorned with 40,000 LEDs in a combination of purple, green and white colours shining bright in the night sky and reflecting on the lake waters
The first phase of multi-coloured LED installations based on different themes on Durgam Cheruvu Cable Bridge has been completed. "Though, the LED lighting concept is popular abroad, the Cable Bridge will be one of the unique attractions in India. The first phase of installations among three have been completed. The LEDs, which are imported from China are being installed by around 25 electrical workers from China, can be controlled with automatic software along with manual options. Rs 5 crore was the estimated budget for the project but it might scale up to Rs 9 crore," said N Kavitha, EE, Electrical, GHMC.

Around 40,000 different coloured LEDs installed on 26 stay-cables will shine bright in a combination of purple, green and white colours. The lights are closely wrapped in aluminum plates and fitted inside the poles along the stayed-cable bridge encompassing the area in bright illumination and the source of the light would not be visible.
Waterproof cables are fixed along the P1-P2 poles on the stayed bridge to protect the electrical paraphernalia from short circuits in rainy season. Three phase led points with 80.64W are fixed along the track which would have a GPS controller
The LED lighting will be operated using special software with different themes of graphics and designs are stored. Across the world, many cable bridges are being decked up with colourful LED lighting. Apart from ensuring traffic safety, the LED lighting enhances the architecture of the structure and serves as a tourist attraction. The LED strips would be fixed to the cable tubes by fasteners or clamps with zero thermal impact technology and energy efficient and sustainable design models for improved power consumption.
The second phase of lighting works is exclusively for the pedestrians. The footpath for the pedestrians on both sides of the bridge would be brightened with small size 1.7mm LED lights. To make it more attractive, the source of the light shall be fixed through an inbuilt technology along the crash barriers of the cable bridge and the focus of the light is fixed exactly to the ground, which presents light and focus for the pedestrians from sideways.
Finally, the theme on the diamond construction portion is making rounds for the final decision. Mostly the combination of different lights presenting the graphical text 'HYDBERABAD' using LED lights will be the major attraction if the works goes according to the budget estimations, said officials.