Tirupati: Notorious criminal held, property recovered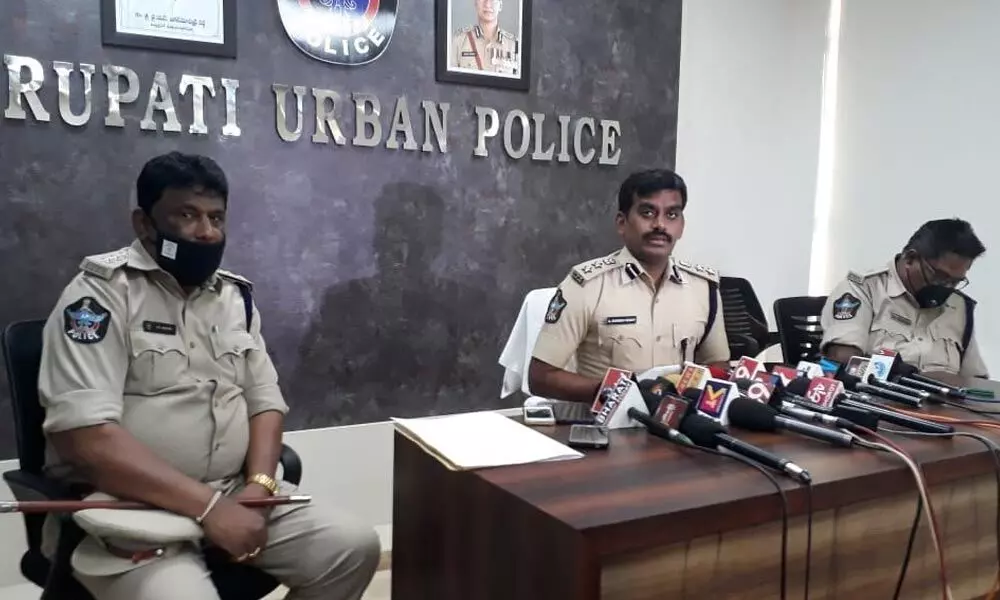 Highlights
Within two days, the Tirupati Crime Police were able to arrest the person involved in the burglary which took place in TTD JEO Bungalow here
Tirupati: Within two days, the Tirupati Crime Police were able to arrest the person involved in the burglary which took place in TTD JEO Bungalow here. The burglary took place on May 23. The entire booty of gold ornaments weighing 174 grams has been recovered from the accused, on Tuesday. The same culprit also involved in the theft in Sri Padmavathi Guest House on May 16. Speaking to media here, Tirupati Urban SP Avula Ramesh Reddy said the arrested person is identified as Pogathota Gangadhara Rao (27), a notorious offender and native of Maddelapalem of Visakhapatnam.
A team of officials of Crime wing investigating the two cases nabbed Gangadhar near Bonthalammagudi on Karakambadi Road here on Tuesday morning and recovered the entire stolen gold ornaments and cash Rs 15,200 from him, SP said that the burglar gained entry into JEO bungalow by breaking the window grills and in Padmavathi Guest house through the bathroom ventilator.
Gangadhar an ex-convict had involved in many burglaries in various places including Visakhapatnam, Vizianagaram, Tuni,
Vijayawada and Rajamahendravaram. Thirty cases were filed against him at various police stations. He had undergone imprisonment for a total period of five years between 2011 and 2017.
SP said the offender is an orphan grown up in an Ashramam in Vijayawada where he completed Intermediate, but was addicted to vices. After completing two months imprisonment for two theft cases in Srikalahasti he was released on April 25. He came to Tirupati only to resume his criminal activity.
Taking the case seriously , SP transferred the case from SV University Police station to Crime police and set up a team headed by Crime DSP Rammohan who investigated the case under the supervision of Crime Additional SP Venkateswara Naik.
Congratulating the Crime police for solving the case within short time, SP announced department rewards to the police team including DSP Rammohan, Inspectors Challani Dora, Madhubabu, Mohan and other police personnel.
Subscribed Failed...
Subscribed Successfully...