Poor economics in Nobel league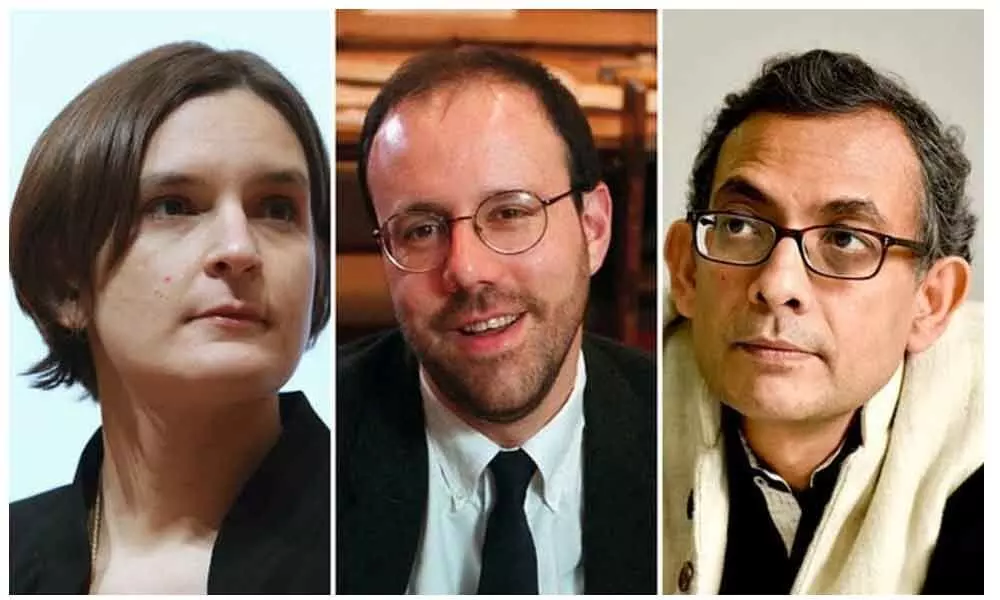 Highlights
The World Bank updated international poverty line in 2015. As per this revised definition, people living on less than $1.9 (Rs 135) a day are extremely poor.
The World Bank updated international poverty line in 2015. As per this revised definition, people living on less than $1.9 (Rs 135) a day are extremely poor. Nearly 734 million (73.4 crore) people are eking out that kind of pathetic life around the world.
That means 10 per cent of world's population is pathetically poor. Sadly, half of them live in India and China, home to world's oldest civilisations. Data reveals that most of the world's abject poor live in South Asia, East Asia, the Pacific and the West Indies.
But poverty doesn't end with these numbers. There are moderately poor people as well. Those living on income between $1.9-5 (Rs 135 to Rs 356) a day are considered moderately poor. If we take this into account, the number of poor people in the world increases manifold.
It is good that the issue of poverty came to centrestage yet again with Indian-American economist Abhijit Vinayak Banerjee, his economist wife Esther Duflo, and Harvard Professor Michael Kremer jointly winning 2019 Nobel Prize in Economics on Monday for their seminal work on poverty alleviation.
Stockholm, Sweden-based Royal Swedish Academy of Sciences, in its statement, said that the work of these three economists had dramatically improved 'our ability to fight poverty in practice". It is believed that the trio has broken the complex issue of poverty into smaller and more manageable questions.
Presently Ford Foundation International Professor of Economics at Massachusetts Institute of Technology (MIT) in the US, Banerjee, born in Mumbai in 1961, has a PhD from Harvard University.
In 2003, he along with his wife established Abdul Latif Jameel Poverty Action Lab (J-PAL), a global research centre that focuses on reducing poverty 'by ensuring that policy is informed by scientific evidence'.
The centre is anchored by a network of 181 affiliated professors at universities around the world. 'Poor Economics' a book authored by Banerjee raised critical questions about the prevalence of poverty in many countries. His wife Dulfo is co-author of the book which has been translated into over 17 languages.
However, it goes without saying that Banerjee's works are very useful for a country like India and Indians, many of whom are poor. As per Asian Development Bank (ADB) report, 21.9 per cent of Indian population live below the national poverty line.
Further, 13.4 per cent of the country's employed population earn less than $1.9 (Rs 135) a day, the international poverty line set by the World Bank. As Banerjee suggested in many of his seminal research works, support in healthcare and education will alter economic status of many poor Indians and bring them out of poverty.
Besides, higher economic growth will not only generate more employment opportunities, but also boost the country's tax revenues which can in turn be used to fund more welfare schemes for the economic uplift of the poor.
It augurs well for the world that economists who worked on poverty alluviation have been honoured with 2019 Nobel Prize in Economics. It will boost morale of those who are working for the elimination of poverty around the world.
Subscribed Failed...
Subscribed Successfully...